Trump's "Winning Temperament" Failed Him during the First Presidential Debate: Opinion Piece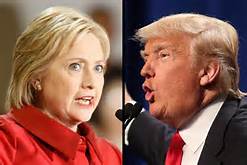 Hang on for a minute...we're trying to find some more stories you might like.
Tonight was the night where the two presidential nominees squared off. It has been a well anticipated event for Americans, especially American voters who are undecided. Hosted at Hofstra University, Hillary Clinton and the infamous Donald Trump spoke their minds about pressing issues that Americans want answered. While Hillary spoke eloquently and remained composed throughout the debate, her opponent, Donald Trump did quite the opposite.
Clinton started off the debate with a bang, followed by many successful attempts at gaining the upper hand in the debate. She provoked Trump to lose his temper by talking about Trump's failure to release his tax returns. It was in this moment that Trump seemed to lose it when she implied that maybe he is "not as rich as he says he is" and how it appears he is hiding something, most likely his six hundred and fifty million dollar debt to Wall Street. He could also be hiding how he has paid zero in federal taxes, something hard working Americans find disgraceful. Trump then proceeded to interrupt, condescend, badger and essentially bully Clinton after this all the while dodging the question of why he hasn't released his tax returns. Clinton again stressed how Trump has paid nothing in taxes and Trump retorted with "that makes me smart". It was just one of the questionable and outlandish things he said during the debate.
Another pressing topic during the debate was racial tension in America. Unless you have been living under a rock you probably know about the shootings of unarmed black men and women, recently in Tulsa and Charlotte, and the protests that have been going on nationwide. It was to be expected that both nominees were going to have to share how they want to bridge the gap of racism and law enforcement. Clinton emphasized that America needs criminal justice reform and how we need to establish trust between people of color and law enforcement officers. She emphasized peace, equality and justice for minorities. The main argument you could take away from Clinton on that issue is when our country is so divided by racism it cannot prosper. Trump on the other hand went the complete opposite direction. He expressed his approval of the stop-and-frisk program, which by the way was unsuccessful and deemed unconstitutional in years past. All the program did was single out minorities and did nothing but increase further tensions between people of color and law enforcement and increased racism against minorities. This started a very heated exchange of words with Trump calling out Clinton on her comments on black men calling them "super predators" back in the nineties. It grew more heated from there as Clinton brought up to the surface Trump's housing scandal and how he discriminated against minorities and denied them housing in the apartments he was renting. Basically they both brought up each other's racist scandals and remarks said in the past (of course Trump has said his fair share of racist remarks all throughout his campaign) and was not a great moment for either one of them.
I think one of the most laughable moments from the entire debate (and it was one Trump haters had a field day with) was when Trump made the claim that he has a "winning temperament" and that is was one of his "best assets". This incited laughter from not only the crowd but Hillary as well. It was definitely a cringe worthy moment that even made some of Trump's supporters wince. He then tried to slander Clinton for what he called her "out of control" temperament but was cut off shortly by Hillary. From then on Trump proceeded to ramble, dodge questions and interrupt Hillary as she was talking, this proved to be a common theme throughout the debate.
Throughout the night there were plenty more issues discussed, some of which included economic plans, nuclear codes and weapons, conspiracy theories of Obama's birth certificate and a brief mentioning of climate change and global warming. By the end of the night is was clear that Hillary Clinton had not only won the debate but completely dominated and crushed it. It seems from now on Trump will have to step up his game and work on that so-called "winning temperament" if he wants to win this election. Tonight Hillary has proved herself a force to be reckoned with and ended the night saying "I was prepared for this debate and I'm prepared to become president."