FANTASTIC BEASTS AND WHERE TO FIND THEM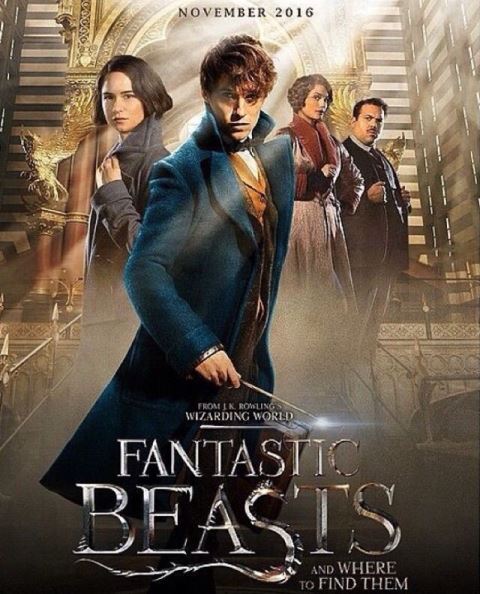 Hang on for a minute...we're trying to find some more stories you might like.
How many years have we been waiting? FIVE! For all those Harry Potter fans (including myself) that have been crying for a new Harry Potter story, we can wipe the tears and start watching because we just got "Fantastic Beasts and Where to Find Them."
For those who don't know, this movie is kind of based on a book mentioned in the first Harry Potter novel, that was actually written into a book by JK Rowling in 2001, using the pen name, Newt Scamander. Rowling also helped write the screenplay to the movie. The book is like an encyclopedia, just listing the different magical creatures in the Harry Potter books and movies, and so she had to help make an actual plot in the movie.
This adventurous and exciting movie starts out with a man named Newt Scamander and his magical suitcase full of beasts and creatures entering New York City in the year 1926. This means it is way before the Harry Potter timeline, but we learn in the movie that Albus Dumbledore is a teacher at Hogwarts.
As he arrives in New York, he faces unexpected challenges: he loses his suitcase, some of his creatures escape from the suitcase, the Magical Congress of the United States of America (MACUSA) accuses his creatures of causing problems in the city, and he has to face the dark evil that is lurking in the city. He also meets some friends that help him through the challenges: Tina Goldstein (a witch who works at MACUSA), Jacob Kowalski (a no-maj—what muggles are called in the US), and Queenie Goldstein (a witch and Tina's sister).
The acting was marvelous. Newt is shown to be brave, funny and really caring of his magical beasts. Jacob provided a lot of the comic relief in the movie. I love how Tina and Queenie are so brave and use their minds and their magical abilities to help each other. The creatures and beasts in Newt's suitcase are cute, funny, and have feelings just like us. Newt makes us feel like we care about them too. The villain is also equally despicable. I think he could grow to be as evil as Voldemort, as we find out more about him in the next movies.
I loved how they made tiny clues along the way too that had to do with the Harry Potter series. For example, one of the evil wizards of this time, who everyone is scared of, is named Grindlewald, and we know from the previous books, that he is the same guy that Albus Dumbledore defeated in a great battle.
I still feel connected to Harry Potter's world more, but maybe that happened because I have just spent more time reading the books and watching the movies. I look forward to the other movies that will come after "Fantastic Beasts," and hope they will be as fun and exciting as this one.