Changing the Game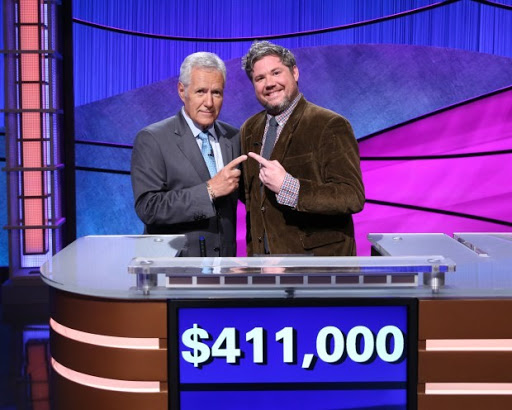 Hang on for a minute...we're trying to find some more stories you might like.
Jeopardy! (a fifty-year-old trivia game show) has rarely ever seen a champion as entertaining, quirky, and charming as Austin Rogers, a bartender from Brooklyn. Rogers took viewers by storm with his charming personality and fun-loving attitude. For example, during the headshots at the beginning of each show, Rogers would mimic things like solving a Rubik's cube or pouring a glass of wine as announcer Johnny Gilbert read out his winnings, which totaled up to $411,000 in the span of twelve days that he was champion, putting him in fifth place for all-time regular season winnings. Rogers made watching Jeopardy! even more entertaining than it already was with his commentary and impressively vast knowledge.
Currently, the main question on most of the viewers' minds is: "How did he get such a vast, seemingly random range of knowledge?" Well, Rogers hosts Trivia Nights at the establishment where he works, where attendees form teams and answer quiz questions for points. In an interview with The Huffington Post he explained, "I write all my own questions, I research all my own questions… several times, questions I've written—because I've written tens and tens of thousands of questions, I mean, 60 questions a week over nine years or whatever—several times questions I've written have come up (on "Jeopardy!"). And it helped me, literally like, I would not have known this had I not written that question three months ago."
Rogers has adopted a sort of light-hearted and care-free attitude on the show, but Rogers put in serious work, mastering the time to buzz in after Alex Trebek's reading of each clue, as the buzzers do not activate until Alex Trebek is finished reading, and they will not work if you ring in too early, explaining that, "It's almost like, da-dot, da-dot, da-dot, da-Now!"  To get the rhythm he concocted down perfectly, he used a thumb exerciser, rather than a retractable pen as the show recommends.
Despite his mastery of the rhythm, Rogers tells the Chicago Tribune, "I set myself out to win one game. I had no idea I'd be this wildly successful…My know-it-all-ism is who I am. This is not a façade, unfortunately, America. This is how I behave in everyday situations," even Alex Trebek, the host of Jeopardy! for as long as it's been around adds, "Austin was outside the box—Completely different from what many viewers expect a Jeopardy! contestant to be." Although, some members of the audience thought that Trebek "couldn't wait for (Rogers) to lose", one such article from Thestar.com actually received a response from Trebek that said, "Because you are a fellow Canadian I will respond politely…you are totally off base. Austin was fun to be with, and slightly irreverent." Those who have seen Trebek in action must be surprised to hear this sort of thing from him, as he is usually very polite and very composed, however, he always stands up for his contestants, and does not appreciate people putting words in his mouth. Trebek did seem to enjoy the company, Rogers even high-fived him in an episode. Rogers became a phenomenon for being cheery, having fun, and also being very intelligent, using what he had learned from hosting Trivia Nights to win a television game show, and beyond that, $411,000.