KRISTAPS IS TRULY THE UNICORN OF THE NBA
What makes Kristaps the NBA unicorn?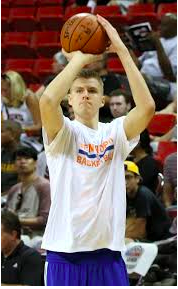 Hang on for a minute...we're trying to find some more stories you might like.
Picture: https://commons.wikimedia.org/wiki/File:Kristaps_Porzingis.jpg
Last year, one year after the international player was booed upon being selected 4th in the draft by the New York Knicks, after NBA analysts like Stephen A. Smith slammed the Knicks for messing up another draft by choosing him, Kristaps Porzingis was labeled "The Unicorn" for his ultra rare, transcendent skillset as a 7'3" offensive and defensive monster. Kristaps proved all of them wrong by elevating his play above what any Knicks fan could have dreamed. The problem for his opponents is, he forgot how to stop getting better.
With the firing of the hated General Manager Phil Jackson, who tried to trade Kristaps away since right after the Knicks acquired him, Kristaps is safe and ready to develop. With Carmelo Anthony traded to OKC Thunder, he also now gets the necessary touches to do so: this is his team. And not only has the Unicorn met his magical expectations, he has exceeded them once again. As a 22 year old this season, Kristaps is averaging an almost fairytale statline of  30.0PPG, 7.5RPG, and 2.3BLKPG, according to espn.com. A dramatic jump in his number since last season, Kristaps has stormed his way to the number one candidate for Most Improved Player (also some whispers of MVP as his performances scale higher and higher) this season as well, one of many accomplishments to come.
To wrap things up, Kristaps it the type of player gamers create in order to break the video game. A 7'3" all around basketball juggernaut with a three point shot, Kristaps Porzingis is the Unicorn of the NBA, whose potential can only be matched in fairytales. As a Franchise's dream team player, Kristaps will continue to push his expectations until he is the best player in the league.