KING JAMES IS MAD
But not for Long (Cleveland vs. Golden State)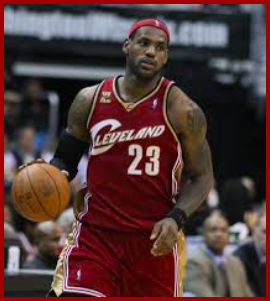 Hang on for a minute...we're trying to find some more stories you might like.
Cleveland is home to, arguably, one of the greatest basketball players of all time: Lebron James. But after losing to a stacked Golden State Warriors in the 2017 NBA Finals, a vengeful Lebron has some new recruits to help him take down the super team in Golden State:  Isaiah Thomas, Derrick Rose, and Jae Crowder are some of the most notable acquisitions this offseason. But that's only the tip of the iceberg. The Cavaliers have addressed a suspected sluggish front office problem with a new General Manager in Koby Altman. And possibly the biggest news of all -with Lebron's youngest and most recent partner in crime Kyrie Irving gone to the Boston Celtics- James's old, but still lethal, buddy Dwayne Wade has reunited in another quest for championships.
The last time we saw this duo, they were joined in Miami by a prime Chris Bosh, a legendary trio that would go on to earn two out of the four titles they contended for. But with Bosh out for his career with a life-threatening blood-clotting disorder, we will not see the full trio return. However, with two-thirds of the trio here, we must analyze the rest of the Cavalier's team.
With former MVP Derrick Rose, defensive super-star Jae Crowder, and "King of the Fourth Quarter" Isaiah Thomas, the potential of this team is startling. Once Thomas overcomes his hip injury and takes his starting role, predicted to happen some time around mid season, the bench will consist of an explosive Derrick Rose (who has a lot to prove after being counted out due to his injuries), defensive menace Jeff Green, former sixth man of the year J.R. Smith, young big man  Tristan Thompson, Iman Shumpert, and two young 7-footers in Ante Zizic and Edy Tavares.
With a bench that would be considered a starting lineup for some teams, the Cavs have officially overtaken the Warriors' bench – but what about the starting lineup? At the point guard position, Steph Curry of Golden State has been known for his shooting and, though taking a back seat to Kevin Durant, is still cranking three's. However, Isaiah Thomas shot an excellent 37.9% from behind the arc and averaged a staggering 28.9 points per game, all while leading the league with points scored in the fourth quarter. With a clutch finisher to come in handy when Steph starts hitting threes, the Cavs needed Dwyane Wade to cancel out the other half of the Splash Brothers, Klay Thompson. Aside from Wade's prolific scoring ability, his defensive prowess is impressive to say the least as he is a he has been nominated to the NBA All-Defensive Second Team three times. At the center position, the Warriors' weakest spot, the Cavs have placed the infamous shooting big Kevin Love to overpower Golden State's Zaza Pachulia, a mismatch that need not be explained further. Starting power forward is dominated by defense for both teams. Golden State's Draymond Green however is prone to technical fouls, whereas Jae Crowder of the Cavs maintains a secondary attribute for three point shooting rather than fouling out like his Golden State counterpart.
The most exciting position of all, of course, is the small forward position. Fresh off a Finals MVP, Kevin Durant has proven to be a top three player in the world. However, top three is only good until you go up against the best. Lebron James is known for charging into the paint with an unstoppable dunking ability and now the scary precision to pull up for three.
Though it is speculated Lebron lacks in clutch and sometimes defensive effort, clearly the king has filled all those loopholes with surrounding knights, ready to take on the Warriors, and ready to reclaim his throne.