NBA TRADE DEADLINE TRANSACTION RECAP
Cavs almost completely rebuild roster
Hang on for a minute...we're trying to find some more stories you might like.
Many NBA teams were making trades as the trade deadline approached today. The Cavs nearly rebuilt their roster, and other teams were making moves to acquire talent. Here's the trades that happened leading up to the deadline.
January 29th: The Los Angeles Clippers traded Blake Griffin, Willie Reed, and Brice Johnson to Detroit for Tobias Harris, Avery Bradley, Boban Marjanovic, a 2018 protected first-round pick, and a 2019 second round pick. This was the first blockbuster trade leading up to the deadline this season.
February 1st: The Chicago Bulls traded Nikola Mirotic and a 2018 second-round pick to New Orleans for Omer Asik, Tony Allen, Jameer Nelson, a 2018 first-round pick, and 2021 first-round pick swap rights.
February 5th: The Brooklyn Nets traded Tyler Zeller to Milwaukee for Rashad Vaughn and a 2018 second-round pick.
February 7th: The New York Knicks traded Willy Hernangomez to Charlotte for Johnny O'Bryant, a 2020 second-round pick, and 2021 second-round pick.
February 8th: The Cleveland Cavaliers kicked off their roster rebuild by trading Isaiah Thomas, Channing Frye, and a 2018 first-round pick to the Lakers for Jordan Clarkson and Larry Nance Jr.
A three team trade involving the Cleveland Cavaliers, Utah Jazz, and Sacramento Kings resulted in Rodney Hood and George Hill going to the Cavaliers, Jae Crowder and Derrick Rose going to the Jazz, and Joe Johnson, Iman Shumpert, and a 2020 second-round pick going to the Kings.
Dwyane Wade is going back to Miami! Cleveland received a future second-round pick in the trade.
The Orlando Magic dealt out starting point guard Elfrid Payton to the Suns in exchange for a 2018 second-round pick(via Memphis).
Another three team trade went down, this one involving the New York Knicks, Denver Nuggets, and Dallas Mavericks. The Knicks got Emmanuel Mudiay, the Nuggets got Devin Harris and a Knicks 2018 second-round pick(via Clippers), and the Mavericks got Doug McDermott and a Nuggets second-round pick.
Dante Cunningham was traded to the Brooklyn Nets in exchange for Rashad Vaughn, as he will go to the Pelicans.
The Portland Trail Blazers traded Noah Vonleh and cash to the Bulls in exchange for rights to Milocan Rakovic.
The Toronto Raptors traded to Bruce Caboclo to the Kings for Malachi Richardson. Caboclo will be released.
Luke Babbitt is also returning to Miami as Okaro White will go to the Hawks.
The Memphis Grizzlies traded James Ennis to the Pistons for Brice Johnson and a future second-round pick.
The Chicago Bulls traded Jameer Nelson to the Pistons for Willie Reed and the rights to swap 2022 second-round picks.
Written on February 8th, 2018
Credit to www.sbnation.com

About the Writer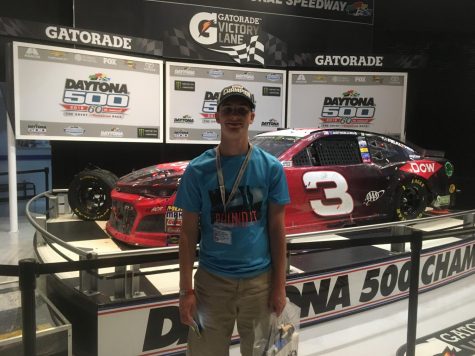 Austin Travis, Sports Section Editor
Hey guys! I am Austin Travis, I'm a Sophomore here at iUniversity Prep, and I am super excited for my fourth year on the iHoot staff. I will serve as the Sports Section Editor for the third year in a row, as sports are my biggest passion.
Outside of school, I follow many sports. I'm an avid racing, basketball, and football fan, and spend almost all of my free time doing stuff associated with those three things! I'm also a competitive swimmer, and spend hours a week in the pool. I love to play XBOX games, such as 2K and Madden. I also love EDM and hip-hop music.
I am looking very forward to providing the whole iUniversity Prep community with up-to-date stories about what's going on in the world of sports, and hope you guys find the same enjoyment reading my articles that I feel when I write them. I'm truly looking forward to another fantastic year with iHoot, and I'm super excited to be back as the Sports Editor for the 18-19 school year!