AUSTIN DILLON WINS DAYTONA 500
Last lap pass sends Almirola into wall
Hang on for a minute...we're trying to find some more stories you might like.
Austin Dillon brought the famed #3 back to victory lane at Daytona on Sunday in the Daytona 500. His win was the 2nd of his career, and first at Daytona. His win also came 20 years since Dale Earnhardt won his only Daytona 500 in 1998 in the famed #3. Dillon passed Aric Almirola, who was in his first race in his new #10 car for Stewart-Haas, and sent him into the wall to win the race. "I did what I had to do there at the end,"  Dillon said in an interview with Fox Sports. "I hate it for the No. 10 (Almirola's) guys. We had a run, and I stayed in the gas. It is what it is here at Daytona. "This is so awesome to take the No. 3 car back to Victory Lane. This one is for Dale Earnhardt Sr. and all those (Dale) Sr. fans. I love you guys. We are going to keep kicking butt the rest of the year!" Almirola finished the race in 11th, as Dillon made it two years in a row that the Daytona 500 winner led only the last lap.
There was three multi-car crashes throughout the race that took out good cars. A nine car crash on lap 60 took out drivers such as Daniel Suarez, Jimmie Johnson, and Erik Jones, and a six car crash on lap 102 took out Chase Elliott, Kevin Harvick, Brad Keselowski, and Danica Patrick, who was in her final NASCAR race. Keselowski was the pre-race favorite in Vegas, with 8/1 odds of winning despite starting in the rear.
Ryan Blaney has an eight point lead in the points standings over Joey Logano, and is 11 points ahead of Austin Dillon and second-place finisher Darrell "Bubba" Wallace Jr., who became the highest finishing African American in Daytona 500 history, and was also the highest finishing rookie. The next race will be on Sunday at Atlanta at 1 PM central time on Fox.
Sources: www.nascar.com
Written on February 20th, 2018

About the Writer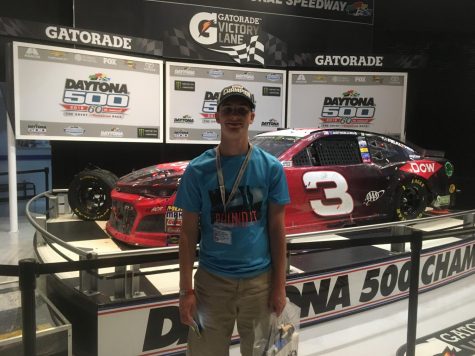 Austin Travis, Sports Section Editor
Hey guys! I am Austin Travis, I'm a Sophomore here at iUniversity Prep, and I am super excited for my fourth year on the iHoot staff. I will serve as the Sports Section Editor for the third year in a row, as sports are my biggest passion.
Outside of school, I follow many sports. I'm an avid racing, basketball, and football fan, and spend almost all of my free time doing stuff associated with those three things! I'm also a competitive swimmer, and spend hours a week in the pool. I love to play XBOX games, such as 2K and Madden. I also love EDM and hip-hop music.
I am looking very forward to providing the whole iUniversity Prep community with up-to-date stories about what's going on in the world of sports, and hope you guys find the same enjoyment reading my articles that I feel when I write them. I'm truly looking forward to another fantastic year with iHoot, and I'm super excited to be back as the Sports Editor for the 18-19 school year!