OHIO STATE DEFEATS PENN STATE, NOTRE DAME WINS BIG, MORE FROM WEEK 5
Abercrombie remains in critical condition after head injury against Vanderbilt
Hang on for a minute...we're trying to find some more stories you might like.
This week of college football saw multiple undefeateds go down and some great rivalry games, as well as the rise of one Heisman contender even despite losing. Here's a recap of NCAA FBS Football week 5.
Urban Meyer's Ohio State Buckeyes made a comeback in the second half on Saturday night to defeat the Nittany Lions of Penn State 27-26. The Buckeyes were down 13-7, but the score was not indicative of how dominant Penn State was in the first half. Penn State had 293 yards of offense in the first half, while the Buckeyes only had 88 yards. Trace McSorley of Penn State had a spectacular performance, passing for 286 yards and 2 touchdowns, and rushing for 175 yards. "We have to grow from this, learn from it and take it one step at a time," McSorley said about the game's outcome. "And then just come back to work, use that pain to fuel the fire and ignite the rest of the season" (courtesy of mccall.com). The loss dropped Penn State from 9 to 11 in the AP poll, while Ohio State went up from 4 to 3. "It's not going to happen again," Penn State head coach James Franklin said. "I'm not a negative guy. But I am going to make sure that as our program, that we do everything right and we grow every single day and we challenge ourselves every single day and we get uncomfortable, we get comfortable being uncomfortable and break out to that next phase" (courtesy of espn.com).
Notre Dame came out and obliterated the Stanford Cardinals 38-17 on Saturday night in what was a fantastic game for Notre Dame quarterback Ian Book, making his second start as a quarterback ever, replacing Brandon Wimbush in that spot. He passed for 278 yards and four touchdowns while completing nearly 75% of his passes. His main target was Miles Boykin, who had 11 receptions for 144 yards and a touchdown. "Our chemistry is coming along but he's such a good player and I love throwing to him," said Book (courtesy of espn.com). Stanford coach David Shaw was also quite impressed with Book's play on Saturday night. "[Notre Dame has] a quarterback right now that's outstanding," Shaw said. "He's athletic enough to get himself out of trouble. Quarterbacks like this, if you don't get them down on the ground, it's gonna hurt you." The win vaulted the Fighting Irish from 8 to 6 in the AP poll, while Stanford dropped from 7 to 14.
Christion Abercrombie of Tennessee State suffered a severe head injury that required emergency surgery on what's been deemed a "normal football play." "It wasn't anything malicious or dirty or anything like that," head coach Rod Reed said. "Just an unfortunate situation" (Courtesy of sports.yahoo.com). "Christion is resting," his mother Staci said in a statement released on Twitter by the Tennessee State football program. "He's fighting. We're trusting God and please continue to pray." The injury occurred when he was taking on a block in the second quarter in Saturday's game against Vanderbilt.
Here is the AP Poll (courtesy of collegefootball.ap.org):
Team(Record)
1. Alabama(5-0)
2. Georgia(5-0)
3. Ohio State(5-0)
4. Clemson(5-0)
5. LSU(5-0)
6. Notre Dame(5-0)
7. Oklahoma(5-0)
8. Auburn(4-1)
9. West Virginia(4-0)
10. Washington(4-1)
11. Penn State(4-1)
12. UCF(4-0)
13. Kentucky(5-0)
14. Stanford(4-1)
15. Michigan(4-1)
16. Wisconsin(3-1)
17. Miami(4-1)
18. Oregon(4-1)
19. Texas(4-1)
20. Michigan State(3-1)
21. Colorado(4-0)
22. Florida(4-1)
23. NC State(4-0)
24. Virginia Tech(3-1)
25. Oklahoma State(4-1)
My Heisman Rankings:
1. Will Grier, QB, West Virginia
2. Tua Tagavailoa, QB, Alabama
3. Benny Snell Jr., RB, Kentucky
4. Kyler Murray, QB, Oklahoma
5. Trace McSorley, QB, Penn State
6. Dwayne Haskins, QB, Ohio State
7. McKenzie Milton, QB, UCF
8. Justin Herbert, QB, Oregon
9. Ed Oliver, DT, Houston
10. Jake Browning, QB, Washington
Sources:
Press, Associated. "No. 4 Ohio St Rallies in 4th to Beat No. 9 Penn State, 27-26." ESPN, ESPN Internet Ventures, 30 Sept. 2018, www.espn.com/college-football/recap?gameId=401013347.
Wogenrich, Mark. "Will Penn State's Trace McSorley Have His Tim Tebow Moment?" Themorningcall.com, 2 Oct. 2018, www.mcall.com/sports/college/psu/mc-spt-penn-state-football-midseason-report-20181001-story.html.
Press, Associated. "The AP Top 25 Poll." NCAA College Football, 30 Sept. 2018, collegefootball.ap.org/poll.
Press, Associated. "Book, Defense Lead No. 8 Irish Past No. 7 Cardinal." ESPN, ESPN Internet Ventures, 30 Sept. 2018, www.espn.com/college-football/recap?gameId=401012758.
Cooper, Sam. "Tennessee State LB Christion Abercrombie Still in Critical Condition, Was Injured on Normal 'Football Play'." Yahoo! Sports, Yahoo!, 1 Oct. 2018, sports.yahoo.com/tennessee-state-lb-christion-abercrombie-injured-normal-football-play-193052459.html.
"Heisman Watch." ESPN, ESPN Internet Ventures, 2018, www.espn.com/college-football/heisman/.

About the Writer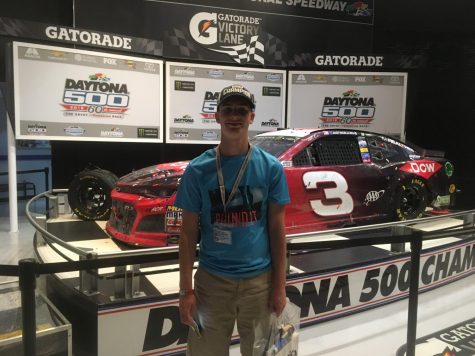 Austin Travis, Sports Section Editor
Hey guys! I am Austin Travis, I'm a Sophomore here at iUniversity Prep, and I am super excited for my fourth year on the iHoot staff. I will serve as...