ELLIOTT STEALS WIN LATE AT DOVER
Kahne announces that he will not race again in his final NASCAR season
Hang on for a minute...we're trying to find some more stories you might like.
Chase Elliott stole a win late in Sunday's Gander Outdoors 400 at Dover. Elliott only led 11 laps the last 11, which were the most important laps of the race. Aric Almirola was leading when a caution came out for Clint Bowyer's contact with the wall. On the ensuing restart on lap 397, after multiple drivers either stayed out, such as Chase Elliott and Brad Keselowski, or only took two tires, there was a huge crash on the backstretch involving Almirola, who restarted 6th after taking four tires. Also involved were Keselowski, Martin Truex Jr., Alex Bowman, and Ryan Blaney. "We've had so many opportunities and been so close and had the car to win and been in position, and I don't know, it just seems to not come through," a disconsolate Almirola said after the race. "I don't know. I'm frustrated and mad and angry. I don't know. I could have been conservative and probably finish third or fourth like Kurt [Busch]. It's just track position is so tough, and it's so hard to pass here. On that restart, I tried to at least go where they weren't to the top, and the 11 [runner-up Denny Hamlin] moved up to kind of block me, and I just got really tight off of [Turn] 2, and I bounced off the fence and got into Brad [Keselowski] and tore up a lot of race cars along the back straightaway. I hate that for everybody that was involved, but it kind of killed our day, too. I don't know. I feel like we should be over there in Victory Lane celebrating, but we're not" (Courtesy of nascar.com). For Elliott, it was his second career win, and also his second of the season. "This was a lot about perseverance," said Elliott, who recovered from a penalty for an uncontrolled tire incurred during a yellow-flag pit stop on Lap 123. "We had a penalty early and fell behind and luckily had a good enough car and good strategy to get back [to the front]. What a day!" (Courtesy of nascar.com). After being passed by Kyle Busch with only two laps to go in this race last year, he felt a sense of redemption following his win. "Definitely think it makes it sweeter, for sure," Elliott said. "You don't appreciate it in those moments, but to come back here and have the day we had…" With his win, his spot in the Round of 8 has been secured, and he can go into the wild-card race of Talladega without hopes of advancing on the line. "We get to move on to the next round, and I don't have to worry about Talladega next week. It's just a hell of a day."
Kasey Kahne announced on Twitter on Tuesday that he will not race again in NASCAR this season, making it is his final season. He has missed the last 5 races due to severe dehydration after the Southern 500 in September. "To say I'm disappointed after receiving the results that I was not medically cleared for the remainder of the season following a test session at Charlotte Motor Speedway last week is an understatement," the message read. "It was my hope that everything would go well and I would be able to finish out the season strong in the #95 for Leavine Family Racing. Unfortunately, that's not the case. Out of the race car, I am perfectly healthy, I feel great, and the doctors have determined that I have no underlying health problems. My body just can't handle extended periods of time in the race car and we weren't able to control the sweat ratio to keep me hydrated enough to prevent any permanent damage to my body. NASCAR has been a great home for me for 15 years and I wish the #95 the best of luck these last few races. I am looking forward to getting back in a sprint car soon. With much shorter races and open cockpits, there is no issue with my health or hydration with that type of racing. See you all soon at the dirt tracks, and thank you for sticking with me over the years."
Spencer, Reid. "Chase Elliott Surges to Dover Win in Overtime Finish." Official Site Of NASCAR, NASCAR.com, 7 Oct. 2018, www.nascar.com/news-media/2018/10/07/dover-playoff-race-recap-results-chase-elliott/.
Spencer, Reid. "Late-Race Accident Spoils Aric Almirola's Chance at Win." Official Site Of NASCAR, NASCAR.com, 8 Oct. 2018, www.nascar.com/news-media/2018/10/07/late-race-accident-spoils-aric-almirolas-winning-chance-again/.
account, Kasey KahneVerified. "Kasey Kahne (@Kaseykahne)." Twitter, Twitter, 9 Oct. 2018, twitter.com/kaseykahne.
Written on October 9th, 2018

About the Writer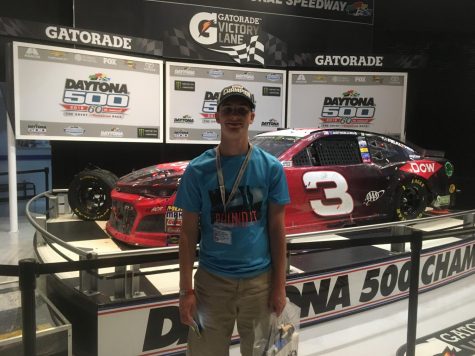 Austin Travis, Sports Section Editor
Hey guys! I am Austin Travis, I'm a Sophomore here at iUniversity Prep, and I am super excited for my fourth year on the iHoot staff. I will serve as...