TOP 10 COSTUMES
2018's Top Costumes Surprised and Delighted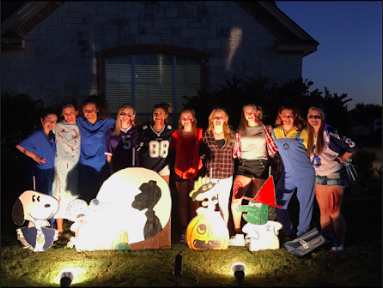 Hang on for a minute...we're trying to find some more stories you might like.
Get your candy ready. Here are the top 10 Halloween costumes for 2018.  Costumes have gotten more creative every year. People just want something cute for a low price.  Who doesn't want to have the top costume at the party?
People dressed up as many different things, but the top costume for this year is a very popular video game character from Fortnite.  There were onesies based on the characters and even toy boogie bombs and axes from the game. Another popular costume was Eleven from Stranger Things.  This character is part of a Netflix series that can teleport things and even see the upside-down universe. Another popular show on Netflix is called Riverdale. Many teenagers dressed up as characters from this show. Some of the costumes included the cheerleaders from Riverdale High.  They also dressed as the characters Betty Cooper, Jughead Jones, Veronica Lodge, and Archie Andrews. Popular foods have been in the top costumes for many years, but this year they were an easy and fun costume to trick or treat in. Many people were dressing as Pop Parts, fruits, and peanut butter and jelly sandwiches. Some very popular movies have come out this year and have inspired the costume stores to recreate these characters like Star Wars, Incredibles, Harry Potter, and the new superhero Black Panther. Dressing up for Halloween has always been a fun tradition. Everybody loves a cute and funny costume, from a unicorn to a T-Rex. Halloween is a time to dress up, hang out with friends and eat a lot of candy.
Halloween was great this year and I can't wait for next year! I hope you had an amazing Halloween and your costume was a success!