HARVICK DOCKED POINTS AFTER POST-RACE INFRACTION AFTER DOMINATING WIN
NASCAR makes mistake in Jimmie Johnson penalty
Hang on for a minute...we're trying to find some more stories you might like.
Kevin Harvick secured his eighth win of the season in the AAA Texas 500 on a late race restart in which he held off the #12 of Ryan Blaney, but his win doesn't count towards the playoffs, as his car failed post-race inspection and was issued an L-1 level penalty due to an infraction with the spoiler. Harvick dominated the race, leading 177 laps and winning all three stages of the race. "We've been working day after day to make speed," said Harvick, who won for the second time at Texas, as he also won last year's AAA Texas 500. "This place has been really good to me. We finally knocked that barrier down. The expectations are to win. Like I told you guys before the race, we don't race for points. We race for wins. We don't count our fingers and our toes trying to figure out how to make it in [to the Championship 4 race]. Today we earned our way in, and we're going to race again next week [at ISM Raceway in Phoenix] and try to win another race and then see what we can do at Homestead" (courtesy of nascar.com). Those comments were made on Sunday after he won the race—before the penalties came out. Harvick has not punched his ticket to Homestead anymore now due to the penalties. He is now only three points above the cutoff heading into Sunday's race at ISM. That race can be seen at 1:30 CT on NBC as we find out who will join Joey Logano as title contenders at Homestead.
When Harvick came around to get the checkered flag, he grabbed a young race fan out of the stands for a quick selfie with the race winning #4 car behind them. "That's a moment that kid will never forget," Harvick said at a post-race press conference (courtesy of nascar.com).
NASCAR admitted a mistake in the penalty issued against Jimmie Johnson that forced him to start at the rear in Sunday's AAA Texas 500. NASCAR originally believed that the 48 team had failed pre-race inspection three times, but they had actually failed only twice, in which a 15-minute reduction in practice at ISM Raceway next weekend would've been the appropriate penalty for the situation. "First you talk to the team and apologize to the No. 48 for what happened," executive vice president Steve O'Donnell said. "It's unacceptable on our part. There was a communication breakdown that happened right before the start of the race between our inspection area on ground and race control. Where I think there was an assumption there was a third failure. There wasn't, there were only two. In that case, the 48 shouldn't have started in the back. So, at this point, what we can do is put processes in place to fix that so it never happens again. It's disappointing. It's not something you can fix during the race, unfortunately. So all we can do is own up to it and fix it. There was an assumption that he failed three times. There's usually checks and balances where the call is going up to the tower. When everybody goes out, we didn't hear from the team or maybe we missed it. Once we recognized it, we had already started the race. It's one of the things we gotta go back and review (courtesy of autoweek.com).
Joey Logano continues to anger other drivers. After his controversial bump-and-run on Martin Truex Jr. last weekend at Martinsville, he took no time to make another enemy. On a late race restart, Logano and Aric Almirola were battling for third heading into turn 3 when Almirola got loose and slid up the track, nearly wrecking them both, because of Logano racing tightly on Almirola's door. "We fought all day from the back and worked diligently all day, finally got ourselves in position and the 22 (of Logano) just went down in Turn 3 and put it right on my door and about wrecked us both," Almirola told NBCSN reporters after the race. "I'm not sure, I'll have to talk to him. He just continues to make things harder on himself. If that is the way he wants to race me when he is already locked into Homestead and we are out here fighting for our lives, that is fine. When Homestead comes around if I am not in, he will know it" (courtesy of nascar.com). Almirola was then asked how he will make it hard for Logano at Homestead. "I will just make it really difficult on him," Almirola continued. "He made it really difficult on me today which was really unnecessary. He could have run fourth, fifth, 11th, it doesn't matter. He is still going to go to Homestead and race for a championship, it is just not smart."
Here are the current playoff standings.
Driver                                            Points above/behind cutoff
1. Joey Logano                               ADVANCED
2. Kyle Busch                                 +28
3. Martin Truex Jr.                       +25
4. Kevin Harvick                            +3
_____________________ CUTOFF
5. Kurt Busch                                 -3
6. Chase Elliott                              -17
7. Aric Almirola                             -35
8. Clint Bowyer                              -51
Sources:
Spencer, Reid. "Results: Kevin Harvick Wins at Texas, Advances to Miami." Official Site Of NASCAR, NASCAR Wire Service, 5 Nov. 2018, www.nascar.com/news-media/2018/11/04/race-results-who-won-at-texas-motor-speedway-nascar-playoffs/.
Report, Staff. "Kevin Harvick's Selfie with Young Fan Is a Winner." Official Site Of NASCAR, NASCAR.com, 5 Nov. 2018, www.nascar.com/news-media/2018/11/04/kevin-harvicks-selfie-with-young-fan-is-a-winner/.
Report, Staff. "Almirola Miffed at Logano: He Makes Things Hard on Himself." Official Site Of NASCAR, NASCAR.com, 5 Nov. 2018, www.nascar.com/news-media/2018/11/04/aric-almirola-comments-joey-logano-texas/.
Weaver, Matt. "NASCAR Apologizes for Error That Incorrectly Sent Jimmie Johnson to the Rear at Texas." Autoweek, 5 Nov. 2018, autoweek.com/article/nascar/nascar-apologizes-error-incorrectly-sent-jimmie-johnson-rear-texas.
Akomarovski. "2018 NASCAR Playoffs | Monster Energy Series." Official Site Of NASCAR, 22 Aug. 2018, www.nascar.com/playoff-standings/monster-energy-nascar-cup-series/.

About the Contributor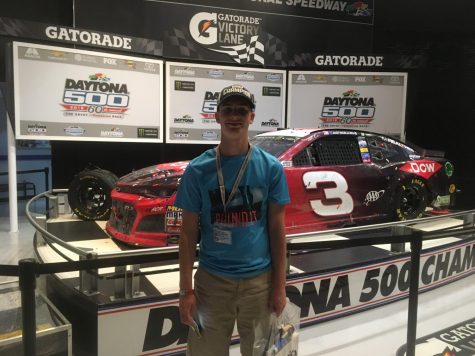 Austin Travis, Sports Section Editor
Hey guys! I am Austin Travis, I'm a Sophomore here at iUniversity Prep, and I am super excited for my fourth year on the iHoot staff. I will serve as...