CUSTER WINS AT TEXAS ON LAST-LAP PASS OF REDDICK
Sadler given custom cowboy boots by Eddie Gossage pre-race
Hang on for a minute...we're trying to find some more stories you might like.
Cole Custer took home his second career win in the NASCAR Xfinity Series in Saturday's O'Reilly Auto Parts 300. Custer ran down Tyler Reddick in turns one and two on the last lap after Reddick scampered away on the restart the lap before. Custer drew alongside Reddick coming off of turn two and cleared Reddick heading into turn three after they made contact heading down the backstretch. Custer stayed clear of Reddick all the way to the checkered flag. For Custer, it punched his ticket as a title contender at Homestead, where he absolutely dominated last year en route to his first career win. "I can't believe it," Custer said. "I did all I could and drove in deeper than I had all weekend into turn 1 [on the final lap] trying to get on [Reddick's] bumper, and it worked out. We're going to Homestead, and I think we have a great chance to win it. It's just awesome. We haven't won this year, but we've been so close. It's been frustrating, but we've kept going. There's no better time to do it" (courtesy of nascar.com).
The whole playoff picture was changed dramatically with Cole Custer's win, as both Christopher Bell and Justin Allgaier, who have combined to win 11 of the 31 races run so far this season, were sitting on the outside of the cutoff looking in. Bell struggled all day, as he spun out in turn 1 on the first lap after starting on the pole. He rebounded to still finish 4th in that stage and finished 5th in stage 2. On lap 133, contact with fellow playoff driver Austin Cindric sent the NBA2K19/Gamestop #20 of Bell into the outside wall in turn 4, ending his day. "It caught me off guard," Bell said of the Lap 1 spin. "You saw the same thing from the No. 7 [Allgaier] at Kansas. I didn't feel like I was up to speed at all. The next thing I knew, I spun out. I don't know, it has to be the tire combination. It's tricky. There wasn't much room for error" (courtesy of nascar.com).
Elliott Sadler was presented with cowboy boots as a retirement gift by Eddie Gossage, the track president of Texas Motor Speedway. Sadler's boots have the track logo on them as well as his signature. Sadler has some history at TMS; he won a Cup Series race at TMS in 2004 in a photo finish with Kasey Kahne, who was a rookie at the time.
Here are the Xfinity Series Playoff Standings.
Driver                                            Points +/- Cutoff
1. Cole Custer                               ADVANCED
2. Tyler Reddick                          +20
3. Elliott Sadler                            +13
4. Daniel Hemric                         +12
_____________________ CUTOFF
5. Justin Allgaier                           -12
6. Matt Tifft                                    -14
7. Christopher Bell                         -34
8. Austin Cindric                            -61
Sources:
Spencer, Reid. "Results: Cole Custer Wins Round of 8 Playoff Race at Texas." Official Site Of NASCAR, NASCAR.com, 4 Nov. 2018, www.nascar.com/news-media/2018/11/03/results-xfinity-series-who-won-playoff-race-at-texas/.
Akomarovski. "2018 XFINITY Series Playoff Standings." Official Site Of NASCAR, NASCAR.com, 22 Aug. 2018, www.nascar.com/playoff-standings/xfinity-series/.
Written on November 9th, 2018

About the Contributor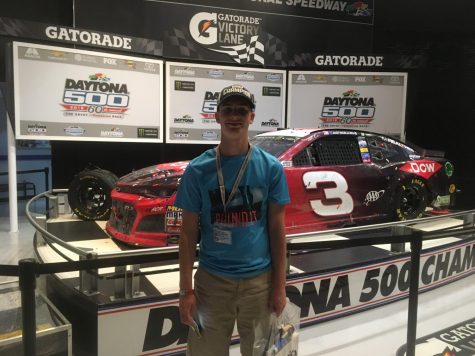 Austin Travis, Sports Section Editor
Hey guys! I am Austin Travis, I'm a Sophomore here at iUniversity Prep, and I am super excited for my fourth year on the iHoot staff. I will serve as...