HALEY SCORES WIN AFTER GILLILAND RUNS OUT OF GAS ON LAST LAP
Haley punches ticket to Championship 4 at Homestead
Hang on for a minute...we're trying to find some more stories you might like.
Justin Haley secured his spot as a championship contender at Homestead in Friday night's JAG Metals 350 at the Texas Motor Speedway. Haley was able to get by Todd Gilliland after he ran out of fuel on the last lap heading down the backstretch to get the win. It was deja vu all over again, as Gilliland's misfortune at Canada earlier in the playoffs had allowed Haley to slip by and take the win. That win allows him to join teammate Johnny Sauter as a championship contender at Homestead. "That was amazing," the 19-year-old Haley said in Victory Lane. "I thought we had it lost there. I didn't quite maximize my pit road [on the final green-flag stop]… This is a once-in-a-lifetime opportunity. To get two Chevrolets—me and Johnny—back to back to Miami, that's what we want. We've got a 50-percent chance of winning it" (courtesy of nascar.com). The #4 team of Todd Gilliland only took one can of fuel on their final pit stop on lap 115, but Gilliland had no knowledge that fuel was an issue. "I didn't know we were close on fuel at all," said Gilliland, who hit the wall in qualifying and had to start from the rear of the field after his team made unapproved adjustments to the truck. "It's horrible. I'm incredibly disappointed. I still feel like we could have been faster if I hadn't wrecked during qualifying. So many things… we win and lose as a team. But I'm super proud to be in that position, to be fighting for wins every now and then. I feel like we're on the verge of being a competitor week-in and week out. I think we're getting there every week, and that's what I'm really proud of, but at the same time, it really hurts" (courtesy of nascar.com).
It was a relatively uneventful race for playoff contenders, as they all were able to avoid trouble— besides Johnny Sauter and Noah Gragson, who each suffered minor damage. Despite that, they finished 11th and 10th, respectively. Matt Crafton goes into ISM 23 points below the cutoff, meaning he is probably going to have to win if he wants to race for a title at Homestead. Grant Enfinger, who is 18 below the cutoff, is most likely in the same situation unless Gragson or Brett Moffitt have big problems at ISM. The altered layout of ISM Raceway should make for some chaotic restarts, as the drivers will be able to use all the pavement in the dogleg area immediately after taking the green on a restart. Look for restarts to be a huge factor in that race. It can be seen on Friday, November 9th at 7:30 CT on Fox Sports 1.
Here are the NASCAR Camping World Truck Series playoff standings.
Driver                                               Points +/- Cutoff
1. Johnny Sauter                            ADVANCED
2. Justin Haley                               ADVANCED
3. Brett Moffitt                                +22
4. Noah Gragson                             +18
______________________ CUTOFF
5. Grant Enfinger                            -18
6. Matt Crafton                                -23
Sources:
Spencer, Reid. "Justin Haley Wins at Texas to Advance to Championship 4." Official Site Of NASCAR, NASCAR.com, 3 Nov. 2018, www.nascar.com/news-media/2018/11/02/haley-takes-advantage-gillilands-misfortune-win-texas-advance-championship-4/.
Akomarovski. "2018 Camping World Truck Series Playoffs Standings." Official Site Of NASCAR, NASCAR.com, 22 Aug. 2018, www.nascar.com/playoff-standings/camping-world-truck-series/.
Written on November 9th, 2018

About the Contributor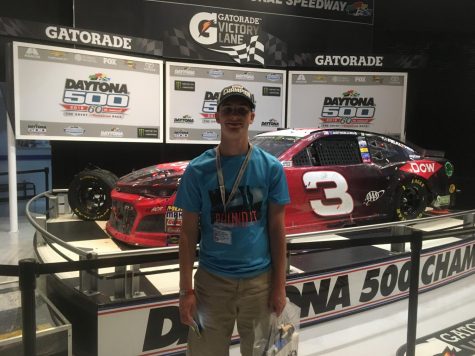 Austin Travis, Sports Section Editor
Hey guys! I am Austin Travis, I'm a Sophomore here at iUniversity Prep, and I am super excited for my fourth year on the iHoot staff. I will serve as...