MONSTER ENERGY NASCAR CUP SERIES CHAMPIONSHIP CONTENDERS
Logano joins "Big 3" as a title contender at Homestead
Hang on for a minute...we're trying to find some more stories you might like.
This season of NASCAR racing is one for the ages that's going remembered for years to come. The 2018 season started off with a historic win in the biggest race of the year, and the season has had its twist and turns for sure! Exciting finishes, penalties, tempers flaring, and strategy have all been things we've seen throughout this season. With the championship race at Homestead lurking ahead, let's take a look at the four drivers who will compete for a championship in Sunday's season-ending Ford EcoBoost 400 at Homestead, which can be seen at 2:00 CT on NBC.
Kevin Harvick will compete for his second career championship on Sunday at Homestead. Harvick, who has won 8 times this season and has 22 top-five finishes this season, looks to cap off the best season of his career with a title. Harvick has been especially dominant on intermediate tracks, as he has won 4 of the 11 races run on intermediate tracks this season. Although Homestead is a unique track different from any other on the circuit, it's still an intermediate. Despite being without crew chief Rodney Childers, Harvick will still have an experienced crew chief, Tony Gibson, on the box, so expect Harvick to still be competitive.
Kyle Busch looks to win what he fell just short of last season, his second career championship, on Sunday at Homestead. Busch has had one of the best seasons of his career, winning eight races, and has also shown great consistency, collecting 21 top fives and 27 top tens. Despite those amazing stats, he is not viewed as the favorite to win the title. That being said, Kyle Busch is a driver who will leave nothing out on the track, meaning he will do everything possible to win the championship. Plus, with his history with Kevin Harvick, things could get a little "Rowdy"(referring to Busch's nickname) in a late race battle between those two. Based on how the season has gone, Busch will probably have to beat Harvick in a late race battle to win the championship.
Martin Truex Jr. wants to once again be the Cinderella story of NASCAR by winning a championship in his team's final race. It was announced in September that Furniture Row Racing, who won the title with Truex last season, will be shutting down at the conclusion of this season due to a lack of sponsorship. They would love nothing more than to leave NASCAR as back-to-back champions. Truex has won four times this season but hasn't won since the Quaker State 400 at Kentucky in July. For this #78 team to win the championship, they are going to have to perform like they were at that time period this season. If they can return to that form, they will have a great chance of exiting NASCAR as champions.
Joey Logano punched his ticket to Homestead after moving Martin Truex Jr. out of the way for the win at Martinsville. Logano is widely viewed as the underdog to win the championship, as he's only won twice this season. But, his performance has improved dramatically throughout the playoffs, and if his performance at Texas is any indication, he will be fast at Homestead, as he was consistently in the top five in the race at Texas. Logano has come close to winning a championship multiple times, so look for him to pounce on a chance to win his first career championship.
Sources:
Ssambuco. "Monster Energy NASCAR Cup Series Standings 2018." Official Site Of NASCAR, NASCAR.com, 22 June 2017, www.nascar.com/standings/monster-energy-nascar-cup-series/.
Written on November 15th, 2018

About the Writer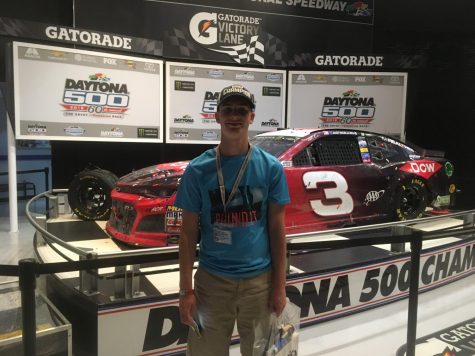 Austin Travis, Sports Section Editor
Hey guys! I am Austin Travis, I'm a Sophomore here at iUniversity Prep, and I am super excited for my fourth year on the iHoot staff. I will serve as...