LOGANO SURPRISES NASCAR WORLD WITH FIRST CUP SERIES CHAMPIONSHIP
NASCAR legend David Pearson passes away at the age of 83
Hang on for a minute...we're trying to find some more stories you might like.
Joey Logano shocked the whole NASCAR world by winning Sunday's Ford EcoBoost 400 to claim his first Monster Energy NASCAR Cup Series championship. A late race restart with 15 laps to go gave Logano his chance, and he pounced on it. Martin Truex Jr. got out ahead on the restart, but Logano ran him back down fast and made a huge move on the outside with 12 laps to go to take the lead, and he never looked back from there. The season was all about the Big 3, which are Truex, Kevin Harvick, and Kyle Busch, but Logano performed when it counted most. "We did it! We won the championship! I can't believe it. I don't know what to say. This team, [owner] Roger Penske, [crew chief] Todd Gordon, the pit crew. Oh, my God! They gave me the car I needed at the end to do my job. Put me in position to do my job. I couldn't be more proud of them. We won the championship! Oh, my God!" (courtesy of nascar.com). Logano has made appearances in the championship 4 in 2014 and 2016 but wasn't able to finish it off. He also was very good in 2015, but contact with Matt Kenseth that sent Logano into the wall and got Kenseth suspended at Martinsville ended his title dreams. Now in 2018, he was able to redeem himself and get it done. "Man, I worked my whole life to get here," Logano said. "To win a championship. We've been so close. It has been 10 seasons of fighting for this. I wasn't sure we were going to get it, but Todd made a good adjustment at the end, and we had that no-quit attitude" (courtesy of nascar.com). Logano was viewed as the heavy underdog, as the Big 3 combined to win 20 races this season, but he believed he was the favorite coming in. "We were the favorite, like I told you before the race started," Logano said in Victory Lane. "I'm so proud of everybody for rising to the occasion. We executed down the stretch like nobody's business" (courtesy of nascar.com).
Martin Truex Jr. and Furniture Row Racing couldn't complete the Cinderella story on Sunday, finishing second, falling just short of a second consecutive championship. "I'm gonna miss these guys," Truex said of his Furniture Row teammates in an interview with NBC. "I wish we could have won it. We had it. We were able to get the lead, I was just slow first 15 laps. I just couldn't do it. I don't know what else I could have done. He passed me so fast I didn't even have a chance to do anything. Not the way we wanted to go out, but hell of an effort. Been the best time of my life. I don't know what else to say" (courtesy of nascar.com). Truex was incredible with Furniture Row Racing, winning 17 races from 2015 to 2018, including an 8 win season in 2017 that resulted in his first championship. Truex Jr. will drive the #19 for Joe Gibbs Racing in 2019, bringing crew chief Cole Pearn along with him. "Everything about it has been great," Truex Jr. said. "Everything about it has been the best thing I've ever been a part of. You know, I feel good about my future and going to a great place, and I know we'll have more success. But it's going to be different. You know, it's going to be a different team, a different cast of characters, and these guys were a special group, and I'm very thankful to get to work with all of them. … It's just been a good ride. It's been a good run, and I hate to see it come to an end, but everything ends somewhere."
NASCAR Hall of Famer David Pearson, nicknamed the "Silver Fox", passed away on Monday night at the age of 83. Pearson was incredible in his career, winning 105 races, which is second all-time, and also won three championships. "David Pearson's 105 NASCAR premier series victories and his classic rivalry in the 1960s and '70s with Richard Petty helped set the stage for NASCAR's transformation into a mainstream sport with national appeal," NASCAR Chairman and CEO Jim France said in a statement. "When he retired, he had three championships — and millions of fans. Richard Petty called him the greatest driver he ever raced against. We were lucky to be able to call him one of our champions. The man they called the 'Silver Fox' was the gold standard for NASCAR excellence. On behalf of the France Family and everyone at NASCAR, I want to offer sincere condolences to the family and friends of David Pearson, a true giant of our sport" (courtesy of nascar.com). Pearson's career in NASCAR's premier series lasted over a 26 year span, as his first start came in 1960, and his last came in 1986. Pearson's rivalry with Petty rose to prominence in the 1960s and 1970s, and is remembered best for the finish in the 1976 Daytona 500, in which they both crashed on the last lap. Pearson was able to keep his car running to win the race. "I have always been asked who my toughest competitor in my career was," Petty said in a statement hours after Pearson's death was announced. "The answer has always been David Pearson. David and I raced together throughout our careers and battled each other for wins — most of the time finishing first or second to each other. It wasn't a rivalry, but more mutual respect. David is a Hall of Fame driver who made me better. He pushed me just as much as I pushed him on the track. We both became better for it. We have always been close to the Pearson family because they were in the racing business, just like us. We stayed close, and I enjoyed visits to see David when going through South Carolina. We will miss those trips. Our thoughts and prayers are with the entire Pearson family and friends" (courtesy of nascar.com).
Sources:
Spencer, Reid. "Race Results NASCAR Championship 2018: Logano Wins." Official Site Of NASCAR, NASCAR.com, 19 Nov. 2018, www.nascar.com/news-media/2018/11/18/joey-logano-wins-at-miami-to-take-2018-monster-energy-series-title/.
Report, Staff. "Martin Truex Jr. on Runner-up to Joey Logano: 'We Had It'." Official Site Of NASCAR, NASCAR.com, 19 Nov. 2018, www.nascar.com/news-media/2018/11/18/martin-truex-jr-runner-up-to-joey-logano.
Albert, Zack. "David Pearson, NASCAR's 'Silver Fox,' Dies at 83." Official Site Of NASCAR, NASCAR.com, 13 Nov. 2018, www.nascar.com/news-media/2018/11/12/nascar-hall-of-famer-david-pearson-obituary/.
Written on November 19th, 2018

About the Writer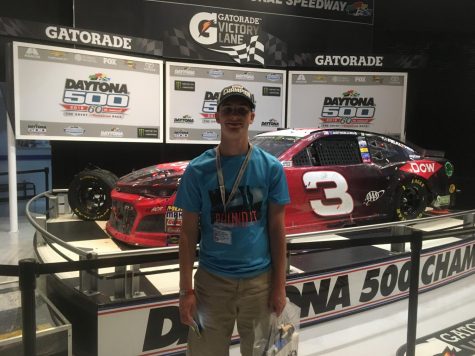 Austin Travis, Sports Section Editor
Hey guys! I am Austin Travis, I'm a Sophomore here at iUniversity Prep, and I am super excited for my fourth year on the iHoot staff. I will serve as...