NASCAR SILLY SEASON RECAP
Huge number of star drivers find themselves in new rides for 2019
Hang on for a minute...we're trying to find some more stories you might like.
This year's edition of NASCAR Silly Season has been hectic, with many star drivers moving to different teams in 2019, including 2017 champion Martin Truex Jr. In addition to drivers moving around, many crew chiefs also find themselves with different teams. Furthermore, the new aero package that NASCAR will begin using in 2019 has generated a lot of questions. Here's a recap of this year's NASCAR Silly Season.
Many veteran drivers have experienced huge changes as the upcoming season approaches. Martin Truex Jr. is moving to Joe Gibbs Racing to drive the #19 car after Furniture Row Racing shut down at the conclusion of the 2018 season. Cole Pearn, who was Truex Jr's crew chief at Furniture Row, will join Truex Jr on the #19 team. Daniel Suarez, who drove the #19 in 2017 and 2018, will join Stewart-Haas Racing and drive the #41 in 2019 with crew chief Billy Scott, who was the crew chief for the #41 team in 2018. Kurt Busch, the former driver of that #41 car, will join Chip Ganassi Racing for the 2019 season, as Jamie McMurray will hang his helmet after this season's Daytona 500. McMurray will drive the #40 car for Spire Motorsports, who is in a partnership with CGR, in the Clash and the Daytona 500. Speaking of Spire, they will be a first-year team after acquiring the charter from Furniture Row Racing after they shut down. It has been announced that Quin Houff will drive a number of races for Spire, starting with the fourth race of the season in Phoenix. The Spire team will run the #77 car the remaining 35 races after Daytona instead of the #40. Houff is not the only driver who will be a rookie in 2019, as Ryan Preece, Matt Tifft, Daniel Hemric, and Tanner Berryhill all landed full-time rides for 2019. Veteran Ryan Newman will also have a new ride, driving the #6 car for Roush Fenway Racing, with Scott Graves serving as his crew chief. The most intriguing situation, though, may be the #95 team of Matt Dibenedetto and Mike Wheeler. The #95 will have technical support from Joe Gibbs Racing, meaning a huge spike in performance can be expected. We have also seen that Dibenedetto can perform well in the right equipment, and Mike "Wheels" Wheeler is a very highly regarded crew chief throughout the sport. Big things could happen for the #95 in 2019.
William Byron and Jimmie Johnson will both be working with new crew chiefs, as Chad Knaus has moved from Johnson's #48 team to Byron's #24 team, and Kevin Meendering will crew chief Johnson for 2019. Denny Hamlin will also have to get used to having a new crew chief, as Chris Gabehart will replace Mike Wheeler atop the box of the #11 team. Michael McDowell, Chris Buescher, and Darrell Wallace Jr are among the other drivers that will be working with new crew chiefs in 2019.
What is most exciting, though, about this upcoming season, is the impact that the new aero package will have on the racing. The reduction in power and added downforce, as well as the front end ducts, are expected to help make the racing closer and more competitive. Tracks such as Texas and Las Vegas will use the new package, and it should tremendously improve the quality of racing in each race the package is used. For the restrictor plate tracks of Daytona and Talladega, they will no longer be restrictor plate tracks, as the restrictor plates will no longer be used after the Daytona 500, as the reduction in horsepower will essentially serve the same function.
With all the moves that took place in silly season, as well as the new package, should make for some fantastic racing in the 2019 season. The anticipation throughout the sport is mounting as the season approaches, and hopefully that anticipation will be rewarded. The season-opening Daytona 500 can be seen on FOX at 1:30 CT.
Sources:
Page, Scott. "2019 Monster Energy NASCAR Cup Series Team / Driver Chart." ESPN, ESPN Internet Ventures, 24 Jan. 2019, www.espn.com/jayski/cup/2019/story/_/id/25595296/2019-monster-energy-nascar-cup-series-team-driver-chart.
Written on January 28th, 2019

About the Writer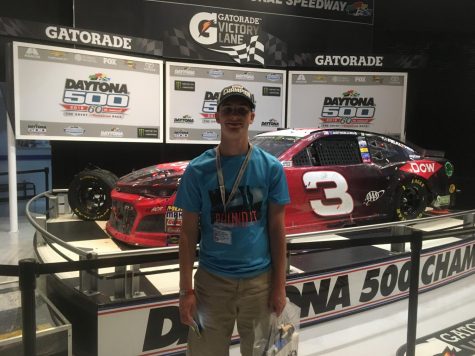 Austin Travis, Sports Section Editor
Hey guys! I am Austin Travis, I'm a Sophomore here at iUniversity Prep, and I am super excited for my fourth year on the iHoot staff. I will serve as...