HAMLIN MAKES LATE PASS ON KYLE BUSCH, WINS 2ND DAYTONA 500
Dibenedetto's career run comes to end in huge 21 car crash late in race
Hang on for a minute...we're trying to find some more stories you might like.
Denny Hamlin won his second career Daytona 500 after holding off teammate Kyle Busch on a series of late-race restarts. All the chaos late in the race started with a caution with ten laps to go after contact between Paul Menard and Matt Dibenedetto set off a huge 21 car pileup in turn 3. Another crash triggered by contact between Ricky Stenhouse Jr., and yet another crash started by Clint Bowyer, set up the overtime restart, where Hamlin sealed the win. Hamlin got by teammate Kyle Busch immediately before the Bowyer crash happened, and gave the advantage to Hamlin on the final restart, as he was the control car. He held off charges from Kyle Busch and Joey Logano in those final two laps to win the race. For Hamlin, it was an emotional win, as J.D. Gibbs, the son of team owner Joe Gibbs and former team president of Joe Gibbs Racing, had died just five weeks earlier at the age of 49 from a neurological condition. "It was just one of those days where I felt like it was meant to be," said Hamlin, who was paired with new crew chief Chris Gabehart. "Hats off to Kyle as well. I know he was eagerly wanting his first victory in the Daytona 500, but today we just weren't going to be denied. The whole (Gibbs) family — they did so much for me over the course of my career. This one is for J.D. We're desperately going to miss him the rest of our lives. His legacy still lives on through Joe Gibbs Racing and I'm proud to do this for them." (Courtesy of nascar.com) J.D. Gibbs is the person who discovered Hamlin and got him his huge opportunity with Joe Gibbs Racing. Since his entrance into full-time cup series racing in the FedEx #11 car in 2006 with JGR, Hamlin has won 32 races, including the 2016 Daytona 500 as well as this year's cup.
Matt Dibenedetto, who led a race-high 49 laps, was involved in that crash with 10 laps to go. It was Dibenedetto's first race with Leavine Family Racing, who switched to Toyota and formed an alliance with Joe Gibbs Racing for the 2019 season. It was really a fairytale story for Dibenedetto throughout the day, but finishing off that story just wasn't meant to be. "Just one of those racing deals," DiBenedetto said after leaving the infield care center. "I talked to Paul (Menard) there, and he was just trying to get to my outside and got into my right rear. This is the first time that I'm seeing it (on replay), and he just got to my right rear and was trying to push. I was focused on trying to help my Toyota teammates. This was the best speedway event I've had in my life – being able to lead and do some incredible things. This is such a great team and I know we can show them what we're doing here. I'm just so proud to be a part of Toyota and Procore as my sponsor – all these guys – Leavine Family Racing and Toyota, they all took a heck of a chance on me, and I'm glad we proved what we're here to do. I'm pretty heartbroken, but appreciative to be here. Thank you so much to all the fans for all the support, just happy to be here."(Courtesy of nascar.com)
I also wanted to add into the article that I was at the Daytona 500, and it was a truly incredible experience. Whether you are a NASCAR fan or not, the Daytona 500 is an event you have to go to eventually in your life. There is no other event like the Daytona 500, and it was also an incredibly exciting race out on the track. Being at a jam-packed facility of over 200,000 race fans was electrifying, and something that will forever stick with me.
Sources:
Spencer, Reid. "Denny Hamlin Wins 61st Annual Daytona 500." Official Site Of NASCAR, NASCAR.com, 19 Feb. 2019, www.nascar.com/news-media/2019/02/17/denny-hamlin-wins-61st-annual-daytona-500/
.
Spencer, Reid. "DiBenedetto's Excellent Run Comes to Abrupt, Violent End." Official Site Of NASCAR, NASCAR.com, 19 Feb. 2019, www.nascar.com/news-media/2019/02/18/matt-dibenedettos-excellent-run-comes-to-abrupt-violent-end/.
"Denny Hamlin." Wikipedia, Wikimedia Foundation, 26 Feb. 2019, en.wikipedia.org/wiki/Denny_Hamlin.
Written on February 27th, 2019

About the Writer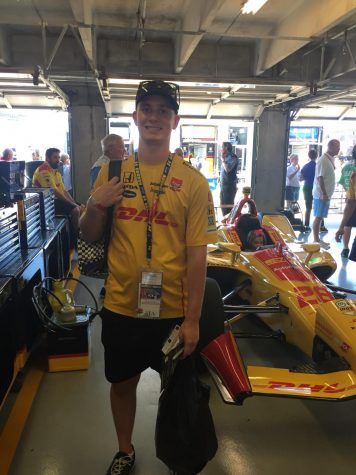 Austin Travis, Editor-in-Chief
Hey guys, my name is Austin Travis, and I will serve as the Editor-in-Chief for the iHoot Newspaper for the 2019-2020 school year. This is my fifth year...