BUSCH WINS SECOND MONSTER ENERGY NASCAR CUP SERIES CHAMPIONSHIP
Truex Jr. and Hamlin encounter issues that cost them championship chances
Hang on for a minute...we're trying to find some more stories you might like.
Kyle Busch proved all of his haters wrong by winning his second championship by virtue of a win in Sunday's Ford Ecoboost 400. Busch, who also won the 2015 title, was viewed as the underdog due to a 21 race winless skid dating back to his win at Pocono in June. "Everybody always says you never give up," Busch said. "We're no different. We just do what we can do each and every week. Sometimes we may not be the best. Sometimes we may not have the right track position. Today we had a really good car, and I could race around and move around. That's what's so special about Homestead-Miami Speedway, is the ability to put on a show. I felt like we did that there racing those guys." (Courtesy of nascar.com) It added to an already special year for Busch, as he became the winningest driver across all three of NASCAR's national series with a Gander Outdoors Truck Series win at Martinsville in March. "It was a lot of fun to cap off such an amazing year," Busch said. (Courtesy of nascar.com) It was Busch's 56th career win, and 5th of the season. The championship was the second of his career. Many people thought he couldn't win a championship running the full season, as he won in 2015 after missing the first 11 races due to injuries suffered in a Xfinity Series race at Daytona. NASCAR granted him a medical waiver that allowed him into the playoffs as long as he won one of the final 15 regular season races and got into the top 30 in points. He won 4 races and easily got into the top 30 and went on to win the title. This season for Busch drew a lot of comparisons to 2015, as he went on a 15 race winless skid after his fourth win of the year at Indianapolis, a similar situation to 2019. "We had a cold spell there," crew chief Adam Stevens said of this year's five-month drought. "It's been well-documented, believe it or not. Quite a few questions about it. Felt a little bit like 2015 to me. Take the broken legs out of the equation. We were hot early in 2015 when Kyle came back. We didn't win since Indy that year, then came to Homestead and got the job done. You got to remember, too, we're in such a unique situation, as a competitive team that runs up front with the goal of winning the championship every year. Everything we do is to make that happen, right? To win the regular season points championship, then try to maintain that and get to Homestead–that's what it's all about." (Courtesy of nascar.com)
Martin Truex Jr. and Denny Hamlin, who were the winningest drivers of 2019, with 7 and 6 wins apiece, respectively, both encountered major issues on pit road that cost them a chance at a title. On a pit stop from the lead on lap 120, Truex Jr.'s pit crew put the wrong tires on each side of the car, as the left sides were on the right side, and likewise, disrupting the balance of the car, which forced Truex Jr. back down pit road. While he was able to come back and finish second, he had to fight through dirty air to get just that far, and never had another opportunity to catch teammate Kyle Busch. "Yeah, ultimately it was the loss of track position that bit us," Truex said. "We restarted the third stage in third, and really wish I could have been either second or fourth. I got blitzed on the outside by the 20 (third-place finisher Erik Jones) and the 22 (fifth-place Joey Logano) and a couple of those guys, and then I had to just run the crap out of my right front to get back by them, and I got tight on that run, and it took me forever to just get by a few cars. Ultimately, it came down to track position, and I felt like if I could have been up front and controlled the race, I could have drove away from them." (Courtesy of nascar.com) Hamlin had to come down pit road to remove a piece of tape that had been put on the grille a few laps before that was intended to give him extra grip, but instead caused the engine to begin overheating. He was able to come back and finish 10th after unlapping himself on fresh tires, but it wasn't enough. "I don't think I could have done a better job," Hamlin said. "I don't think I could have ‑‑ I didn't leave anything out there. So, for the first half of the race we just weren't fast enough, we weren't handling very good, and all of a sudden it went nighttime and we took off, and suddenly I perked up and got a little more and was thinking that we've got a chance." (Courtesy of nascar.com) It was a great season for Hamlin with first year crew chief Chris Gabeheart, as they won the season opening Daytona 500 in addition to five other races throughout the season. "A race team is not going to be this good because they don't live by the fire," Gabehart said. "You have got to dance with the fire to beat these guys and that's what this race team does. But the problem with dancing with it is every now and then you get burned." (Courtesy of nascar.com) However, Hamlin seems to be in good spirits heading into the offseason less than 90 days before the 2020 Daytona 500, which will be on February 16th on FOX. "It's not like I'm going to go through the offseason upset or sad," Hamlin said. "It's like, I'm looking forward to having the momentum that we took through this year with a first‑year crew chief, and we're going to win a lot, like a lot next year. I just think that we'll have another opportunity. There's no question." (Courtesy of nascar.com)
The 2019 NASCAR season was one for the ages, as we saw the new aero package make a positive impact on the racing. Next season should be exciting too, as drastic schedule changes and an elite rookie class should make for some exciting racing. Here are some notable driver changes for 2020.
8 (Richard Childress Racing)-Two time Xfinity Series Champion Tyler Reddick will race this car in 2020 as Daniel Hemric will drive for JR Motorsports in the Xfinity Series.
17 (Roush Fenway Racing)-Chris Buescher returns to RFR for the 2020 season driving the #17 as Ricky Stenhouse will drive Buescher's old car, the #37 for JTG Daughtery.
21 (Wood Brothers Racing)-Matt DiBenedetto will pilot the famed #21 in 2020 as Paul Menard ran his final race at Homestead.
32 (Go Fas Racing)-Go Fas announced a technical alliance with Stewart-Haas Racing in 2020, which may give this team a great opportunity to contend for wins. A driver has not yet been announced, but Corey LaJoie piloted this machince in 2019.
37 (JTG Daughtery Racing)-See 17 (Roush Fenway Racing).
41 (Stewart-Haas Racing)-Cole Custer will move up to the Cup Series after winning 7 races in the 2019 Xfinity Series season. Daniel Suarez is now a free agent.
95 (Leavine Family Racing)-Xfinity Series phenom Christopher Bell will drive the #95 in 2020 as Matt DiBenedetto will move to the famed #21.
Sources:
Spencer, Reid. "Kyle Busch Wins NASCAR Title Race at Miami." Official Site Of NASCAR, NASCAR Wire Service, 18 Nov. 2019, www.nascar.com/news-media/2019/11/17/kyle-busch-corrals-second-career-monster-energy-series-title-with-win-at-miami/.
Wilhelm, Chase. "Denny Hamlin's Title Run Hampered by Car Trouble in Miami." Official Site Of NASCAR, NASCAR.com, 18 Nov. 2019, www.nascar.com/news-media/2019/11/17/denny-hamlin-issues-car-smoke-miami-nascar-playoffs/.
Written on November 19th, 2019
About the Contributors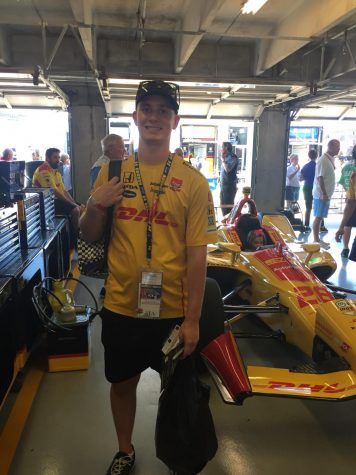 Austin Travis, Editor-in-Chief
Hey guys, my name is Austin Travis, and I will serve as the Editor-in-Chief for the iHoot Newspaper for the 2019-2020 school year. This is my fifth year...