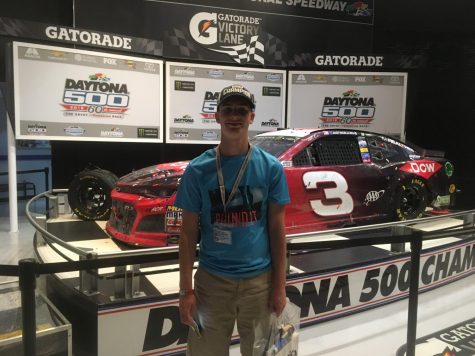 Hey guys! I am Austin Travis, I'm a Sophomore here at iUniversity Prep, and I am super excited for my fourth year on the iHoot staff. I will serve as the Sports Section Editor for the third year in a row, as sports are my biggest passion.
Outside of school, I follow many sports. I'm an avid racing, basketball, and football fan, and spend almost all of my free time doing stuff associated with those three things! I'm also a competitive swimmer, and spend hours a week in the pool. I love to play XBOX games, such as 2K and Madden. I also love EDM and hip-hop music.
I am looking very forward to providing the whole iUniversity Prep community with up-to-date stories about what's going on in the world of sports, and hope you guys find the same enjoyment reading my articles that I feel when I write them. I'm truly looking forward to another fantastic year with iHoot, and I'm super excited to be back as the Sports Editor for the 18-19 school year!
Austin Travis, Sports Section Editor
Sep 18, 2019

STEELERS AND SAINTS LOSE AS BREES AND ROTHLISBERGER ARE INJURED

(Story)

May 17, 2019

2019 NBA MOCK DRAFT 1.0

(Story)

May 17, 2019

ELLIOTT WINS TALLADEGA AS LARSON ROLLS ON LAST LAP

(Story)

Apr 17, 2019

COLTON HERTA SCORES HISTORIC WIN IN INDYCAR'S COTA DEBUT

(Story/Media)

Apr 17, 2019

HAMLIN OVERCOMES PIT ROAD WOES, WINS O'REILLY AUTO PARTS 500

(Story/Media)

Mar 27, 2019

HAMLIN MAKES LATE PASS ON KYLE BUSCH, WINS 2ND DAYTONA 500

(Story)

Mar 27, 2019

WHAT IS HOLDING THE BOSTON CELTICS BACK?

(Story)

Feb 01, 2019

NASCAR SILLY SEASON RECAP

(Story)

Feb 01, 2019

WHY THE RAMS WILL WIN SUPER BOWL LIII

(Story)

Jan 28, 2019

COWBOYS DEFEAT SEAHAWKS, EAGLES ADVANCE AFTER PARKEY'S LATE MISS, AND MORE FROM WILDCARD WEEKEND

(Story)

Dec 12, 2018

UNSUNG HEROES OF THE NBA

(Story)

Nov 26, 2018

MOFFITT WINS TRUCK SERIES CHAMPIONSHIP

(Story)

Nov 26, 2018

UNDERDOG REDDICK CAPTURES FIRST XFINITY CHAMPIONSHIP

(Story)

Nov 26, 2018

LOGANO SURPRISES NASCAR WORLD WITH FIRST CUP SERIES CHAMPIONSHIP

(Story)

Nov 26, 2018

RAMS OUTLAST CHIEFS IN ALL-TIME CLASSIC, COWBOYS WIN ON LAST SECOND FIELD GOAL, AND MORE FROM NFL WEEK 11

(Story)

Nov 26, 2018

BUSCH WINS CAN-AM 500 AS CHAMPIONSHIP 4 ARE SET

(Story)

Nov 16, 2018

MONSTER ENERGY NASCAR CUP SERIES CHAMPIONSHIP CONTENDERS

(Story)

Nov 10, 2018

HALEY SCORES WIN AFTER GILLILAND RUNS OUT OF GAS ON LAST LAP

(Story/Media)

Nov 10, 2018

CUSTER WINS AT TEXAS ON LAST-LAP PASS OF REDDICK

(Story/Media)

Nov 08, 2018

HARVICK DOCKED POINTS AFTER POST-RACE INFRACTION AFTER DOMINATING WIN

(Story/Media)

Oct 24, 2018

COOPER, HYDE TRADED, EXCITING FINISHES, AND MORE FROM NFL WEEK 7

(Story)

Oct 22, 2018

COWBOYS WIN BIG OVER JAGS, PATRIOTS DEFEAT KANSAS CITY, AND MORE FROM NFL WEEK 6

(Story)

Oct 17, 2018

ALMIROLA EARNS FIRST VICTORY OF 2018 AT TALLADEGA

(Story)

Oct 11, 2018

ELLIOTT STEALS WIN LATE AT DOVER

(Story)

Oct 07, 2018

BLANEY WINS IN CRAZY FINISH AT CHARLOTTE ROVAL

(Story)

Oct 05, 2018

OHIO STATE DEFEATS PENN STATE, NOTRE DAME WINS BIG, MORE FROM WEEK 5

(Story)

Sep 29, 2018

LIONS STUN PATRIOTS, MAHOMES LIGHTS IT UP AGAIN, AND MORE FROM WEEK 3

(Story)

Sep 24, 2018

COWBOYS BEAT GIANTS, FITZMAGIC GOES OFF AGAIN, AND MORE FROM NFL WEEK 2

(Story)

Sep 24, 2018

HUNTER-REAY DOMINATES AS DIXON WINS FIFTH TITLE

(Story)

Sep 24, 2018

KYLE BUSCH WINS FEDERATED AUTO PARTS 400

(Story)

Apr 16, 2018

AUSTIN DILLON WINS DAYTONA 500

(Story)

Feb 12, 2018

GRIFFIN TRADED TO PISTONS IN SURPRISING TRADE

(Story)

Feb 12, 2018

COUSINS TEARS ACHILLES, POWER RANKINGS, AND MORE

(Story)

Feb 10, 2018

NBA TRADE DEADLINE TRANSACTION RECAP

(Story)

Jan 12, 2018

ESPN NEEDS TO STOP GIVING LAVAR BALL A PLATFORM

(Story)

Jan 11, 2018

ALABAMA WINS 2ND CFP TITLE IN LAST 3 YEARS

(Story)

Jan 11, 2018

3 REASONS WHY THE DALLAS COWBOYS WILL MAKE THE PLAYOFFS

(Story)

Jan 11, 2018

WENTZ TEARS ACL AGAINST RAMS, OTHER STORYLINES FROM NFL WEEK 14

(Story)

Dec 04, 2017

COLLEGE FOOTBALL PLAYOFF MATCHUPS SET

(Story)

Nov 30, 2017

AUBURN BEATS ALABAMA, OTHER BIG STORIES IN WEEK 14

(Story)

Nov 30, 2017

BRISCOE FINALLY WINS AS BELL TAKES TITLE

(Story/Media)

Nov 28, 2017

BYRON WINS XFINITY SERIES TITLE

(Story/Media)

Nov 27, 2017

TRUEX WINS FORD 400, CLAIMS FIRST TITLE

(Story/Media)

Nov 17, 2017

CHAMPIONSHIP CONTENDERS: KEVIN HARVICK

(Story/Media)

Nov 17, 2017

CHAMPIONSHIP CONTENDERS: BRAD KESELOWSKI

(Story)

Nov 17, 2017

CHAMPIONSHIP CONTENDERS: MARTIN TRUEX JR.

(Story)

Nov 17, 2017

CHAMPIONSHIP CONTENDERS: KYLE BUSCH

(Story)

Nov 17, 2017

BYRON WINS AS CHAMPIONSHIP 4 IS SET

(Story/Media)

Nov 27, 2017
Nov 13, 2017

ERIK JONES WINS XFINITY SERIES AT TEXAS

(Story/Media)

Nov 13, 2017

SAUTER WINS JAG METALS 350

(Story/Media)

Nov 13, 2017

KENSETH WINS IN FINAL PHOENIX RACE

(Story/Media)

Nov 06, 2017

HARVICK WINS AAA TEXAS 500

(Story/Media)

Nov 06, 2017

KYLE BUSCH WINS IN UNBELIEVABLE FINAL LAPS AT MARTINSVILLE

(Story/Media)

Nov 06, 2017

RECAP OF NBA OPENING WEEK 2017

(Story/Media)

Nov 06, 2017

CHRISTOPHER BELL GRABS FIRST XFINITY SERIES WIN

(Story/Media)

Oct 31, 2017

TRUEX JR. GETS 7TH WIN OF SEASON AT KANSAS

(Story/Media)

Oct 19, 2017

KESELOWSKI WINS WRECKFEST AT 'DEGA

(Story/Media)

Oct 19, 2017

BREAKING: HAYWARD FRACTURES TIBIA, DISLOCATES ANKLE ON OPENING NIGHT

(Story/Media)

Oct 19, 2017

KLIGERMAN TAKES EMOTIONAL VICTORY IN FRED'S 250

(Story/Media)

Oct 06, 2017

XFINITY AND TRUCK RECAP

(Story/Media)

Oct 06, 2017

BUSCH WINS DOVER FOR 2ND STRAIGHT WIN

(Story/Media)

Oct 05, 2017

NFL PLAYERS, POPOVICH PROTESTING

(Story)

Feb 07, 2017

NASCAR OFFSEASON UPDATE

(Story)

Jan 10, 2017

CLEMSON BECOMES NATIONAL CHAMPIONS

(Story/Media)

Dec 06, 2016

NFL RECAP: WEEK 13

(Story/Media)

Nov 30, 2016

NFL RECAP: WEEK 12

(Story/Media)

Nov 29, 2016

JOHNSON WINS 7TH CHAMPIONSHIP AT HOMESTEAD

(Story/Media)

Nov 29, 2016

SUAREZ BECOMES FIRST FOREIGN CHAMPION IN NASCAR

(Story/Media)

Nov 29, 2016

BYRON WINS FORD ECOBOOST 200 AS SAUTER BECOMES CHAMPION

(Story/Media)

Nov 15, 2016

LOGANO WINS PHOENIX, PUNCHES TICKET TO CHAMPIONSHIP 4

(Story/Media)

Nov 10, 2016

EDWARDS WINS RAIN-SHORTENED AAA TEXAS 500

(Story/Media)

Nov 09, 2016

LARSON WINS O'REILEY AUTO PARTS CHALLENGE

(Story/Media)

Nov 08, 2016

SAUTER WINS SECOND STRAIGHT RACE AT TEXAS

(Story/Media)

Nov 01, 2016

JOHNSON WINS AT MARTINSVILLE

(Story/Media)

Oct 25, 2016

ENFINGER GRABS FIRST CAREER WIN IN FRED'S 250

(Story/Media)

Oct 24, 2016

LOGANO WINS HELLMAN'S 500

(Story/Media)

Oct 20, 2016

NFL RECAP: WEEK 6

(Story)

Oct 19, 2016

COLLEGE FOOTBALL RECAP: WEEK 7

(Story)

Oct 17, 2016

HARVICK WINS HOLLYWOOD CASINO 400

(Media)

Oct 14, 2016

NFL RECAP: WEEK 5

(Story)

Oct 13, 2016

LOGANO WINS CHARLOTTE XFINITY RACE

(Story/Media)

Oct 12, 2016

COLLEGE FOOTBALL RECAP: WEEK 6

(Story)

Oct 11, 2016

REMEMBERING DAN WHELDON

(Story)

Oct 11, 2016

JOHNSON WINS BANK OF AMERICA 500

(Story/Media)

Oct 05, 2016

COLLEGE FOOTBALL RECAP: WEEK 5

(Story/Media)

Oct 04, 2016

NFL RECAP: WEEK 4

(Story/Media)

Oct 04, 2016

XFINITY AND TRUCK RACE RECAP

(Story)

Oct 03, 2016

TRUEX JR. TAKES DOMINATE WIN IN CITIZEN SOLDIER 400

(Story)

Sep 27, 2016

XFINITY AND TRUCK RACE RECAP

(Story)

Sep 27, 2016

HARVICK WINS AT NEW HAMPSHIRE TO ADVANCE TO CONTENDER ROUND OF CHASE

(Story/Media)

Sep 26, 2016

LES MILES FIRED FROM LSU

(Story)

Sep 21, 2016

NFL RECAP: WEEK 2

(Story)

Sep 21, 2016

TRUEX JR. WINS CHASE OPENER TO ADVANCE TO CONTENDER ROUND

(Story)

Sep 20, 2016

FANTASY FOOTBALL WEEK 1

(Story)

Sep 20, 2016

PAGENAUD CAPS OFF SEASON WITH FIRST INDYCAR CHAMPIONSHIP

(Story)

Apr 28, 2016

EDWARD WINS TOYOTA OWNERS 400

(Story)

Apr 28, 2016

FIRST ROUND OF NBA PLAYOFFS

(Story)

Apr 20, 2016

PAGENAUD WINS LONG BEACH IN CONTROVERSIAL FINISH

(Story)

Apr 20, 2016
Apr 20, 2016

KOBE SCORES 60 IN "FAREWELL" GAME

(Story)