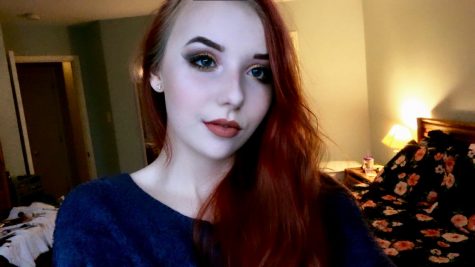 Hello! I'm Denise "Nisi" Soerens, and I am a Senior at iUniversityPrep. I love writing, reading, and am so very excited for another great year with the iHootstaff!
I am the Editor-in-Chief of the 2018-2019 iHootNewspaper.
Last year was my first year at iHoot, but I jumped right into the deep end as Associate Editor! I learned a lot about our day-to-day operations, and took the plunge as Editor-in-Chief this year; I've loved every minute of it. This year I'm looking forward to creating an aesthetically pleasing news publication that the students of iUniversityPrep can relate to and enjoy!
Besides being a part of iHoot, I'm an AP student, classical pianist, and a member of NHS! I love Jesus, music, reading, Pentatonix, Hamilton, memes, animals, and makeup! Looking forward to an owl-some year with iHoot!
Denise Soerens, Editor-in-Chief
May 17, 2019

NISI AND NATE DEBATE: NERDS!

(Story)

Apr 27, 2019

NISI AND NATE DEBATE: AUNTS VS. UNCLES

(Story)

Mar 25, 2019

WISELY'S WILD GUESS WHOOOOO RESULTS (OWL OFFICES)

(Story)

Feb 11, 2019

NISI AND NATE DEBATE, PART I: ACCENTS!

(Story)

Jan 28, 2019

THE TWO-WEEK BINGE

(Story)

Nov 12, 2018

WHY YOU SHOULD CONSIDER AP

(Story)

Nov 08, 2018

PROJECT THANKFUL 2018

(Story)

Nov 05, 2018

WISELY'S WILD GUESS WHOOOOO RESULTS

(Story)

Oct 29, 2018

WISELY'S WILD GUESS WHOOOOO?

(Story)

Oct 15, 2018

KRACHTIGE VROUWEN: I AM AN EAGLE

(Story)

Oct 09, 2018

FUN THINGS TO DO FOR HALLOWEEN

(Story)

Sep 30, 2018

@iUPrepMemes: BEHIND THE MEMES

(Story)

Apr 16, 2018

WHAT'S UP WITH AVOCADOS?

(Story)

Apr 16, 2018

FINE ARTS FESTIVAL

(Story)

Mar 09, 2018
Jan 11, 2018

TAKE-A-KNEE: PATRIOTIC OR DISRESPECT?

(Story/Media)

Dec 08, 2017

THE OWLSOME CLUBS OF IUNIVERSITY PREP

(Story)

Dec 08, 2017

SPRINGFIELD ILLINOIS- LINCOLN'S HOMETOWN

(Story/Media)

Dec 05, 2017
Dec 04, 2017

MY SUMMER TRIP TO ANAHEIM, CALIFORNIA

(Story)

Nov 27, 2017

PROJECT THANKFUL 2017

(Story)