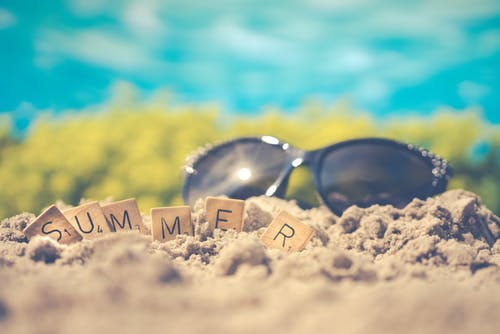 Hey guys!  Summer is coming up soon.  Well, I have some good news for you! I have all the essentials for a rockin' summer.  Most of you are thinking, "Oh, great; she is going to tell us to wear sunscreen." Well, you're kind of right. Not only should you use sunscreen, but you should also use an awesome pool float and the best sunglasses you can find!
All the ladies out there, here are all the awesome essentials for you!  The most important thing to have for summer is a great hat! Some days we just want to throw our hair in a messy bun and go, but you should have a backup plan.  Self-tanner, it really helps with that wanted summer glow. Sunglasses; with a great pair of sunglasses you can look like you belong on the cover of Vogue. A fruit-shaped pool float; let's be real, we don't need one, but we really want one.  Ladies, the main essential is just simply being confident in yourself and having the best summer ever!
Guys out there, here are all the epic essentials for you! Sunglasses–get a pair of sunglasses that will help you see your bright future. A ball cap, for all the days that you would just much rather not style your hair. Some good cologne (not Axe); just a good, refreshing scent.  Deodorant; let's be real, you guys really need this. And last but definitely not least, an awesome pair of shoes for the beach, pool, or even just the mall.
Summer is just right around the corner! Get prepared for an epic and amazing summer. Not only is it a much-needed break, but it is also a time to spend with family and friends. Get out there and have fun!