ARMY NURSE CORPS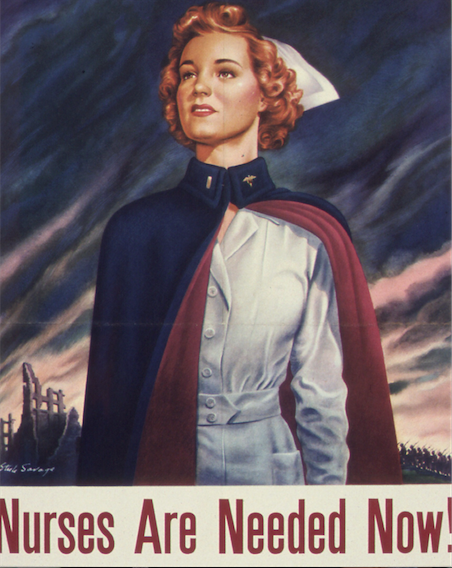 This year the Army Nurse Corps celebrates its 114th anniversary. The Corps has come a long way in the last century and has made significant advances on women's involvement in the military. Before the Army Nurse Corps was officially established, women were recruited to be nurses in the Civil War. There were strict requirements for these nurses. They had to be plain looking, older than thirty and modestly dressed. These 3000 nurses were paid 40 cents per day, which was a small amount even in the 1860s. After the Civil War, there was an extreme shortage of nurses for the army. To increase these numbers, an official reserve force would need to be established. Finally in 1901, the Army Nurse Corps was born just in time for World War I.
As WWI disembarked, 22,000 women left their friends, families, and entire lives behind to help aid their wounded warriors on the front lines. Their job was incredibly dangerous, with the potential risk of enemy raids in search of morphine, which was extremely depleted.  They also ran the risk of bombings from the enemies and catching deadly diseases as they treated their patients. The army nurses had to endure drastic temperatures in the winter and be ready to move locations at any moment. The job of an army nurse was difficult and required great skill and bravery. When WWI finally concluded, three nurses received the nation's second highest award for valor for their service. Before WWII began, army nurses fought for full military status and in 1920, nurses could finally have a status from a 2nd lieutenant to a major. However, their pay was half the pay of a male officer with the same rank.
After the bombing of Pearl Harbor, over half a million women joined the Army Nurse Corps, the corps' largest group ever! These women were sent all over the world and began to make even more advancements. In Europe, Army nurses began developing a recovery ward for immediate care for injured soldiers. The women even got a new change in wardrobe and were given fatigues. By the end of the war, 1,400 nurses were decorated for their bravery. Once WWII was over, the corps military status was raised and women in the corps could now rank from lieutenant, to lieutenant colonel.  Today both men and woman serve as army nurses with an average pay of around $2,700 a month and thanks to their hard work and perseverance, more than 59,000 people proudly serve in the Army Nurse Corps.