THE KNIGHT AND HIS STEED
The Story of How My Grandfather Was Reunited With His War Plane.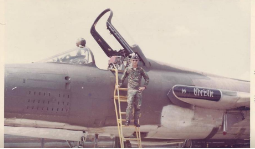 The Vietnam War is a subject most students learn about in their history class, but this war became real to me through my grandfather, Retired Air force fighter pilot Col. Fredrick Claussen, and his stories of air combat during the Vietnam War, though my grandfather didn't always talk about that part of his life. In fact, it wasn't until this past year when he started opening up about his experiences in the gruesome war and even began to write his own book, which he is currently trying to publish. Sadly, most publishers don't think Vietnam stories are something most people care to hear about. I hope one day people will be more open to the topic, because I fear that the soldiers who fought in Vietnam are often forgotten about.
Whenever I came to Florida to visit my grandpa I would always see pictures of him and his plane, "Christie", named after my mother, hung on the walls. For the longest time I didn't know much about his experience in Vietnam, but I knew he loved that plane. He loved the adrenaline he got from flying it, but more than that he loved that it brought him home safe and sound against all odds. The day he left to come home for good was the day he would presumably say goodbye to his plane forever. 46 years after returning from Vietnam, However, my grandfather got a call from the American Airpower Museum in Long island, New York. They had found my grandpa's plane and invited him to come to the museum to see it and give a speech, if he were to ever be in town. Of course, my grandpa booked tickets for his family and him to New York as soon as possible and, just like that, we set off to see his plane for the first time in a very long time for my grandpa, and for my mom and I, the very first time.
When we arrived at the museum, the owner took us outside to see the legendary F-105 Thunderchief, which decorated my Grandfather's walls. As we walked outside to the lot, there it stood in all its glory, the green, metal bird that looked to be nearly 20 feet tall. I was surprised by the size of it, noticing it to be one of the biggest planes in the museum. I watched as my grandpa, without a word, walked up to the plane and ran his hands along it's side, holding back his tears. He then began pointing to every dent, scuff, and hole, on the plane and describing the stories that went along with it. After a good look around the plane, he climbed up the ladder to sit at the control panel. One by one he invited my grandma, mom, and I up there with him. "This is my office", he told me once I reached the top. It seemed like he never wanted to leave.
After some time, my grandfather came back down, to be interviewed with a reporter from news day. We sat with him as he excitedly told her all of his stories. His countenance changed abruptly when asked about the day he had to part with his Plane, Christie. He began to share his memory of being brought home safely by the plane for the last time after flying over 100 combat missions and for the first time that I can remember, he started to cry. He then began describing his "welcome" home, telling of how people would yell and throw things at him. He told the reported that he "was very disappointed in the American people" that day.
Before we left the museum, my grandpa took pictures with visitors and even got to meet the maker of the plane herself. "Josie the Riveter" they called her. My grandpa then proceeded to sign the airplane, and because my mom's name was taken off the plane after the war, wrote her name on it as well. He then gave the owner a check to make sure the name "Christie" would be painted back on for good.
Seeing my Grandpa's plane was such an incredible experience that filled me with such pride to be his granddaughter.      I can't wait for his book to finally be published and shared with the world. People need to know what happened in Vietnam, and I pray soldiers find the courage to talk about what they went through. I hope that someday, America will be more open to hearing the stories of Vietnam soldiers, and remember and respect the risk these men and women took to protect our freedom.
To learn more about my grandfather's story, here are some links to articles about his experience.
Original Newsday Article:
http://www.newsday.com/long-island/nassau/retired-fighter-pilot-is-reunited-with-old-war-plane-1.12207492
MyInforms.Com Article:
http://myinforms.com/en-us/a/39959970-retired-fighter-pilot-is-reunited-with-old-war-plane/
Vietnam Veteran News Podcast:
https://player.fm/series/vietnam-veteran-news-with-mack-payne/691-vietnam-fighter-pilot-reunited-with-his-plane
American Airpower Museum:
http://americanairpowermuseum.com/2013/01/01/republic-f-105d-thunderchief/