Greek Food Festival Field Trip
Students Take a Trip to Dallas to Experience the Greek Culture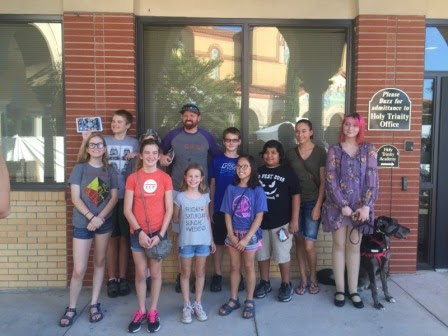 You may have heard that the world cultures club visited the wonderful Big Fat Greek 60th Greek Food Festival of Dallas. This year, the Greek Orthodox Church held a big Greek food festival, celebrating the 60th year of doing this amazing festival.
You may be thinking: So, basically, the World Cultures club went and ate food. We did eat some Greek food; but, more importantly, we learned about the Greek history and beliefs.
We met at the entrance of the festival at five-o-clock p.m. on Friday, September twenty-third. At about five-fifteen, after everyone was introduced, Mr. Burch led the group of ten or so iUprep students as well as our parents, into the Agora, or the Market Place. In the Agora we saw lots of Greek goods, including Jewelry, paintings, pre-prepared food, clothing, and much more.
Then, we decided to split up and go get some food. I personally experienced a Gyro Sandwich, which is a burrito-type sandwich with thin slices of lamb and beef, served in a Pita, and topped with onions tomatoes, and tzatziki (which is a yogurt/cucumber sauce); Greek potato fries, which are potato strings fried in a special blend of olive oil and canola oil, dusted with unique Greek seasonings, and served with tzatziki on the side; a Baklava sundae, which is an ice cream sundae with rich vanilla ice cream, sprinkled with Baklava pieces; some Loukoumathes, which are dough puffs, similar to donut wholes, topped with honey syrup, nuts, and cinnamon; and last, but not least, a Kourambiethes, which is a soft, powdery, cookie that literally, melts in your mouth. There were lots more foods that I did not try that I am sure are as great as the ones that I did taste. The food was very rich and delicious.
After that, we went and watched some children perform some dances in Greek. The only song that I recognized was the chicken dance. It was sung in Greek as well as the other songs that were performed.
The last thing that I did was tour the Greek Orthodox church which is where we learned the most. The Greek Orthodox church looks very similar to a catholic church. There are lots of icons and Byzantine art on the walls and ceilings.
I had a wonderful time at this event and hope that after reading my article, you want to check it out for yourself. For more information on the Greek festival go to: GreekFestivalOfDallas.com.