THE BLOODY BATTLE OF MOSEL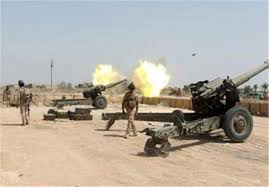 Mosul is a city in northern Iraq that has been occupied since June 10, 2014 by ISIS. Now, Iraqi forces have been trying to reclaim Mosul. Mosul is the largest city under ISIS control in Iraq and its last remaining strong base in the country. On Monday, October 17 2016, Iraqi forces headed to Mosul to get the city back. It won't be easy, though, because ISIS is willing to put up quite a battle.
Lots of people are involved in this. About 54,000 Iraqi security forces, 40,000 Peshmerga forces, 14,000 paramilitary units, air support from 90 coalition, Iraqi planes, and 500 U.S. forces are in the Iraqi force, which outnumbers their opponent ISIS.
Residents/Civilians in Mosul face some big problems, too. They could face potential threats from sniper attacks, booby traps, crossfire, and explosives. Airdropped leaflets warned Mosul residents to tape up their windows, disconnect gas cylinders, and stay indoors. About 1.5 million people could be affected. To help the 400,000 Iraqis fleeing, United Nations is building 22 sites to house this much people. This could lead to the largest humanitarian crisis in 2016.
This intense battle has just begun, and a lot has already happened. Extreme gunfire and suicide bombings happened in the first 24 hours as the forces made their way to Mosul. ISIS set up suicide car bombers during the day on October 17, 2016. During the advance, ISIS attempted to drive suicide car bombs toward the Peshmerga convoy several times, but Peshmerga commanders experienced less resistance than they expected to have. Thousands of ISIS fighters could be armed with adjusted explosive devices and car bombs. Kurdish Peshmerga forces cleared 9 villages in an area that measures about 200 square kilometers. Forces east of Mosul secured control over a big stretch on a key strategic road, called Erbil-Mosul Road.
When Mosul is freed from ISIS, that will be a big accomplishment. Freeing Mosul could be ISIS beginning to come to an end in Iraq. Also, taking the city away from ISIS would limit the movement of weapons, fighters, and supplies big time since this city is a key trading city.
Victory could take a while to happen, though. It could take 2 months to recapture Mosul from ISIS, and weather could delay the process. It would likely take 2 weeks for the advancing forces to enter Mosul.
At a White House Rose Garden news conference with Italian Prime Minister Matteo Renzi, Obama made some comments about the Mosul battle. "Mosul will be a difficult fight and there will be advances and setbacks," Obama said. He then added on, "I am confident, just as ISIL been defeated in communities across Iraq, ISIL will be defeated in Mosul as well, and that will be another step toward their ultimate destruction." Obama also tried to reassure the public that ISIS would not cause more chaos internationally as it feels stuck in its home bases.
This battle is very big, as this could lead ISIS to begin to become to an end in Iraq and could be in the history books.
Bibliography/Credits:
http://www.cnn.com/2016/10/18/middleeast/mosul-isis-operation-iraq/index.html from CNN. Maintained by CNN. By Arwa Damon, Nick Paton Walsh, Tim Hume, and Euan McKirdy. Accessed on 10/18/16.
http://www.cnn.com/2016/10/18/politics/obama-well-defeat-isis-in-mosul-but-it-will-be-difficult-fight/index.html from CNN. Maintained by CNN. By Nicole Gaouette. Accessed on 10/18/16.
http://www.cnn.com/2016/10/17/middleeast/mosul-isis-operation-begins-iraq/index.html from CNN. Maintained by CNN. By Nick Paton Walsh, Max Blau, Emanuella Grinberg, and Tim Hume. Accessed on 10/18/16.
http://www.cnn.com/2016/10/17/middleeast/battle-for-mosul/ from CNN. Maintained by CNN. By Holly Yan and Nadeem Muaddi. Accessed on 10/18/2016.