BELIZEAN PARADISE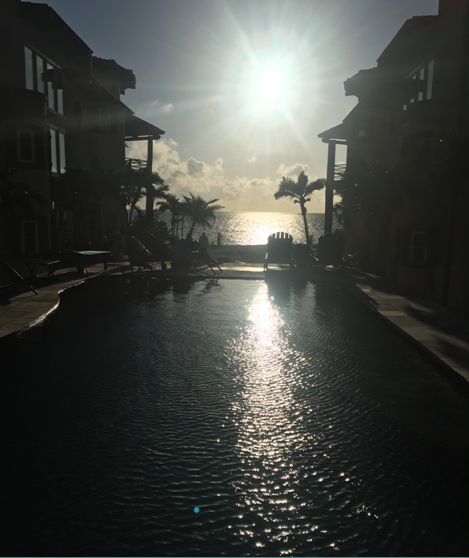 Hello!  I almost didn't see you with the sun in my eyes.  Come sit down, let me tell you about Belize.  Let's start off at the point you arrive at the airport.  When you arrive at the airport in Belize City, Belize, your expectations of your trip might go down a little.  Belize City is in extreme poverty and is rebuilding after being hit by a hurricane.
Don't worry, most people go to islands such as San Pedro that are much nicer and are filled with resorts and villas.  San Pedro, the largest island out of all, is the one where my vacation took place.  I was there for a wedding and stayed right on the beach in a house.  The water was bright blue, and the sand looked like it had been bleached!
The first night we got there, we stayed there and went to dinner at a nearby restaurant.  I ever so slightly remember the name, so I couldn't tell you.  The restaurant was outside and was complimented by the beautiful nature around it.  The feast started off with tamales, pulled pork, rice, potato salad, and fried plantains.  The food was delicious!  After the food was finished, the festivities began with a raffle and musical chairs.  I am glad I lost first in musical chairs, because the last loser had to jump in the pool.  Since everyone was feeling tired, we went back and got a good night's sleep after the eventful dinner.
On the second day of this amazing vacation, when the sun started to shine through the windows and birds were singing, everyone got up and went on a boat to go snorkeling! We all piled into a large pontoon boat with a bar.  It took a while to get to our destination, but it was worth it!  Once I dove down into the water, I was amazed at the sight of such beauty.  There were fish everywhere that were half the size of me, coral reefs, and many more sights to see.  First, there were Dorado's, large fish that are grey with yellow fins.  Next, I saw a sting ray that had a wingspan of about 3 feet!  After that, a gigantic sea turtle swam right in front of me!  I also touched three sharks that I saw.  Then, our guide dove down about 20 feet and swam through a hole in the reef with our Go Pro!  A grouper that was about 4 feet long came darting out when the guide went through, along with tons of small fish.  When that was over, everyone went to a place where we could just hang out.  There was a shallow part where we played volleyball and football in the water. I ended up accidentally throwing the volleyball in the water and forgetting about it.  The next thing you know, the volleyball was a mile away.  The bride wasn't too happy with me, but I made up for it by doing good in the volleyball game.  After everyone was tired, we started our journey back to the villas.  When we got back, we threw on some nice clothes and headed to dinner.  We ate at the rooftop Rain Café.  I ordered chicken parmesan, and it was delicious!  Everyone loved their food, but it took us about an hour to get our checks.  After that great dinner, everyone went back and hit the hay.
On the third day, we kicked back and stayed around the villas.  Then, by lunch time, our stomachs were mad and growling.  When the growling got out of hand, we went and ate a nice lunch, at a place called Truck Stop.  The restaurant was made out of storage containers, and you sat outside.  They had very tasty food.  When everyone was done with lunch, some of us went back and some stayed.  While waiting on the others to get back and get ready for dinner, I went kayaking in the clear and blue Caribbean waters.  Everyone got back from lunch, and got ready for dinner.  On the way to dinner, we raced our golf carts, and things got a little crazy.  It started off with my golf cart riding around behind everyone, and finally we decided to go for the win.  We faced some challenges on our road to victory, for we had another cart pull our keys out while simultaneously turning it off.  We were also bumped off the road into the mud, and we were almost spun out!  In the end, we ended up winning.  Tonight was the rehearsal dinner.  After everyone ate and was full, we sat around and talked.  The rehearsal part of the dinner was the bride popping the cork on a bottle of champagne.  She couldn't spray it and her father-in-law finally took it and sprayed everyone at the tables.  We had the restaurant to ourselves and also had a tab that we had to eat and drink to fill it.  They brought out $500 dollar bottles of champagne, and sure enough the father-in-law struck again.  When dinner was done, we walked around the city and went back to the villas.  At the villas, I watched television for a while and fell into a deep sleep.
When I woke up, I realized that it was wedding day!  Oh, what a beautiful day it was too.  Our first move in our daily expedition was to get up and eat some eggos for breakfast.  After that, we sat by the pool for a while and relaxed until lunch time.  For lunch, we went to a restaurant called Palapa Bar.  I had cheese sticks and nachos.  When we got back, it was time to get ready for the wedding.  I put my best clothes on and joined the other men in the villa next to mine.  By ceremony time, everyone was seated waiting on the groom and bride.  The groom had been paralyzed from the waist down in a race car accident, but a surgery worked and he regained feeling and life in his back and legs.  He has worked hard ever since and he can stand and walk with supports, and his goal was to stand at his wedding.  Sure enough he stood the whole time, and it brought smiles to everyone's faces.  The couple has shown me what love, determination, the spirit of never giving up, and hope is.  The doctors said that he would never be able to walk or stand again, but he stood while getting married and during his first dance.  After that, there was a big party.  There was dancing and food. After we were tired and had our fair share of fun, we went to bed.
The next morning, we went on a fishing trip, but we didn't catch anything except a Mhai Mhai and a Baracuda.  When we got back, the bride and groom had to go to their own private island, so my family, the groom's family, the groom and bride, some friends and I went to eat lunch.  Next, we took them to their boat to go to the island, and said goodbye.  Finally, we went back to the villas and got ready to leave the next morning.
I was kind of sad the day I had to say goodbye to Belize.  I put some comfy clothes on for the flight, and got on to the boat to go to Belize City.  We had to wait 2 hours in the airport for our delayed flight, but when it was time to board the plane, I knew my vacation was over and I had to go back to my normal life back home.