TRUMP RECOGNIZES JERUSALEM AS ISRAEL'S CAPITAL
There is quite a controversy as Trump recognizes Jerusalem as Israel's capital.
Donald Trump recognized Jerusalem as Israel's capital and had plans to move the U.S. Embassy there, the move expected to increase tension in the region. "Today, we finally acknowledge the obvious: that Jerusalem is Israel's capital. This is nothing more or less than a recognition of reality. It is also the right thing to do," Trump said from the White House's Diplomatic Reception Room. "After more than two decades of waivers, we are no closer to a lasting peace agreement between Israel and the Palestinians. It would be folly to assume that repeating the exact same formula would now produce a different or better result," Trump added.
For seven decades, the U.S. foreign policy hesitated to declare Jerusalem as Israel's capital due to the Israeli-Palestinian conflict. Thus, Trump's decision could really hurt the peace process and increase security risks in a region that is already very problematic. However, Trump believes his decision could help Israelis and Palestinians reach a peace agreement. "We are not taking a position on any of the final status issues including the final boundaries of the Israeli sovereignty in Jerusalem," Trump said. "Those questions are up to the parties involved. The United States remains deeply committed to helping facilitate a peace agreement that is acceptable to both sides."
Israeli Prime Minister Benjamin Netanyahu wants other countries to join the U.S. in recognizing Jerusalem as Israel's capital. "The President's decision is an important step towards peace, for there is no peace that doesn't include Jerusalem as the capital of the State of Israel," Netanyahu said.
On the other hand, Palestinian President Mahmoud Abbas did not like the idea, saying that the move will help extremist organizations to make holy wars. "These procedures do also help in the extremist organizations to wage a religious war that would harm the entire region which is going through critical moments and would lead us into wars that will never end which we have warned about and always urged to fight against," he said. Chief Palestinian negotiator Saeb Erakat said Trump's decision "disqualified the United States of America to play any role in any peace process." "President Trump just destroyed any policy of a two-state (solution)," Erakat said in a statement. "He has taken an action to recognize Jerusalem as the capital of Israel. This is in total contradiction of agreements signed between Palestinians and Israelis."
Trump ordered the State Department Wednesday "to begin preparations to move the embassy from Tel Aviv to Jerusalem," noting his directive would allow the State Department to start hiring building contractors and architects to build an embassy he said will be "a magnificent tribute to peace."
Defense Secretary James Mattis, CIA Director Mike Pompeo, and Secretary of State Rex Tillerson were against the decison, while Vice President Mike Pence, UN Ambassador Nikki Haley, and U.S. Ambassador to Israel David Friedman were in favor of the move. Trump's son-in-law Jared Kushner and special envoy Jason Greenblatt supported recognizing Jersualem as the capital, but warned Trump to delay a move on the embassy.
The decision sent U.S. allies and U.S. officials in the region to watch out for protests and violence. As a response to the announcement, Palestinian factions called for three days of rage and U.S. security officials issued security warnings for the Old City of Jerusalem and the West Bank. Arab leaders in the region and French President Emmanuel Macron urged Trump to reconsider his decision.
Sources: www.cnn.com/2017/12/06/politics/president-donald-trump-jerusalem/index.html
About the Writer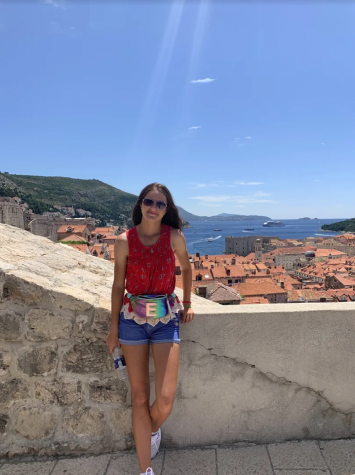 Enya Ratkic, Associate Editor
Hi everyone! I'm Enya, the Associate Editor for the 20-21 school year at iHoot! I'm a senior here at iUPrep. This is my 6th year at iUPrep and 5th year...