6 THINGS YOU PROBABLY DIDN'T KNOW ABOUT ELF
Elf is a great movie to grab some hot cocoa, sit down on the couch, and get into the holiday spirit. But did you know about these mind-blowing facts?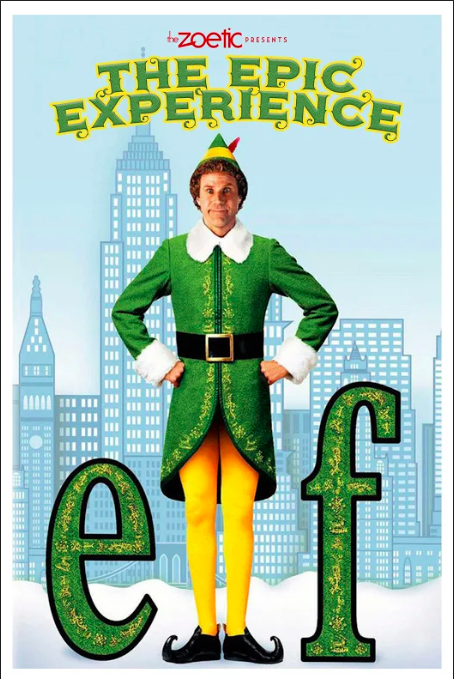 Lilly Tubbs, Staff Writer
January 28, 2019
During the Holiday season there are now so many Christmas movies to watch. The 2018 Holiday season has hundreds of Christmas movies that start in November. One of my favorite movies is Elf.  Will Ferrell stars as an elf (Buddy) who does not think he is human and is trying to find his father in New York City. The film was released in 2003 and grossed $220 million. He is absolutely a misfit because he wears an elf costume, acts like an elf, and only eats sugar.  Have you ever wondered about what happens behind the scene of a movie? Here are some fun facts about my favorite movie you might find intriguing.
Jim Carrey was originally cast as the leading role instead of Will Ferrell.
At first Jim Carrey was going to be the star in the movie Elf. Since the project needed 10 years to get started up, Will Ferrell was on the rise and was signed to be the star. Jim Carrey eventually got some of his one movies, one being The Grinch Who Stole Christmas.
2. Will Ferrell actually worked as a mall Santa.
Apparently Will Ferrell had experience in the Santa's Workshop environment. He actually dresses up as Santa Claus for an outdoor shopping mall.
3. Will Ferrell's reaction during the jack-in-the-box was genuine.
In one scene, Buddy, the elf has to test out the jack-in-the-boxes to assure they work. Well, turns out someone behind the scenes had a remote control to trigger each jack-in-the-box buddy tested, creating just the right scream. Buddy's reaction to the surprise was real!
4. Parts of the movie Elf were filmed in a horror factory!
You would think with all the Holly Jolly Christmas, an abandoned mental hospital would be the last place to be filming one of the best Christmas movies made!
5. Will Farrell frolicked all over New York City in his elf costume.
With only a couple of days left of filming in NY, a group of three the star, the cameraman and the director walked around the city trying to find some mischief Buddy could get into. One of them being Buddy leapfrogging across a pedestrian crosswalk!
6. Will Ferrell turned down $29 million for a sequel movie.
Although the movie was a big hit, it was preferred by Will Ferrell to keep it the original, the one and only. Will Ferrell just flat out rejected the offer of Elf 2. He claims it would be pathetic if he tried to squeeze back into the elf tights and be "Buddy the middle-aged Elf."
Elf is a movie that brings Christmas cheer, laughs and makes us sing out loud.