FALL HAS ARRIVED AT TRADER JOE'S
10 Fall Foods You Should Try At Trader Joe's This Season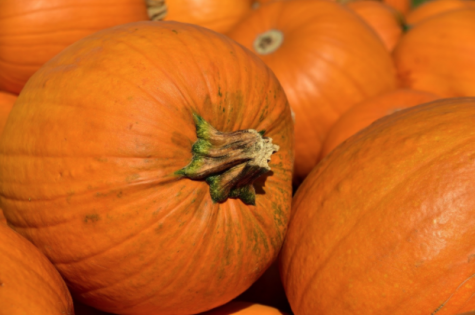 Each year, Fall comes along with a multitude of seasonal traditions, ranging from apple orchards and football games to pumpkin spice lattes and other fall foods. One of my favorite places to visit in order to fill my craving for Fall flavors each year is Trader Joe's, a specialized grocery store chain that carries a plethora of pumpkin and other Fall themed favorites come each September. Whether you're looking for a pumpkin bisque that will remind you of grandma's house or are ready to indulge in some spiced apple cider, TJ's has it all! Here are ten of my favorites that you should pick up before the shelves are empty. 
Pumpkin Flavored Joe-Joe's
 This autumn-exclusive twist on the classic Joe-Joe's Sandwich Cookie is sure to rock your taste buds if you share a love for pumpkin and cookies. Featuring crispy pumpkin flavored cookies and melt-in-your-mouth creme filling, this box of about 20 Joe Joe's probably won't last more than a few days!
Allergen information: Contains Soy, Wheat
May contain traces of Milk, Egg, Coconut. 
 A long returning seasonal TJ's product, pumpkin butter is perfect for spreading on toast, adding a delicious pumpkin taste to pancakes, or even topping an ice cream sundae. With a slightly sweet and versatile flavor, this spread is a fan favorite. Try it out and find your favorite way to pair it, or just eat it straight out of the jar!
Allergen information: Contains Pumpkin, Sugar, Honey, Lemon juice concentrate, Cinnamon, Cloves, Ginger, Nutmeg
 If you are looking for a beverage that perfectly embodies the season, the Trader Joe's Spiced Cider is for you. This classic cider can be served hot or cold and contains the classic blend of holiday spices that keep you coming back for another mug. You can even add a cinnamon stick for a festive garnish.
Allergen information: Contains Unfiltered juice from ripe, whole apples, brewed spiced blend (cinnamon, cloves, allspice, orange peel, orange oil, lemon peel).
 A tasty alternative to a classic pumpkin pie, Trader Joe's pumpkin cheesecake is one to look out for! While cheesecake is not for everyone, avid fans are sure to love it. Trader Joe's even recommends topping it with their Fudge Sauce and crushed Sweet & Spicy Pecans. Yum!
Allergen information: Contains Wheat, Eggs, Dairy
 If sweets aren't your thing, this ones for you! TJ's Pumpkin Bisque is a thick, creamy, and delicious concoction of pumpkin puree, heavy cream, and festive spices. Pour it in a pot, heat it until it's warm, pair it with some toasted bread on the side and enjoy!
Allergen information: Contains Dairy.
 While we sure know how to embrace the season, the coming of fall doesn't always involve the changing of weather for Texas. That's where Trader Joe's Pumpkin Ice Cream comes in! This autumnal frozen treat is among Trader Joe's many mouth watering desserts in the frozen section, but it stands out as a fan favorite each year since it's initial arrival in 2011.
Allergen information: Contains Dairy.
Gluten Free Pumpkin Pancake Mix
 Nobody should have to miss out on the pumpkin fun, even if you are gluten free, and Trader Joe's Gluten Free Pumpkin Pancake Mix makes sure of it! Infused with just the right amount of pumpkin flavor to start your morning off right, these pancakes never miss. My family keeps at least 2 boxes stocked at all times, just in case. 
Top with some pumpkin butter for an enhanced flavor!
Allergen information: Contains Milk.
May contain traces of Egg, Soy, Coconut, and Pecans.
Pumpkin Spice Pretzel Thins
 A seasonal twist on the classic TJ's Pretzel Slims, the Pumpkin Spice Pretzel Thins are covered in a sweet, pumpkin spice yogurt coating and delicately sprinkled with TJ's Pumpkin Spiced Pumpkin Seeds. Perfect for munching on if you are keen on sweet and salty snacks and need a break from all of the sugar!
Allergen information: Contains Milk, Soy, Wheat.
May contain traces of Egg, Peanut, Almond, Cashew, Coconut, Pecan.
 Packaged in a box of six, these cinnamon sugar coated donuts are a traditional fall staple for many. These sweet rings of goodness are made from cake-style dough and get their flavor and tang from real apple cider. Sip some Trader Joe's Spiced Cider on the side for a scrumptious pairing!
Allergen information: Contains Milk, Egg, Soy, Wheat.
 If you think cinnamon rolls scream the holiday season, just wait until you try the Trader Joe's Pumpkin Rolls. The final item featured, these pumpkin rolls begin as their cinnamon sibling, but soon transform into a mighty pumpkin treat as real pumpkin and pumpkin spices are added. Pop the can, bake in the oven (consequently wafting the inviting aroma throughout the whole house), and drizzle with the included pumpkin spice icing. 
Allergen information: Contains Wheat.
May contain traces of Milk.
With these 10 suggestions, there are no excuses to miss out on the Fall food season. So, light a Fall scented candle, grab a few (or all!) of these treats and curl up with your computer to make completing your school lessons feel like you are starring in a hallmark special. At least until Thanksgiving break! 
*Tip from a Trader Joe's cashier: Pumpkin and Fall themed items are expected to sell out         quicker than ever this year due to the pandemic, so be sure to get your hands on some items  while you can. 
Sources: "Fall Flyer." Trader Joe's, 2020, www.traderjoes.com/fearless-flyer.