THE RISE OF JOE BURROW
How Burrow suddenly became the top young quarterback in football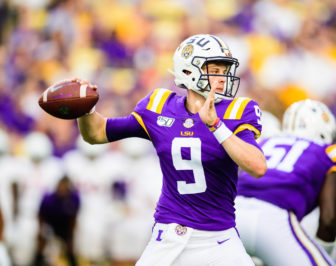 The 2019-2020 NCAA College Football season was a great season, supplying lots of high scoring thrillers and all time great games. The LSU Tigers won the CFP with Ed Orgeron and Heisman Trophy winner Joe Burrow taking down the other Tigers], the Clemson Tigers. Clemson has been a great team for the past several years with their coach Dabo Swinney, but they couldn't contain the LSU Tigers' high flying offense. Burrow was the focal point of this offense, putting up record numbers en route to the Heisman. The question many have asked is: How did Burrow come out of nowhere to have this kind of season?
Joe Burrow was highly involved in football at a young age, as his father Jim Burrow was on the staff for the Iowa State Cyclones and later the defensive coordinator for the Ohio Bobcats. Joe Burrow began playing football at just six years old, starting as a quarterback since there was no one else to do so. As he grew older, his interest for football grew with him. He played football at Athens High School and led them to three straight playoff appearances with 7 playoff wins. However, this was just the beginning of Burrow's legacy.
Burrow attended Ohio State University as a redshirt freshman. He was the backup to J.T. Barrett for the next two years. When Barrett left to play professionally and Dwayne Haskins was named the starter, he made the biggest decision of his life. He transferred to Louisiana State University under head coach Ed Orgeron.
Joe Burrow was going to be the starting quarterback at arguably one of the best college football programs ever. In the recruiting class of 2018 they acquired some soon to be big names, such as Ja'Maar Chase and Terrace Marshall Jr. In Burrow's first season at LSU the team went 10-3, losing to the Florida Gators, Alabama Crimson Tide, and Texas A&M Aggies. The Texas A&M game was a 7OT thriller in which the Aggies pulled off a 74-72 victory, the highest scoring game in college football history. They went on to beat UCF in the Fiesta Bowl, which was a little sneak peek to the explosive offense they had in 2019. They ended the season at No. 6 in the final AP poll. The Clemson Tigers won the championship in this season in a massive 44-16 win over the Alabama Crimson Tide.
In the offseason they were able to recruit talented players, such as Derek Stingley Jr. and Marcel Brooks. Coach O. worked with Burrow in the offseason to best utilize his pocket presence and pinpoint accuracy. Coming into the 19-20 season, Burrow showed clear signs of improvement, specifically in passes over the middle, which are so hard to stop, especially with the accuracy of Joe Burrow on the pass. His receiver core was state of the art, consisting of Ja'Maar Chase, Justin Jefferson, Terrace Marshall Jr, Devonta Lee, Thaddeus Moss and Clyde Edwards-Helaire. With an incredibly talented QB and an amazing WR core, how can this fail? Simply, it doesn't.
To begin Burrow's rise to the top, the Tigers played the Georgia Southern Eagles in a stunning 55-3 destruction. There wasn't one thing wrong in this game, as offense played amazingly, as did the defense. Burrow had a great game, as he passed for 350 Yds and 5 TDs. 
This season was the first season since 2011 that LSU was able to take down Nick Saban and his Alabama Crimson Tide. This game was a high scoring thriller, but LSU was able to get out to an early lead, partially due to recovering a fumble from Tua Tagovailoa, allowing the Tigers to score. In the second half of the game, Alabama started to make a comeback, making the game 46-41, but it wasn't enough to catch up to the Tigers. This was one of Burrow's best games, as he passed 31/39, 393 Yds, and 3 TD's against an elite defense. As a result of the game, it bumped LSU to No. 1 in the CFP Rankings while knocking Alabama down to No. 5. Some other notable wins the Tigers had in this season were over Texas, Florida, Auburn, Texas A&M, Georgia, Oklahoma and Clemson.
Coming off of a massive yet unexpected Heisman year, Burrow declared for the 2020 NFL Draft as he was a senior at LSU. He ran away with the Heisman, so he was an attractive prospect to teams in need of an elite quarterback. His stats for his Heisman year were 5,617 passing yards, 60 TD, and 76.3% completion. Although Burrow elected not to participate in the NFL Combine, his statistics and play style were very promising. He was selected No. 1 overall by the Cincinnati Bengals in this year's NFL Draft and is now the starting QB.
College Football Playoff, 2019, collegefootballplayoff.com/rankings.aspx?year=2019.
"LSU vs. Alabama – Play-By-Play – November 9, 2019." ESPN, ESPN Internet Ventures, 2019, www.espn.com/college-football/playbyplay?gameId=401110842.
Ragatz, Will. "Alabama vs. LSU: All-Time Head-to-Head Results, History." Sports Illustrated, 3 Nov. 2018, www.si.com/college/2018/11/03/alabama-crimson-tide-lsu-tigers-results-all-time-history-rivalry.
"2019 LSU Tigers Player Stats." ESPN, ESPN Internet Ventures, 2019, www.espn.com/college-football/team/stats/_/id/99/season/2019.
"LSU Athletics." LSU Tigers, 2019, lsusports.net/sports/football/roster/2019.
"Ja'Marr Chase." Wikipedia, Wikimedia Foundation, 8 Sept. 2020, en.wikipedia.org/wiki/Ja'Marr_Chase.
"Justin Jefferson." Wikipedia, Wikimedia Foundation, 29 Sept. 2020, en.wikipedia.org/wiki/Justin_Jefferson.
"LSU 2019 Football Commits." 247Sports, 247sports.com/college/lsu/Season/2019-Football/Commits/.
"2019 LSU Football Schedule." FBSchedules.com, 2019, fbschedules.com/ncaa-2019/team/lsu.
"Joe Burrow." Wikipedia, Wikimedia Foundation, 29 Sept. 2020, en.wikipedia.org/wiki/Joe_Burrow.