HAMLIN WINS CONTROVERSIAL PLAYOFF RACE AT TALLADEGA
Playoff picture affected in major ways in wild Yellawood 500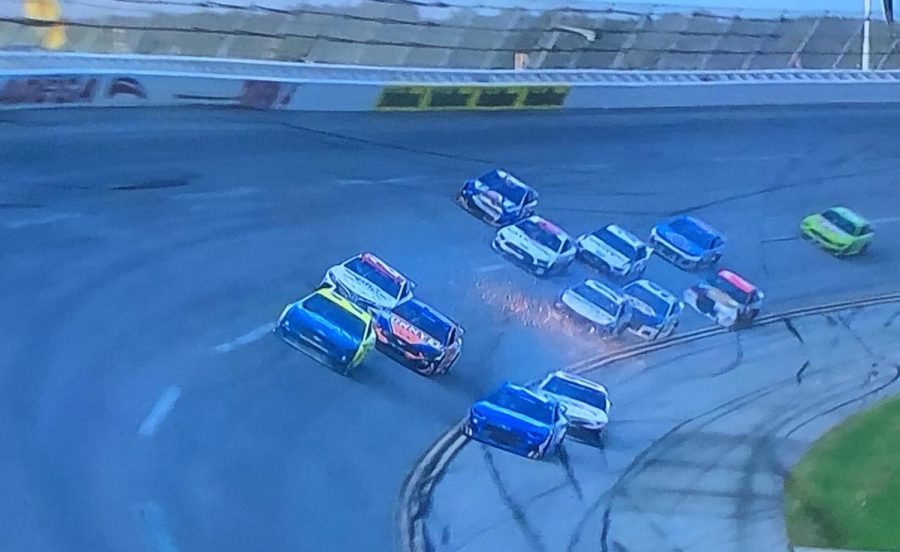 Races at Talladega are always wild, especially it's playoff race every October. However, that level of insanity may have reached it's peak in Sunday's Yellawood 500, as drivers were extremely impatient throughout the entirety of the race. It was Denny Hamlin taking the win in a wild last lap sequence of events. However, the fashion he won in is extremely controversial, as he passed multiple cars below the yellow line on the final lap. This wild last lap and many other events throughout the race will make this Talladega race stand out in the minds of race fans for years to come. Here's a rundown of the race.
Hamlin wins after NASCAR deems his maneuver under the yellow line legal
Denny Hamlin found himself in fifth place rolling through turns 3 and 4 on the last lap, but a sideways moment for William Byron allowed Hamlin to get to the lead, as Byron getting sideways slowed everyone in front of Hamlin. Hamlin raced Matt Dibenedetto all the way to the line, beating him by just 23 one-thousandths of a second. However, Hamlin passed all of these cars under the yellow line, raising questions about the validity of his win, as it's illegal to pass under the yellow line unless you're avoiding an incident. It initially appeared that Byron and Dibenedetto were going to crash, but Byron straightened his car out below the yellow line and continued. However, it was perceived as an incident while it was happening, so it was legal for Hamlin to maneuver his car below the line to avoid it. Hamlin remained under the yellow line even after passing the 24, so NASCAR reviewed video to determine if he had advanced his position at all before getting back above the yellow line. After review, they determined that all of the moves he made were within the rulebook, so Hamlin's 44th career victory stood, tying him for 18th all-time on the win list with Bill Elliott. "A lot of stuff happened, for sure," said Hamlin, who clinched a spot in the Round of 8 with the win. "I don't know if the 21 (DiBenedetto) was running out of gas, but they obviously got shuffled there. They were crashing up top. I think the 20 (Erik Jones) hit the wall and then started coming back down, which forced, I think, me and the 24 (Byron) down to the apron. Just was able to overcome. This is one of those that you don't plan on winning, but we got away with one today." (Spencer, 2020) Runner-up Matt Dibenedetto was penalized for forcing Byron under the yellow line on that final corner, relegating him to a 21st place finish, the second to last place car on the lead lap, as Chris Buescher was penalized for doing the same thing to Chase Elliott just seconds later, which relegated Buescher from a 5th place finish to a 22nd place finish. This penalty gave Erik Jones credit for finishing second.
Multiple big wrecks collect playoff drivers
Kurt Busch is already locked in to the next round of the playoffs, but he didn't necessarily want to have to lean on that today, as he wanted to earn a solid finish and continue to build momentum for the next playoff round. While he showed speed throughout the race, a huge crash on lap 108 took Busch and many other cars out of the race.  Fellow playoff driver Clint Bowyer was also eliminated in the melee and Busch's brother Kyle Busch, who's also in the playoffs, also suffered damage but was able to continue. Kurt's part in the crash was spectacular in nature, as his car launched into the air and rode on top of the 41 of Cole Custer before setting back down on all four wheels. Fortunately, all drivers involved were okay. "Yeah, it was a wild ride," Busch said to NBC after the crash. "That's the nature of this sport. You're on top one week with a win and everything's fantastic. And then this week here at Talladega, we were hoping for a nice, smooth run and to gain some points. I was just doing my job as a Chevy helper running top five and next thing you know, I'm going for one of the wildest rides I've ever been in." (Staff Report, 2020)
A crash on lap 58 was initiated at the front of the field, as Aric Almirola was turned into the outside wall while jockeying for the lead with Alex Bowman. Kyle Busch and Ryan Blaney were both collected, but were able to continue, as was Bowman. Almirola wasn't so fortunate, as his promising run was over due to the extent of damage on his #10 car. "I'm just disappointed," Almirola said. "We were doing everything we needed to do. We were closing in to the end of stage one, and it looked like we were going to score a lot of points there, which is exactly what we needed to do. It looks like he got to my outside and my car started to turn to the right, so it's unfortunate." (Spencer, 2020) Bowman had a huge run on Almirola coming off of turn two and contact was made further down the backstretch, triggering the multi-car crash. "I don't know if he got in the back of me and hooked me or how that played out, but my car just made a hard right into the fence. It's unfortunate. I had a lot of confidence going into today. I thought we were going to have a good shot to win." (Spencer, 2020) Almirola finds himself 48 points behind 8th place Joey Logano, so he will almost certainly have to win Sunday's elimination race at the Charlotte Roval. "Our car was so fast, but unfortunately the Good Lord had different plans for us today," Almirola said. "We'll go onto the Roval and try one more time." (Spencer, 2020)
NASCAR will head on to the Charlotte Roval for the elimination race of the second round of the playoffs on Sunday. With rain potentially becoming a factor, drivers are going to have their work cut out for them on this tough oval-road course combo. The broadcast will start on NBC at 1:30 PM central time on NBC.
Here's the current playoff standings:
Driver                                                Points Above/Below Cutoff
1.Denny Hamlin                               ADVANCED
2.Kurt Busch                                     ADVANCED
3.Kevin Harvick                                +68
4.Chase Elliott                                   +44
5.Brad Keselowski                            +41
6.Martin Truex Jr.                            +32
7.Alex Bowman                                  +22
8.Joey Logano                                    +21
_______________________  CUTOFF
9.Kyle Busch                                        -21
10.Austin Dillon                                   -21
11.Clint Bowyer                                    -38
12.Aric Almirola                                   -48
Written on October 5th, 2020
Sources:
Spencer, Reid. "Denny Hamlin Prevails in Overtime Dash at Talladega: NASCAR." Official Site Of NASCAR, NASCAR Wire Service, 5 Oct. 2020, www.nascar.com/news-media/2020/10/04/results-talladega-superspeedway-cup-2020-series-playoffs-race-recap/.
Staff Report. "'Big One' Takes out Playoff Drivers in Stage 2 at Talladega: NASCAR." Official Site Of NASCAR, NASCAR.com, 5 Oct. 2020, www.nascar.com/news-media/2020/10/04/big-one-takes-out-playoff-drivers-in-stage-2-at-talladega/.
Davis, Eric. "NASCAR Cup Series." Official Site Of NASCAR, 5 Oct. 2020, www.nascar.com/standings/nascar-cup-series/.
About the Contributor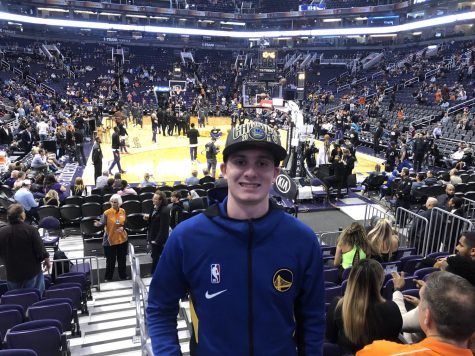 Austin Travis, Editor-in-Chief
Hey guys! My name is Austin Travis, and this is my 6th and final year with iHoot and my 6th and final year as a student at iUniversity Prep, as I'm a senior....