EFFECTS OF HURRICANE SALLY
Collateral Damages Of Hurricane Sally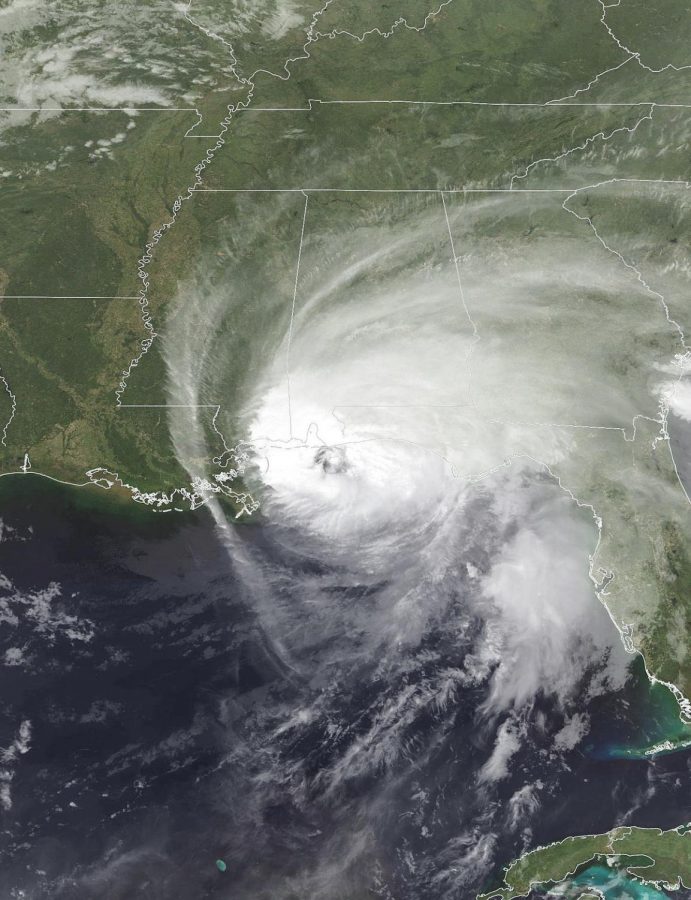 Hadassah Griffin, Staff Writer
October 10, 2020
This year has been one with many unexpected turns, which have affected nearly everyone in the world. The Atlantic hurricane season , which is from June through November, has been no exception to that. This season is normally filled with hurricanes, tropical storms, or tropical depressions.
Hurricane Sally affected Florida, Cuba, The Bahamas, Louisiana, Mississippi, Alabama, and the Southeastern United States. In Pensacola, Florida there is at least $29 million damage done with the pouring rain and winds. In the storm, over 320,000 businesses and homes were without power for at least a week. Many of the meteorologists could not efficiently track Hurricane Sally. With the difficulty, it made it hard to predict and for emergency managers and the public to understand. In Pensacola, Ginny Cranor, chief of the Pensacola Fire Department, told CNN, "We had 30 inches of rain in Pensacola  30-plus inches of rain which is four months of rain in four hours." (Chavez et., 2020) Many people had to be rescued by safety groups with fear of drowning. The coronavirus has already affected many people financially and at this point, a lot of families were just getting back on their feet. Adding another devastation led to more financial struggle for many families. Many people due to lack of insurance could not cover the cost for damages done to the house by floodwaters. As a result, many people lost their houses because it would cost a lot for reparations. Others did not lose their house but the equity inside their homes. In cities like Pensacola, Mobile, Key West where a lot of people have vacation homes, the no longer can afford such luxury. This year has been one that led to many suffering. With a lot of government assistance, people are able to take care of themselves to an extent. We all are affected because our fellow citizens are affected.
Sources:
Baldwin, Sarah Lynch. "Hurricane Sally Aftermath: Flooding Threats Expand across the Southeast." CBS News, CBS Interactive, 17 Sept. 2020, www.cbsnews.com/live-updates/hurricane-sally-floods-rain-2020-09-17/.
Chavez, Nicole, and Tina Burnside. "Sally Drenched Parts of Florida with '4 Months of Rain in 4 Hours,' Officials Say." CNN, Cable News Network, 17 Sept. 2020, www.cnn.com/2020/09/16/weather/hurricane-sally-wednesday/index.html.
Fedschun, Travis. "Hurricane Sally's Aftermath on Florida, Alabama Coasts Revealed in Aerial Imagery." Fox News, FOX News Network, 23 Sept. 2020, www.foxnews.com/science/hurricane-sally-florida-panhandle-alabama-coast-landfall-damage-beach-erosion.
Kumar, Devika Krishna, et al. "After Hurricane Sally, Assessment of Extensive Flood Damage Begins." Insurance Journal, 18 Sept. 2020, www.insurancejournal.com/news/southeast/2020/09/18/583121.htm.
Mercado, Darla. "This Disaster Could Wipe out Your Finances – and Few People Are Preparing for It." CNBC, CNBC, 27 May 2020, www.cnbc.com/2020/05/27/a-hurricane-could-wipe-out-your-finances-and-few-people-are-prepared.html.
Miller, Ryan W., et al. "Live Coverage of Sally: Death Toll Climbs; Pensacola Residents Pick up the Pieces; 320,000 Still without Power." USA Today, Gannett Satellite Information Network, www.usatoday.com/story/news/nation/2020/09/18/hurricane-sally-updates-damage-pensacola-escambia-power-outages/3491206001/.
MARK SCHLEIFSTEIN | Staff. "Hurricane Sally's Stall Tied to Global Warming, but Effects Linked to Normal Weather Patterns." NOLA.com, 18 Sept. 2020, www.nola.com/news/environment/article_70d0005e-f9de-11ea-9fde-5ffd52c0b668.html.