DAK PRESCOTT SUFFERS SEASON ENDING ANKLE INJURY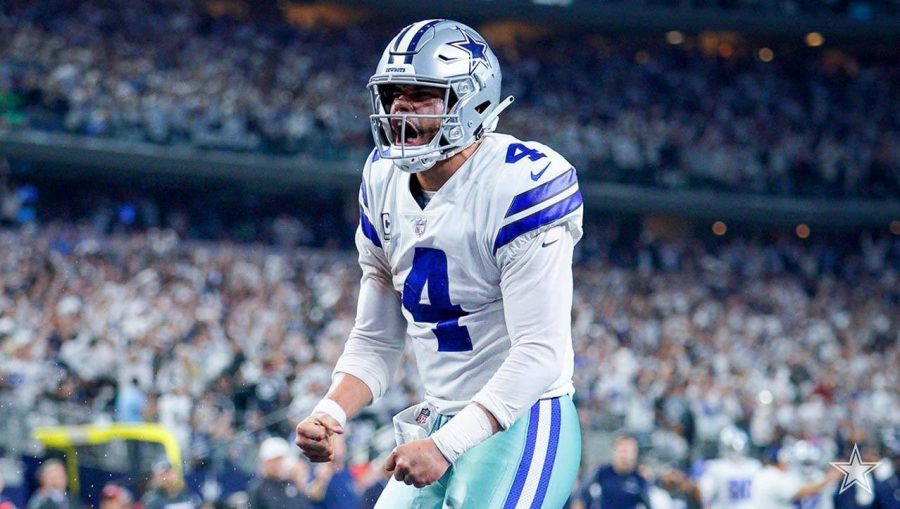 While the Dallas Cowboys eked out a 37-34 win over the New York Giants on Sunday, it didn't feel like a win to the fans and players alike, as quarterback Dak Prescott suffered a horrific ankle injury on a run in the third quarter. The severity of the injury was apparent immediately, as TV cameras clearly displayed the break and dislocation of his ankle, and replays only established the severity even more. Prescott was carted off the field by medical personnel with tears rolling down his face as he was coming to the realization that his season was over. Nearly every single Cowboys player came out to wish Dak well as he was being carted off. The players were visibly shaken by the events that had just took place, with many simply kneeling holding their heads down, fighting back tears. Prescott is widely regarded as the moral leader of the team, as he has gained a tremendous amount of respect from the entire team. Much of this respect can be attributed to his willingness to put in the extra effort to make plays for his team over the years, a quality that is quite rare in the modern NFL. In addition to his leadership position with the team, players were extremely sympathetic due to the fact that Prescott has suffered through depression due to the tragic death of his brother Jace, who committed suicide at the young age of only 31 years old. "My heart just sunk to the bottom of my stomach," Cowboys cornerback Anthony Brown said of the emotional reaction to the play. "I just felt like, man… I feel bad for him. He goes through a lot. That man battles through a lot of stuff even off the field, too." (Epstein, 2020)
Prescott's injury was officially diagnosed as a compound fracture and dislocation of his right ankle, which required emergency surgery upon arrival to a local hospital. Prescott underwent the procedure successfully and left the hospital the next day. His estimated recovery time from the injury is 4-6 months, sidelining him for the remainder of the season. Fortunately, he is in good spirits after digesting what it's going to take to get through this. Prescott posted a video on Instagram on Thursday, saying, "Just ready to start this road to comeback. I know this little adversity is just going to be another chapter in the book. I'm excited to move forward and write it. . . . I'm in great spirits. I'm going to stay that way. Looking forward to this football season, seeing the game in a different perspective and supporting my teammates and those around the league that need. Just excited. Excited for God's purpose and God's plan. I know it's bigger than anything that I see or could have imagined. But I'm trusting him. My faith is doubled down more than ever."(Williams, 2020) Prescott was appreciative of all of the fan support in wake of his injury. He emphasized his appreciation for the support in his video. "I just want everyone to know that I'm doing well and I can't thank you enough for all your love, your support, your prayers over the last few days" Prescott said. "They've been more than overwhelming. From teammates to family to friends to fans I don't know to current and former players around the league and players around all sports. I just wanted to say thank you. They're definitely appreciated and received well."(Williams, 2020)
While Prescott may be the better QB, Dalton shouldn't be an issue for our offense
As a result of the injury, many Cowboys fans have given up all hope on the season, as they believe that Andy Dalton can't do what Prescott's been able to do. While Dalton definitely doesn't have the abilities that Prescott has, Dalton has still been successful as an NFL quarterback, as he led the Cincinnati Bengals to the playoffs in each of his first five seasons. He also qualified for three pro bowls, the NFL's annual all-star event. He was ousted of Cincinnati after they drafted Joe Burrow, allowing the Cowboys to sign him as a high quality backup quarterback. Now with Prescott's injury, Dalton has the opportunity he needs to prove himself worthy of a starting role in the NFL. I personally think that the quarterback situation will not be a huge problem like the mainstream media likes to make it out to be. The Cowboys have three top talents at receiver in Amari Cooper, Michael Gallup, and CeeDee Lamb, so I think that it will be extremely hard for Dalton to fail. Based on Dalton being able to carry mediocre Bengals' teams to the playoffs, I don't believe he'll have much of an issue clicking with this top tier offensive unit.
Elliott needs to return to form and Pollard needs more time on the field
Dalton may not be a problem, but the running back situation is. Ezekiel Elliott hasn't looked like himself this year, as he's 7th in the NFL in rushing yardage and 31st in YPC (yards per carry). Andy Dalton might be good, but he's not Dak Prescott, so he's going to need Elliott at his best for the offense to function like the high powered machine its been all year. His ball security has been an unexpected issue that needs to be fixed, as Elliott is tied with Tom Brady for the league lead in fumbles with 3. Elliott has become known for his uncanny ability to turn plays that should've resulted in lost yardage into gains, but that ability hasn't been on full display this year. If Elliott can return to his typical form, that will open up a whole avenue of things for the Cowboys' offense to execute.
However, if Elliott continues to play at this uncharacteristic level, Tony Pollard could see an increase in carries. Even if Elliott returns to form, it may still benefit the Cowboys to feature Pollard more, whether it's as the only back on the field, in two back sets, or even as a slot receiver. Lining up Pollard alongside Cooper, Gallup, and Lamb would either overload the passing game too much for a defense to cover or open up the running game for Elliott. Pollard's speed and elusiveness would scare these defenses and could potentially lure defensive attention away from our main playmakers, as Pollard is a huge touchdown threat if he's not accounted for.
Defense
While these things offensively that I've highlighted would simply help preserve what's been the strength of this Cowboys team, improvements around the defense as a whole would help improve the team from what it is now, as the defense has essentially hit rock bottom. Aldon Smith and Joe Thomas are the only players that have exceeded expectations this year and only Trevon Diggs comes to mind when I think of guys who are playing as I thought they would. Every other player defensively has been disappointing this year, especially Everson Griffen and Jaylon Smith.
Griffen, the former Pro-Bowl defensive end with the Vikings, has been so subpar this year that he's not even starting anymore, as Aldon Smith has taken his starting role. Griffen was signed by the Cowboys relatively late in the offseason to a team-friendly 1 year/$6 million deal, but only on a few occasions to date has his on-field production benefited the team. While many Cowboys fans figured that Griffen would only be around for this season, we're all beginning to wish that he'd never been signed, as they could've had some extra cap space to pursue a guy like Earl Thomas.
Jaylon Smith has been the man that's triggered many Cowboys fans throughout the year this year, as his lack of drive is obvious on every snap played, as he's often seen jogging when in pursuit of a guy as opposed to going at full speed. He's making $12 million a year, but he's not even playing at a starting level in my book, and I feel that every bit of his lack of production can be attributed to his lack of effort. If he doesn't get it together soon, the Cowboys may need to explore a trade to unload his contract.
Star defensive end Demarcus Lawrence has played well, but not as well as a guy making an average of $21 million a year should. Lawrence only has one sack on the season so far, so if he can wreak havoc more often on quarterbacks, that would help the defense out a ton. The other starting defensive end, Aldon Smith, has been a pleasant surprise around the entire NFL to start the season. Smith, who hadn't appeared in an NFL game since 2015 due to multiple drug related charges that forced him to attend rehab. He was reinstated by the NFL in the spring and signed a one-year deal with the Cowboys. Smith has been arguably the best defensive player on the Cowboys so far this season, as he leads all Cowboys' defensive linemen in sacks, tackles, and TFLs (tackles for loss). If Smith can keep on doing what he's doing and Lawrence can slightly improve, the Cowboys edge rushing combo could be considered among the best in the NFL.
Jaylon Smith may be the biggest problem in a single player this season, but the secondary has been the biggest problem as a unit in the entire NFL this season. Quarterbacks have found receivers wide open a disproportionate amount of the time when playing against the Cowboys defense. While stats on ESPN may not look awful, the Rams ran the ball all night long in the season opener and both D.K. Metcalf and Julio Jones whiffed on what should've been touchdowns for their teams, which would offset the stats even more. While the best receivers can occasionally make space against defenders, they seem to achieve that against the Cowboys more often and much easier than any other defense in the NFL. When your offense is averaging almost 500 yards a game and over 30 points a game and you're still losing, that gives you an indication of just how historically bad the Cowboys' secondary is.
If the Cowboys can fix these glaring issues defensively, there's no reason that they can't make a deep run into the postseason even without Prescott. The offense has been unstoppable all year and the talent is there on defense. It's simply about execution.
Losing Dak Prescott definitely hurts the team not only on the field but off the field too, as Prescott has become one of the most respected athletes in the world by his peers, especially teammates. However, the season is still alive for the Cowboys if they can fix the issues highlighted in this article and continue to succeed in the passing game like they have, there's still hope to put together a successful season. If these issues aren't fixed, though, the season could be doomed.
Get well soon Dak! #Doit4Dak
Written on October 17th, 2020
Sources:
Drummond, K.D. (12 Oct. 2020), Game Recap: Cowboys Win Thriller over Giants, 37-34, but Lose Dak. Accessed 16 Oct 2020, USA Today,https://cowboyswire.usatoday.com/2020/10/11/dallas-cowboys-vs-new-york-giants-game-recap-week-5-dak-prescott-andy-dalton/.
Epstein, Jori. (12 Oct 2020), 'We Are All Heartbroken': Dak Prescott's Gruesome Ankle Injury Leaves Cowboys with Much to Process. Accessed 16 Oct 2020, USA Today,  www.usatoday.com/story/sports/nfl/cowboys/2020/10/11/dak-prescott-injury-dallas-cowboys-compound-fracture-ankle-quarterback/5964884002/.
Williams, Charean. (15 Oct 2020), Dak Prescott: This 'Little Adversity' Is Going to Be Just Another Chapter. Accessed 16 Oct 2020, Yahoo! Sports, sports.yahoo.com/dak-prescott-little-adversity-going-021423838.html.
TMZ Staff. (9 Sept 2020), Dak Prescott Reveals Older Brother Killed Himself, 'He Had A Lot Of Burdens On Him'. TMZ, Accessed 16 Oct 2020, www.tmz.com/2020/09/09/dak-prescott-older-brother-jace-suicide-dallas-cowboys-quarterback/.
(13 Oct 2020), Andy Dalton. Wikipedia, Accessed 16 Oct 2020, en.wikipedia.org/wiki/Andy_Dalton.
(16 Oct 2020), 2020 NFL Player Rushing Stats. ESPN, Accessed 16 Oct 2020, www.espn.com/nfl/stats/player/_/stat/rushing.
(15 Oct 2020), DeMarcus Lawrence. Wikipedia, Accessed 17 Oct 2020, en.wikipedia.org/wiki/DeMarcus_Lawrence.
(14 Oct 2020), Aldon Smith. Wikipedia, Accessed 17 Oct 2020, en.wikipedia.org/wiki/Aldon_Smith.
(16 Oct 2020), 2020 Dallas Cowboys Player Stats. ESPN, Accessed 17 Oct 2020, www.espn.com/nfl/team/stats/_/name/dal/table//sort/tacklesForLoss/dir/desc.
(16 Oct 2020), 2020 NFL Team Total Offense Stats. ESPN, Accessed 17 Oct 2020, www.espn.com/nfl/stats/team/_/table/passing/sort/netYardsPerGame/dir/desc.
About the Contributor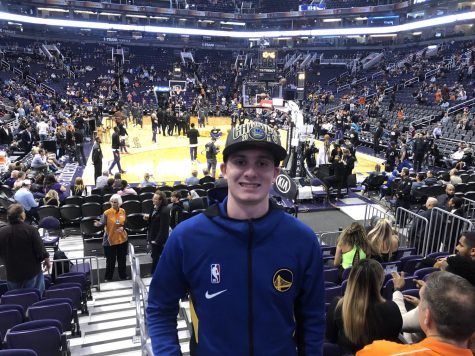 Austin Travis, Editor-in-Chief
Hey guys! My name is Austin Travis, and this is my 6th and final year with iHoot and my 6th and final year as a student at iUniversity Prep, as I'm a senior....