URBAN MEYER ON THE CURRENT STATE OF TCU FOOTBALL
What exactly was Urban talking about at halftime?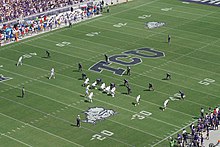 On November 14th, during halftime of the TCU vs. West Virginia game, Urban Meyer had some pointed comments questioning why TCU football looks like a mess right now. "[TCU] is getting out-coached right now. West Virginia is doing a heckuva job because just purely on paper TCU is a better job, better talent to recruit from. What in the world is going on? You know they've got a great coach in Gary Patterson, but there's something going on. My gosh, they beat Texas earlier in the year and they just look … is something wrong with TCU right now? They just don't look right." (Davison, 2020)
Many Frog fans on the 247 Sports board for TCU believe that the biggest problem right now with the team is the offense. The Horned Frogs have built a reputation since the 2017 season of not finding a consistent QB. After the Frogs lost Heisman Trophy candidate Trevone Boykin to graduation, they acquired Texas A&M transfer Kenny Hill. Hill served as a solid quarterback but made amateur mistakes that would cost the team games occasionally. He did take the Frogs, early in the 2017 season, to number 4 national ranking. However, TCU lost to Iowa State and ruined any hope of a playoff appearance. After 2017, TCU declared 4-star recruit Shawn Robinson the new starter. Ohio State would test him immediately as TCU faced them in the third game of the 2018 season. In the first half, it seemed that TCU might beat the Buckeyes; however, with Robinson's mistakes resulting in Buckeye points, TCU fell 40-28. That game seemed to have broken the team's spirit as Shawn would have a lousy season with many turnovers, eventually getting benched and injured. Robinson has since then transferred to Missouri but seems to be struggling there as well. Then came another 4-star recruit in Max Duggan from Council Bluffs, Iowa. He started in 2019 as a true freshman and surprised everyone with his running abilities. However, his accuracy was among the worst in the nation. Many TCU fans believed that this was just a freshman problem and that they would be better at throwing the ball in 2020. At the start of the season, it seemed that he had fixed his problems, being one the most accurate quarterbacks in back-to-back weeks. Since then,  he has started to decline and is now reminiscent of his old self. 
Another point of interest that could be holding back the Frogs is the coaching staff. Gary Patterson is known to be very loyal to his friends, family, and players. It was evident when he hired former Minnesota head coach Jerry Kill to a position nobody has ever heard of: Head Coach of the Offense. Some TCU fans believe that this has created possible division in the offensive coaching staff. It has come up because Jerry Kill has a more old-school offensive style philosophy. Still, the two offensive coordinators have a more modern and exciting belief on how an offense should handle itself. The staff also seems to have a lack of variety in plays. Frog fans have noticed the offense tends to run the same plays too often. It has caused fans to point out that the offense struggles to move the ball because opposing defenses already know what is coming and have prepared for it. 
These would be the most likely explanation of what Urban Meyer may be noticing about TCU's lack of production. Horned Frog fans wished hopelessly that these comments meant that Urban was hinting at a job opportunity at TCU, but this seems very unlikely. If Urban does return to coaching, most college football fans believe that he would take a head coaching job at Texas. TCU fans hope that the program can get back on track next season because if it does not, TCU football's magic may come to an end.
Sources:
Davison, Drew(16 November 2020). Gary Patterson Responds to Urban Meyer's Assessment That Something's Not Right with TCU. Retrieved 29 November 2020, from Fort Worth Star-Telegram, www.star-telegram.com/sports/college/big-12/texas-christian-university/article247214641.html.
Straka, Dean(14 November 2020). Urban Meyer: 'Is Something Wrong' with Gary Patterson, TCU?. Retrieved 29 November 2020, from 247Sports, 247sports.com/Article/urban-meyer-says-something-is-wrong-with-gary-patterson-tcu-football-big-12-154739294/.