ALABAMA WINS ROSE BOWL 31-14 OVER NOTRE DAME
Crimson Tide will face the Ohio State Buckeyes in the CFP National Championship on January 11th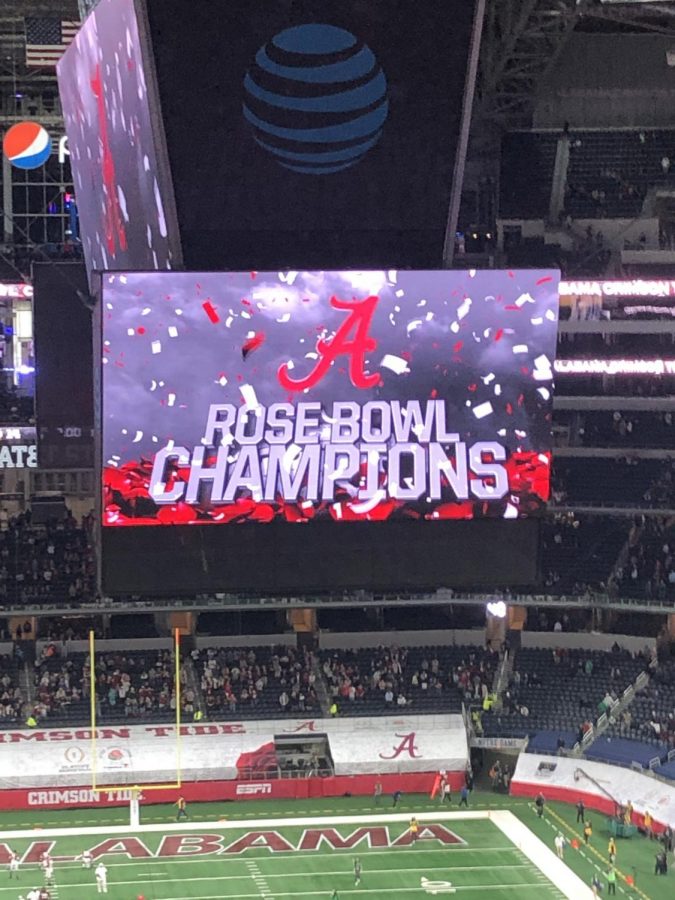 Two blue blood college football programs faced off against each other in the 107th Rose Bowl Game, with Alabama taking a 31-14 win over Notre Dame. The game was held outside of it's typical location in Pasadena, California for the first time since 1942 and only the second time in it's history due to COVID-19 restrictions in California. The game was relocated to AT&T Stadium in Arlington, the home of the Dallas Cowboys, giving fans, including myself, the opportunity to attend the prestigious game that was a part of the College Football Playoff this year.
Alabama took control of the game right from the start, scoring touchdowns on each of their first three drives. DeVonta Smith was the most vital piece to this successful start, as he had 5 receptions for 101 yards and two touchdowns at halftime. Over 100 yards and multiple touchdowns in one game is successful itself, so to do that in a single half is insane! His second touchdown of the day was spectacular and showcased his best attribute as a receiver, as he's extremely crafty at creating space going against his defender as he did on that 34 yard touchdown. Later in the game, the start receiver made another elite play for a touchdown, as he had to extend his body to reach the ball and was able to secure it for a catch and get his feet down in the endzone for an incredible touchdown catch. Smith showcased these elite abilities all season long and was awarded the Heisman Trophy on Tuesday, which is the most prestigious individual award in college football and is given to the top player in the country. He is the first wide receiver to win the award since Michigan's Desmond Howard won it back in 1991. "Thank my teammates," Smith said. "With team success comes individual success. So without y'all, I wouldn't be where I am today, winning this award." (Scarborough, 2021) Smith, who burst into the national spotlight after scoring the game-winning touchdown in the 2018 CFP National Championship, elected to stay another year at Alabama instead of entering the 2020 NFL Draft this previous offseason. It's paid off with a Heisman, but Smith isn't satisfied yet. "The two main reasons I came back was to get my degree and win a national championship," he said. "I checked one box, and I'm trying to check the other now." (Scarborough, 2021)
While Smith had a huge game and won the offensive MVP award, Najee Harris stole the show on the highlight reels, as he hurdled over Notre Dame cornerback Nick McCloud en route to a 53 yard gain on the ground. McCloud wasn't hardly bent over, yet Harris was able to completely clear the 6-foot tall defender on his leap into the air in what's been characterized as the greatest running hurdle of all-time by many, such as myself. I was standing at the end of a lower stairwell with my dad when this play occurred, as we went down to buy Rose Bowl merchandise during a TV commercial break. We both observed the play and looked at each other after the hurdle with our jaws dropped. It was one of those moments in sports that you can imagine, but know that it would never happen in real life, as a human being could never jump high enough to clear a six-foot tall cornerback. "I actually try to teach him not to do it," head coach Nick Saban said after the game, "but it didn't work." (Coleman, 2021) Harris finished the game with 125 yards rushing on only 15 carries, a strong game for the guy who won the Doak Walker award just days later, which is given to the nation's top running back.
Alabama has proven to be the nation's top team throughout the season en route to their appearance in this season's CFP National Championship game. While they have the talent advantage in many key areas, guys like Justin Fields and Shaun Wade could sway the game in Ohio State's favor if they play well. However, with talent like Smith, Harris, Mac Jones, Patrick Surtain, and Dylan Moses on the Crimson Tide's roster, they should go out and establish themselves as the nation's top team like they've done in every game they've played this year. They could also have projected top ten pick Jaylen Waddle back from injury, adding yet another weapon to the receiver core consisting of Smith and John Metchie. Waddle has appeared in practices this week, but his status for Monday's title matchup is still unknown at this juncture. "Sometimes if a guy practices one day and gets sore the next, you can't practice him the next day, so you just keep sort of trying to build up his workload to where he might be able to play," Saban said. (Bromberg, 2021)
Written on January 8th, 2021
Sources:
(6 January 2021). 2021 Rose Bowl. Retrieved from Wikipedia, on 8 January 2021, 6 Jan. 2021, en.wikipedia.org/wiki/2021_Rose_Bowl.
(1 January 2021). Notre Dame vs. Alabama – Box Score – January 1, 2021. Retrieved from ESPN, on 8 January 2021, www.espn.com/college-football/boxscore?gameId=401240152.
Coleman, Madeline (2 January 2021). DeVonta Smith Ties SEC, Rose Bowl Records for Receiving TDs. Retrieved from Sports Illustrated, on 8 January 2021, www.si.com/college/2021/01/02/devonta-smith-breaks-rose-bowl-record-receiving-touchdowns.
Scarborough, Alex (6 January 2021). Alabama Crimson Tide Wide Receiver DeVonta Smith Wins Heisman Trophy. Retrieved from ESPN, on 8 January 2021, www.espn.com/college-football/story/_/id/30658668/alabama-crimson-tide-wide-receiver-devonta-smith-wins-heisman-trophy.
Coleman, Madeline (1 January 2021). Alabama RB Najee Harris Hurdles Notre Dame Defender. Retrieved from Sports Illustrated, on 8 January 2021, www.si.com/college/2021/01/01/alabama-najee-harris-hurdles-notre-dame-defender.
Bromberg, Nick (8 January 2020). Alabama vs. Ohio State: College Football Playoff National Championship Preview and Predictions. Retrieved from MSN Sports, on 8 January 2020, www.msn.com/en-us/sports/ncaafb/alabama-vs-ohio-state-college-football-playoff-national-championship-preview-and-predictions/ar-BB1cABoE.
About the Contributor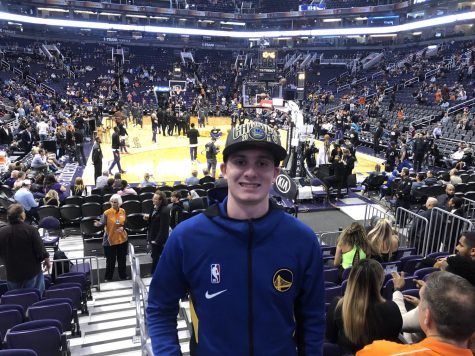 Austin Travis, Editor-in-Chief
Hey guys! My name is Austin Travis, and this is my 6th and final year with iHoot and my 6th and final year as a student at iUniversity Prep, as I'm a senior....