AN IUP STUDENT'S SOCCER GAME EXPERIENCE
What is it like to attend a sports game during covid?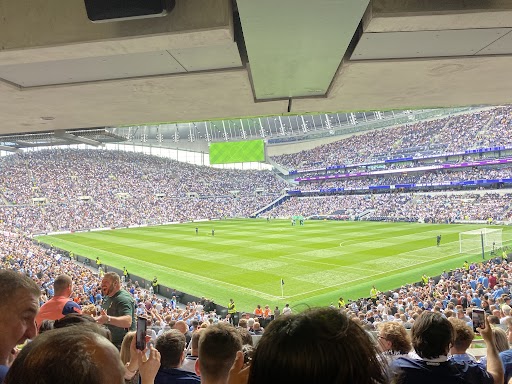 Manchester City's signature chant "We're Not Really Here" echoed in its ferocity across the massive Etihad stadium as the game against a rival, Tottenham neared halftime, still tied at 0-0. It would have been hard to imagine that for the past year and a half, there had been no fans in this stadium due to covid. Everybody was glad to be back, including iUP's very own, Kathryn and Karter Russell.
Kathryn had never been to a Premier League soccer game before, but being in London on holiday presented the opportunity for a completely new experience. The restrictions to enter the stadium were harsh but necessary, as England was trying to avoid a new surge while allowing some places to open up, such as the sports venue, Etihad stadium. Equipped with both a vaccination card and a negative covid test, Kathryn's family got into the stadium with no problem. However, since the tickets had sold out quickly, even though they were Manchester city fans, they had seats in the Tottenham section of the stadium. 
Considered a good weather day in England with clear skies, fans quickly piled into the stadium, and not before long, the Russell family was surrounded by Tottenham fans. Despite supporting opposite teams, Kathryn was able to meet a multitude of nice people seated around them. As the game neared a start and the teams were introduced, the chanting from both sections began in order to see who was the loudest. As it was a home game, Man city's signature chant, "We're Not Really Here" got so deafeningly loud that most fans in the Tottenham section had to stop to plug their ears.
With the recorded noise getting close to that of a military jet takeoff, the crowd roared at around 130 decibels. You can only imagine what this would have felt like to the ears as the screaming and chanting of both teams continued. A flurry of emotions went through Kathryn's head as even though she isn't a soccer fan, she felt inclined to scream and chant as well. When asked about this Kathryn said that "With an environment this tense, you just want to be a part of it and that is what I love about sports games." Finally, as the coin flip was called and Man City started with the ball, the crowd died down at the sight of 22 little dots running around and passing the ball.
Manchester City got off with a great start but failed to capitalize on many opportunities due to Tottenham's goalie and team captain, Hugo Lloris. It was only a matter of time before Tottenham took advantage of this when in the 54th minute, Tottenham's forward, Son Heung-min scored a magnificent goal to put up Tottenham 1-0. The game would then go back and forth but not another goal was scored. When asked about the game Kathryn said, "With such an intense environment, the experience was great, and I highly recommend that you go to one given the opportunity, even if you didn't know much about soccer in the first place." 
In conclusion, no matter the sport, fans are grateful for the opportunity to support their team once again in a stadium. Nothing compares to the real-life experiences as Kathryn and her family loved every bit of it and hope to be able to attend another game in the near future.