VIRTUAL TRIVIA NIGHT
A Spooktacular Fun Evening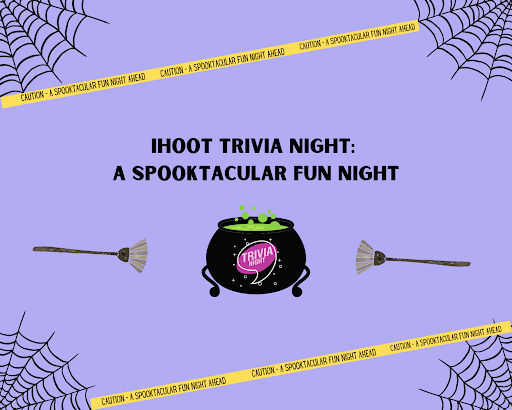 `Tis the season to be spooky? Halloween is nearly here! The skeleton decorations are appearing, the young children are dressing up as their favorite Disney characters and so much more tricks and treats. Not only are neighborhoods getting decked out for this spooky season, but so is iUniversity Prep's iHoot Newspaper. Now, how does iHoot plan to celebrate Halloween? Well, by hosting what now seems like an annual Trivia Night called Virtual Trivia Night (VTN). Register using THIS link!
The Establishment of VTN
As of 2020 what would become a new iUniversity Prep tradition was born. One of the current iHoot Editor In Chiefs, Eve Bamber, longed to make her mark both on iHoot as well as iUniversity Prep, and that she did. Eve, the News Section Editor at the time recalls, "I realized how iHoot hadn't really done anything NEW for a long time, and it was at this moment that I saw an opportunity, starting with the idea of a FUNraiser, Virtual Trivia Night." Bamber also reflects on how she was the one who had the idea and created the plan and the structure of what would soon become the Virtual Trivia Night hosted by iHoot. Eve says, "I realized that I would be taking full responsibility for it's planning, and it's success or it's failure. I had faith in my idea, and did everything I could over the course of the month that I had to get it sorted, and even with the many obstacles that came my way, VTN was a HUGE success!" Not only was it an amazing success and triumph for Eve, but it was a huge achievement for iHoot news. Bamber says "iHoot spiked in readership, and membership, and our
[iHoot] community." Not only did the current Editor In Chief break boundaries with this new idea that she started from scratch, but the idea was a "HUGE success" Eve says. Did you know that this was all during Eve's first year with iUniversity Prep as well as iHoot? Lastly, Eve Bamber says, "I was so humbled to have been able to implement this, and look forward to seeing where we take VTN this year, as well as the future."
The Importance of Virtual Trivia Night
iHoot newspaper has two Editor In Chiefs (EIC), Eve Bamber and Natalie McLaren. Eve who is in the tenth grade and Natalie who is in the eleventh grade both find Virtual Trivia Night important. Both agree on the fact that it's an eye opening opportunity and experience for those who are not a part of iHoot yet. Editor In Chief, Natalie McLaren believes that the interaction between students on Virtual Trivia Night is a "wonderful" way to participate. "I would say that the goal of advertisements [ for iHoot newspaper ] is simply asking people to be a part of something fun and to come and participate in such a wonderful, loving group of kids that want to get connected, even if this said connection is only virtual. There is so much good to be found at events like these, and as long as Doctor Apathy and the Weapons of Mass Lag don't come after us, there's not much that could go wrong!" says Natalie. EIC, Eve says "This community [ iHoot ]  is unlike any other iUPrep club community, and events like Virtual Trivia Night give us the opportunity to expand this amazing network to involve all of our incredible school!"
Let The Competition Begin!
On October 29th from 5-6 p.m there will be a competition that will lead to only one trivia king or queen. The competition will take place in Mrs. Harbison's Live Lesson room. Everyone who signs up will have a chance to win some amazing prizes. Natalie McLaren and Eve Bamber both told me that there will be a monetary prize available, as well as a chance to win iUniversity Prep school apparel. Eve adds, "And of course, who could forget the awesome bragging rights!". Now, how would it be the spooky season without trick or treating? This year for the VTN there will be a trick that both iHoot's Editor in Chiefs recommend you do. Go on a little trick or treating route through iHoot Newspaper, read and reference articles written by the Staff Writers of iHoot from this year.
The More Students The More Tricks and Treats!
Though the VTN is hosted by iHoot it is open to all of iUniversity Prep and like they say, "The more students the more tricks and treats." Both Natalie McLaren and Eve Bamber believe that anyone who would like to, should participate in the VTN. Natalie McLaren says, "I feel like people all over the school should highly consider attending this event because of the amount of FUN you can have!! It's not just a simple event where it's 2 truths and a lie, nor is it one that can be mimicked easily; therefore, it has a special purpose, which is to spread awareness about iHoot as well as being the Owlsome community together for a whole lot of fun! If this event was only limited to iHoot, it'd be limiting the potential for how much good could be reaped from such an event, so the more diversity, the better!!"
Eve Bamber believes that it would "be boring if only iHoot could attend! We already see each other every Friday, so it's time to get some new faces in the mix! As I mentioned before, community is one of the major driving forces behind this event and by having both students and teachers attend from iUPrep, we're able to expand our community and make the event more fun, and more social! In a virtual school, we're always trying to meet new people and make new friends, and events like VTN are the perfect opportunity to put yourself out there and get involved without being put in an awkward situation. If you're interested in iHoot or simply want to have some fun and get to know some people, you better make sure you attend Virtual Trivia Night!"
Virtual Trivia Night: A Spooktacular Fun Night
When asked if the Editor In Chiefs were going to attend the party dressed up, Eve Bamber said, "I just spoke to my Co EIC [Natalie McLaren] about this a few minutes ago, and we agreed that we might be dressing up! We'll be keeping it simple and remaining professional, but we do have something up our sleeve for the festivities. If anyone else would like to join us, feel free!" Well readers, it looks like we have a trick or treat planned by Eve Bamber and Natalie McLaren. We hope to see you at what now has become an annual celebration at iUniversity Prep, Virtual Trivia Night! Register using THIS link!