TOM BRADY RETIRES AFTER 22 SEASONS IN THE NFL
iUP students react to the GOAT of football's retirement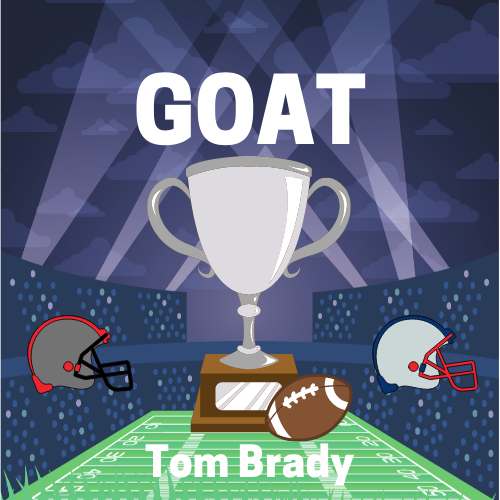 After 22 years of playing in the National Football League, from being drafted as the 199th pick of the 2000 NFL draft, to becoming the greatest quarterback of all time, Tom Brady has completely changed how the game of football has and will be played in the future. With nearly too many Super Bowl rings to fit on his fingers, Tom Brady will go straight into the record books and later the Hall of Fame, solidifying his status as the GOAT of football. With an unbelievable amount of records and statistics, this article will bring you through Tom Brady's accomplishments and achievements throughout his story-book career.
Tom Brady is known for being one of the best players ever in the NFL, but how did he become so good at the game? Brady was drafted into the NFL in the year 2000 as the 199th pick, and no one would have expected this young quarterback to win his first Super Bowl in just his second season. As time went by, Brady was able to become one of the most popular and well-known players for his skills, shocking statistics, and his many Super Bowl appearances and wins. He holds many amazing records, including most QB regular-season wins, most QB playoff wins, most passing yards, most pass completions, and many more. Brady is one of a kind as he even became one of the oldest players in the NFL while still playing at his best. After 20 years of playing for the New England Patriots, Brady decided to make a change and spent his last 2 seasons with the Tampa Bay Buccaneers. Brady ended up winning a total of 7 Super Bowls and making 10 Super Bowl appearances. With his incredible career and unbelievable achievements, Tom Brady will go down in history as one of the greatest players in the NFL.
From his first Super Bowl win to his last, Tom Brady has shown serious skills and has beat the odds many times. Tom Brady has made an appearance in 10 Super Bowls and has won 7 of them. Tom Brady has won so many Super Bowls that he himself has more Super Bowl wins than any other player or team. As a franchise, the Pittsburgh Steelers and the New England Patriots are tied with the most Super Bowl wins with each having only 6 compared to Tom's 7 wins. This is an amazing feat and probably won't ever be done by another player in NFL history. Another jaw-dropping feat that Tom Brady has done is that in Super Bowl 51, Tom Brady and the Patriots were down 28-3 against the Atlanta Falcons in the third quarter. The game looked like it was going to be a blowout until somehow the Patriots were able to tie the game and force it into overtime. This was incredible as Tom then led the Patriots to score a touchdown and win the game. It was the biggest comeback in a Super Bowl and was named the greatest comeback in NFL history. However, winning 7 Super Bowls was just one of the many accomplishments that Tom Brady has made in his career.
Tom Brady, being the NFL legend that he is, has over 20 individual NFL records and basically owns the NFL record book. However, the thing that defined Brady most was his ability to win countless games whether in the Super Bowl, Playoffs, or regular season. No quarterback will ever be able to do what Tom Brady has done, showing that he is known as the GOAT for a reason. Some of his records include the fact that Tom Brady has more than double the playoff wins, (35), over second place, (16). Throughout the 22 seasons, Tom Brady has played in the NFL, he has been unbelievably consistent, averaging over 12 wins in each.  Despite all this, in his final few, Tom Brady started to show age, not physically but statistically. This was the case in the 2022 playoffs, as Brady was older than any of the opposing team's head coaches. The magnitude that Tom Brady played at during his 22nd season was unparalleled, as he was able to achieve his career-high in passing yards of 5,316 with the Buccaneers.
With such a football icon hanging up his cleats for the last time, we had to get iUP's students' reactions to the news. Many students were happy with his decision to retire from football to spend more time with his family and allow "other QBs to show off their skills." To go along with this, students agreed that it was "time for him to move on from football". One big surprise was that many students loved how Brady left the Patriots and went to the Buccaneers to win a Super Bowl with them. iUP students also reflected on their favorite parts of Tom Brady's career which ranged from his last super bowl win against the Chiefs to the fact that he was an inspiration to a lot of people including those around him. Even though some students weren't the biggest fan of Tom Brady, everyone agreed that he had a great career and was overall the best football player.
Shortly after the Buccaneers lost in the divisional round, 7 time Super Bowl champion, Tom Brady, announced his retirement. Throughout his amazing career, Tom Brady got more popular and earned the title of the GOAT. Despite his age, Tom Brady continued to grow as a player and was able to win one final Super Bowl after switching teams to play with the Tampa Bay Buccaneers. Tom Brady will always be remembered as one of the greatest to step foot on a football field and his legacy will go down in history.