COOPER RUSH: 5 WIN WONDER
Read on to find out about Cooper Rush's 5-win wonder!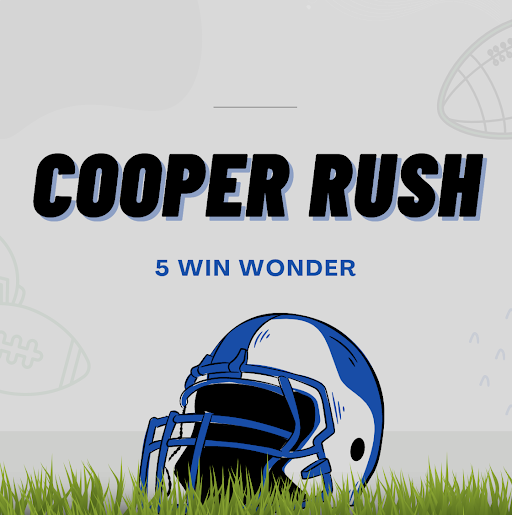 Imagine if there was a football player who won his first 5 games as a quarterback. I am here to tell you that that would not be a myth. Cooper Robert Rush has joined the Cowboys. This will impact the team forever.
COWBOYS CAREER
Cooper Rush joined the Dallas Cowboys 5 years ago, in 2017. Last year, in 2021, he played his first game as a starting quarterback against the Minnesota Vikings. That day, on October 31st, was when the legend of Cooper Rush began. 
Rush rapidly rose in people's favor.  After Dak Prescott was injured in the game against Tampa Bay at the start of the season, Rush was sent in as the starter. His first game in the 2022 season was against the Cincinnati Bengals, which the Cowboys won 20-17. He was currently at the previous Cowboys record for winning your first starting games. Next week, on September 26th, against New York, they won 23-16. On October 7th, 2022, he destroyed that previous record, doubling it, and scoring 25-10. The next week was his last one to win. They demolished the LA Rams, previous Super Bowl winners, 22-10. Sadly, in the game after that against the Eagles, on Sunday, October 16th, they lost 26-17. While it was a sad loss, Cooper Rush had made an AMAZING record and won his first 5 games as a starter. 
While in a recent poll, students at iUP favored Dak Prescott 7-2 over Cooper Rush, he is still something to talk about! In an interview, iHoot Sports Section Editor Daniel Hall said "I like the Dallas Cowboys. As someone who was born and raised in the Dallas area and lives around 15 minutes away from AT&T Stadium, it would be impossible for me to not be even a partial fan of the team." When asked how he felt about Cooper Rush taking over while Dak Prescott was hurt, he said "At first, I was not sure that Cooper Rush would have been able to step up to the plate. I knew Dallas usually had a shaky record as of then when it came to the backup quarterback position, so I was naturally skeptical. However, when Cooper Rush went on that winning streak, I really did think there could be a quarterback controversy. Cooper Rush really did seem to be that guy."
PERSONAL HISTORY
While Cooper Rush now plays for the Dallas Cowboys, Cooper Rush started his great football career with Central Michigan, in which he started for 50 games! He was born in Charlotte, Michigan, on November 21st, 1993. In his career with the Dallas Cowboys, he made 1,444 yards, 8 touchdowns, and threw 4 interceptions.
In Conclusion, 
Cooper Rush may be one of the best quarterbacks Dallas has ever had. With those 5 awesome wins, he might rise to eventually be the best in the NFL, destroying the Super Bowl and the Pro Bowl and all the Bowls. Winning the Super Bowl, he will get us to 6! But with Dak back, we can only hope he is even better than before.
WORKS CITED
ESPN https://www.espn.com/nfl/player/_/id/2972515/cooper-rush