NAILS, NAILS, NAILS!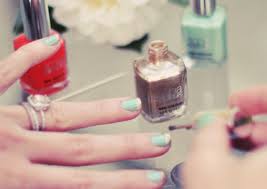 Nails, Nails, Nails–we all worry about them! Do they look pretty? Do they match my outfit? What design do you think I should do? We all ask these questions at least once in our lifetime, and I am here to tell you all the new nail styles you are going to LOVE!
1. Half moons may be very simple. but they are stylish. Getting ready to go to prom, but you nails aren't painted? Half moons are easy and sophisticated and perfect for formal and informal occasions.
2. Bling!! When all else fails, Bling is the answer. Bling is a great. If you just put on a plain simple color, but there is no time for design.  Slap on some bling, and you're ready to go!!!
'
3. Chevron has always been a favorite!! Chevron walls, Chevron Bedspread, Chevron phone case why not chevron nails!!!