Highlights of the Second Presidential Debate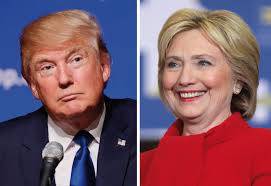 Hosted in St. Louis, Missouri, this debate had many highlights once again. Were many great The fly that landed on Hillary's face, Trump's rude etiquette, Trump threatening to jail Hillary, "Locker Room Talk", and what the two had a positive thing to say about each other were many of the highlights in the debate.
That fly that landed on Hillary's face (her eyebrow to be accurate) caused some comments on social media like Twitter. Some commented that this fly was the night's MVP, and some others made jokes about how this bug is known to be attracted to trash. Some even said that the fly is voting for Hillary.
Once again, Trump was rude. Interrupting Hillary while she was answering a question or responding to Trump's comments, his rude etiquette continued. In fact, the people asking the questions asked Trump several times to let Hillary do her talking, as she did not interrupt him while he was talking.
Donald Trump threatened to jail Hillary Clinton due to her 33,000 missing emails. He told Clinton that he would look forward to imprisoning her if he was elected next month. "If I win, I am going to instruct my attorney general to get a special prosecutor to look into your situation, because there has never been so many lies, so much deception." Said Trump. Clinton responded by saying that Trump's comments about her deleted emails "false", then responded again, "It's just awfully good that someone with the temperament of Donald Trump is not in charge of the law in our country." Trump then added, "Because you'd be in jail." Trump campaign cheif Kellyanne Conway said that Trump was taking his cues from furious supporters, when being asked about the comments. "Donald Trump is channeling the frustration of a lot of Americans he hears from," Conway said, also saying that the anger comes from what voters believe to be "different set of rules for this woman, as goes her emails." However, Ari Fleischer, former White House Press Secretary and a Republican who worked for George W. Bush, had a different opinion about the comments. He criticized Trump, tweeting, "Winning candidates don't threaten to put opponents in jail. Presidents don't threaten prosecution of individuals. Trump is wrong on this."
Trump was questioned about his highly inapproprite comments he made in 2005 about a woman. I don't want to put what he said then because those may be a little inaproprite for school, but I will put his comments he made about it during the presidential debate. His comments he made in 2005  hurt his reputation a little bit, causing some Republicans to stop supporting trump. When questioned about his inaproprite comments at the debate he said that it was "Locker room talk". He also said, "I'm not proud of it. I apologize to my family; I apologize to the American people. Certainly I'm not proud of it, but this is locker room talk." Clinton replied, calling Trump's comments in the video revealing. Clinton replied, "What we all saw and heard on Friday was Donald talking about women-what he thinks about women, what he does to women." Clinton then added on to the comment to put down Trump even more, stating that Trump has had a history of attacks on Muslims, a disabled journalist, immigrants,  and African-Americans. "So, yes, this is who Donald Trump is," she added.
The last question asked in the presidential debate was probably one of the best, as it asked "Can you name one positive thing you respect in one another?" Here's what Clinton had to say about Trump: "I respect his children. His children are incredibly able and devoted and I think that says a lot about Donald. I don't agree with nearly anything else he says or does, but I do respect that and I think that's something as a mother and a grandmother that's very important to me," Said Clinton. Here's what Trump had to say about Clinton: "I consider that statement about my children to be a very nice compliment. I don't know if it was meant to be a compliment but it is a great – I'm very proud of my children. And they've done a wonderful job and they've been wonderful, wonderful kids. So I consider that a compliment. I will say this about Hillary: She doesn't quit. She doesn't give up. I respect that. I tell it like it is. She's a fighter. I disagree with much of what she's fighting for, I do disagree with her judgment in many cases, but she does fight hard and she doesn't quit and she doesn't give up and I consider that to be a very good trait," Said Trump.
From the fly on Hillary's face to the last question, there were many highlights in the debate. This was the last presidential debate before Election Day. Election Day will happen on November 8, 2016.
Sources/Credits
http://www.latimes.com/nation/politics/trailguide/la-na-second-presidential-debate-live-last-question-can-you-name-one-1476068128-htmlstory.html from Los Angeles Times. Maintained by Los Angeles Times. By Los Angeles Times. Accessed on 10/11/16.
http://www.cnn.com/2016/10/10/politics/presidential-debate-takeaways/index.html from CNN. Maintained by CNN. By Eric Bradner. Accessed on 10/11/16.
http://heavy.com/news/2016/10/fly-hillary-clinton-face-forehead-second-presidential-debate-2016-donald-trump/ from Heavy. Maintained by Heavy. By Shannon Walsh. Accessed on 10/11/16.
http://www.cnn.com/2016/10/09/politics/eric-holder-nixon-trump-presidential-debate/ from CNN. Maintained by CNN. By Gregory Krieg. Accessed on 10/11/16.