EASY HALLOWEEN COSTUMES FOR DANCERS
Looking for a last-minute costume? Here are some that you can easily move in, and don't take much time at all!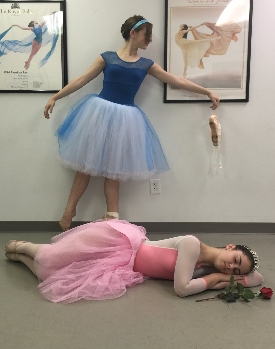 Hang on for a minute...we're trying to find some more stories you might like.
We all know that Halloween is approaching quickly, which means it's time to decide what our costumes will be this year. Now, this can be a very stressful decision to make considering how many options there are, though it can be even more difficult trying to find a costume that would allow you to dance, as in doing ballet, in. Therefore I have put together a list of easy costumes that anyone can make. This list will include options from princesses to superheroes and more, so feel free to use any of these ideas and use them as your own.
The first idea has to do with a Disney princess. Now I have had my fair share of princess' costumes growing up, but finding a way to be one and still be able to do a full ballet class was a little more challenging. I found the perfect way to transform yourself into any princess you may desire though! This costume will start off with a leotard that is the color of the princess' dress, like blue for Cinderella, pink for Aurora, etc. Once you have found the perfect leotard, you will need to either make a long skirt out of tulle or find a cheap one already made. If you can find one already made, in my opinion, that would be the best way to go. If there isn't one anywhere, don't fret! It is not hard to tie tulle around a band of elastic. After doing this you are almost done with the whole costume, but you can't forget the hair accessory! This will most likely mean a tiara of some sort to complete the look. These are not hard to find at any store, so there is nothing to worry about in that department.
Now there is only one thing left to complete your Disney princess costume! That would be an object that the character is associated with. For example, Cinderella is known for leaving a shoe, therefore you can walk into class with only one shoe on to fully get into the character. The other princesses have different objects that go along with them. It would make your costume look even better if you had an object associated with the character alongside you. This is how you can accomplish the true spirit of a Disney princess.
For those of you who are more of a superhero kind of person, don't worry! I have something up my sleeve for you too! It starts off the same way the princess costume does, with a leotard in the color of your superhero. Since you are supposed to be super, the skirt will be a little different. This time around you will wear something short like a wrap skirt or a pull-on skirt of your choice. By doing this, it will give a less romantic feel like the princess, and give a more powerful and ready-to-save-the-world kind of look. Now it's time for the fun part, making the symbol for your superhero of choice! I suggest when doing this you should make it out of felt then safety pin it onto the leotard. Felt will look a lot better than paper, and it will move with you much better since we have to do ballet in this. After doing the basics to your costume, you can now add accessories! This will make a great superhero costume that will enable you to move easily.
There are definitely more ways to make a great Halloween costume, these are just some of the few that can be very easy and quick to do. You could very easily wear your Hogwarts house tie, and pin it to a leotard, and you have a Harry Potter inspired costume! That being said you can take any of these ideas and expand on them to make it more personalized to you or your character. I hope this helps, so you can come to a conclusion on what to be for Halloween!