ONE'S OWN SPACE
Here are some tips about having a good workspace!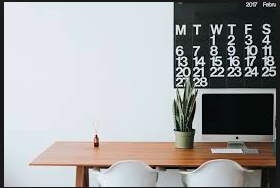 Madison Sears, Staff Writer
November 13, 2017
It's always nice to have a place to retreat to and have some time for yourself or hang out with friends. For example, I practically never leave my room in the summer! However, you need a space away from all of that to work and get stuff done! That's why it's good to have an office/study space for online schooling!
We recently just set one up for me, and I've spent my week working in there. I can already tell a difference! I focus better, work better, and it's nice and quiet! (Until I put on my headphones to blare music…) To set up your own space you'll need:
A desk
A nice chair
Plenty of shelves for books and supplies
Lamps for light
Plenty of storage
A computer
In my office, I have nice teal walls, a big desk, bookshelves everywhere, a swivel office chair, a beautiful watercolor type rug, a Himalayan salt lamp, and a big soft chair to relax in when my work is done. At first, I was skeptical of these salt lamps, but they do work very well! They release positive ions into the air to calm your anxiety and help you focus. Now, I have ADHD and Anxiety, and it does help me quite a bit! You'll need a lot of office supplies to fill the shelves and drawers, or maybe I'm just obsessed with gel pens. (They're too fun to doodle with!) The long and short of it is, to build your own space, you need essentials and aesthetically pleasing decor. Try making your own space and tell me how it goes! Madison signing off!