GET SOME, GIVE BACK
Giving to the community while buying for yourself!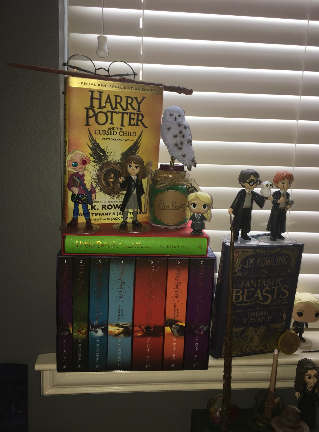 Hang on for a minute...we're trying to find some more stories you might like.
We all know that there are thousands of stores in this world including Nordstrom, Lululemon, Urban Outfitters, and so on. They all seem to have one thing in common though, which is to sell you an item in their store, therefore they can make a profit for themselves. Although there is one store in particular that is not your typical shop, in that for every ten dollars you spend they will give a person in need a meal. This unique storefront is called BoxLunch. Now they do sell clothes, but they are more along the lines of a fandom store, due to the fact that they sell from some of the biggest franchises like Harry Potter, Disney, Marvel, Star Wars, and more. For myself this is the best store that has ever been brought to life because I love all things Harry Potter and Disney, not to mention the feeling of giving back is amazing! Through the years BoxLunch has been able to donate over eight million meals to people throughout the U.S., and there is much more to come!
Now that we have established the overview of BoxLunch, we can now start to go more into depth. Obviously my favorite fandom is Harry Potter, I mean who doesn't like to spend their free time obsessing over every little detail and theory throughout seven books and eight movies? They have everything from store exclusive apparel to official merchandise that Warner Brothers themselves created! For some of these items, the only other place to get this merchandise is to go to the Wizarding World of Harry Potter, or the Warner Brothers studio in London. There is something in everyone's price range, whether it be a $5 pair of socks to a $300 broomstick that is an exact replica from the movie, there should be something that wallet of yours can spare. Along with Harry Potter, their second most famous section would be Star Wars. Personally I know nothing about Star Wars, and you're probably thinking to yourself "why doesn't she like Star Wars, everyone loves those movies!" The answer to that would be simply because my love for Harry Potter is too strong, though that doesn't mean their selection in this range is any less spectacular. Of course they have the apparel, but they also have silly things like a storm trooper waffle iron, or a BB-8 cookie jar. The list just goes on and on, and for the amount of merchandise they have for each fandom, we would be here all day if everything was listed.
One of the main reasons this store attracts people like myself in is because of these little figurines called Funko Pops. They are vinyl figures of different movies, TV shows, and game characters. Although it may seem weird reading about it, once you buy one it's like you can never stop collecting them. You can get these figures in a lot stores, though I have to say the selection at BoxLunch is the best, because of the gigantic wall they have in the back stacked with all different kinds of characters from all sorts of movies or TV shows. BoxLunch has yet to disappoint me on this part of store. Each Pop costs $10, so that means every time you purchase one you are giving a meal to somebody in need! Trust me when I say buying just one is difficult when there are so many more just waiting in the back to be purchased. Though on the bright side of buying more than one, you are donating more meals!
Whether you're a fan of Harry Potter or Star Wars fan, BoxLunch has the perfect item for you in everyone's price range. Just remember: every time you spend $10, a meal is donated! There is no greater feeling than giving back.