LEPRECHAUNS AND ROCKETS
Irving and Harden leading their teams in good directions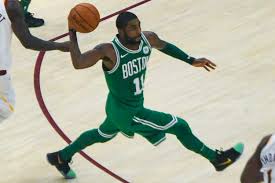 Hang on for a minute...we're trying to find some more stories you might like.
Every year the most exciting event for basketball fans is the NBA Finals. The pinnacle of the playoffs, it is the dream of fans and players alike to have their team win the Championship. But for the last couple years it has been the Warriors vs. Cavaliers show and this year, that is going to change.
While record doesn't mean much this early in the season, the Celtics and Rockets sit atop their respective conferences with the top seeds. The two teams are led by top guards in the league, Kyrie Irving and James Harden, both of which are in the MVP conversation. However, the most significant difference between them and the former Finalists has been their drastic roster upgrades. As the Cavaliers arguably lost talent in a trade sending Kyrie to the Celtics, and the Warriors stagnant, unchanging lineup, that is their leg up.
The Celtics added a young, superstar point guard in Kyrie Irving as well as their rookie Jayson Tatum, who has exceeded all standards. And the Rockets have now shifted James Harden's role solely to scoring (which he happens to be one of the best in the league at doing) with the acquisition of veteran point guard Chris Paul. Though the Celtics lost their other big addition to an injury, Gordon Hayward, they have blown expectations out of the water with Kyrie growing into his new role as leader of the team excellently and as young coach Brad Stevens shows his true effectiveness in leading what some would see as an average roster to first in the league. The Rockets have dealt with there own injury problems, Paul has had an ankle injury hindering his play time through a good chunk of his first month with the team, but the games that he has been back he has boosted the Rockets ever-growing win streak, and lead the offense averaging more assists than points. James Harden, of course, picks up the slack there as he has set his career high, 57 points, this season and is currently leading the league averaging over 30 points.