2017 MOST POPULAR HALLOWEEN COSTUMES
Here are some of the most popular costumes from 2017 and 2016!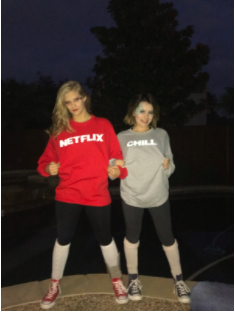 Madelyn Magson, Staff Writer
October 20, 2017
Every year, Halloween trends are spread throughout the vast world of social media. More and more DIY or creative "pun" costumes are being created, shared, and loved. Here are a few of the most popular Halloween costumes from Halloween of 2017!
One of the most popular costumes from this year would be any of the Stranger Things TV show characters. The most popular character, Eleven, was a huge hit with girls AND guys! Everyone loved the comedy of seeing men dressing up in wigs, makeup and dresses.
In Halloween of 2016, Harley Quinn was the new hit movie character. Thousands of girls were dressing up as Harley because of the newly released movie, Suicide Squad. This year, the symbol for girls was Diana, otherwise known as "Wonder Woman", from the movie released earlier in 2017. Many girls wanted to dress up as their new "girl power" idol, ages ranging from toddlers to full grown adults!
Lastly, while there were so many more popular costumes, a huge hit for teens was "couple diy costumes". Pinterest played a big role this year in helping teens and young adults search for a costume. Even I made and wore a two part friend costume! A few examples of these costumes include being a deer and hunter, Boo and Sully from Monsters Inc., Harley and the Joker, and of course, Netflix and Chill (which I definitely dressed up as)! Overall, Halloween of 2017 was a wild ride and a year no one could forget!