CHEAP AND EASY CHRISTMAS PRESENTS
Here are some inexpensive gifts so you don't spend too much money this holiday!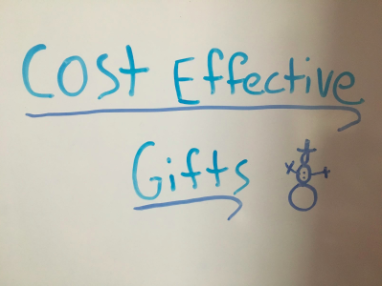 Hang on for a minute...we're trying to find some more stories you might like.
The holiday season has made its way back around once more, which can only mean one thing, it's time for the annual Christmas shopping to begin. This could mean spending hours waiting in line for one gift, or spend outrageous amount of money to get what everyone wants. Not to mention you always want to give something to your friends, while not be overpriced at the same time. Don't worry, I have plenty of tricks up my sleeve to get you through this holiday season, enabling you to check off every gift on their lists.
What girl is not trying to find a new way to organize their jewelry? Well there is a very cost effective solution to that problem, which would be to buy what is called a critter ring holder costing only $5! I will certainly be buying that for my friends this year, because of how easy and cheap this gift is. Now if you're going to buy a ring holder, why not buy a ring as well? Amazon has an initial ring for only $10, which would look great on the organizer that you got to go with it. Though I am fully aware that not all girls are into jewelry, that doesn't mean there isn't a way to find them something cost effective as well. Ever thought about getting a coffee mug and filling it with candy? Well this gift is a fun one for anyone, while being inexpensive at the same time. I don't know about you but I would be very happy to get a gift with candy in it, and this would only come out to be around $15. Who knew that there were so many options for people on a budget? Though you might want to be careful and not go crazy on these types of gifts, if you are not careful they will add up quickly and therefore defeat the purpose of cost effective gifts.
There are many more gifts out there that can be cheap and easy on the budget, one being a journal for all of those people who like to write or draw on a daily basis. This can be purchased on Amazon, Target, or even the Dollar Tree, so this is a really easy one to find and inexpensive to purchase. For this next gift it's all about the trends, which would be the adult coloring books. These have been some of the biggest items to receive or gift to someone, due to the fact that it is supposed to be a calming mechanism, thereby reducing stress. That being said the majority of people would enjoy receiving this, and it is very nice for the budget because they range from $10-$15. These two ideas would definitely be easy to find at almost any store, so don't fret on not being able to find one.
This next type of gift is for all of those people who are interested in pop culture, or in other words, Harry Potter, Star Wars, Disney, Marvel, ect. One option at the price of $9 would be to buy a key ring. As someone who loves all things pop culture, I can never receive too many key rings to add to the collection. There are all types of keychains out there for any fandom you're looking for and one of the best places to find them would be at the pop culture store called Box Lunch. One other great option would be socks with the fandoms logo or famous symbols on them. This is a very broad spectrum, therefore you should have no problem finding the perfect pair of socks. Not to mention they can also be bought at many locations.  This last idea is for someone who is really into pop culture, due to the fact that they would surely enjoy this gift. So for all your super fans out there get them a Funko Pop of their favorite character. These little figurines are great gifts and only cost $10! All of pop culture fans will definitely go crazy when they open their gift and find a Funko Pop. The list goes on for this particular group of gifts, however these will most likely end up to be the most cost effective.
Christmas time should be filled with cheer and joy, not stress and fear, therefore take the load off your back and get aboard the inexpensive gift train this season to make it more enjoyable. Whether it is a family member or a friend anybody will gladly accept these thoughtful presents.