GETTING A HANDLE ON THE NBA'S TOP POINT GUARDS
Comparing Kyrie Irving and Stephen Curry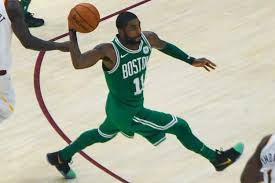 Hang on for a minute...we're trying to find some more stories you might like.
One of the most exciting point guard matchups in NBA is that of Kyrie Irving and Steph Curry. Irving's insane ability to handle the ball and score in any situation (especially in the clutch) captivates his new Boston fanbase. On the other hand Steph Curry's incredible shooting from the three point line (possibly the best of all time) amazes worldwide audiences. But who is better?
Wardell Stephen Curry II is a 29 year old, two time MVP (the only unanimous MVP in league history), two time NBA Champion, and five time All Star for the Golden State Warriors. Steph is number eight on the list of all time three pointers made (on pace to become number one by the end of his career by far) and a career 43.8% three point shooter. Although Curry's most commonly known attribute is his shooting, he is also a good leader and an underrated defender. On the point of his leadership, Curry famously led his team to the best record of all time at 73-9 in the 2015-2016 season. The year before that Curry brought the Warriors their first championship win since 1975. As a defender, Curry had the most steals in the league in 2016 and averages 1.8 steals per game through his career thus far. Little known fact about Curry is that he is also one of the greatest free-throw shooters of all time at third on the all-time percentage list at 90.2% (the highest among current NBA players).
His Eastern Conference rival, Kyrie Andrew Irving is slightly younger than Curry at 25 years of age, one time NBA Champ, five time All Star (and more notably the 2014 All Star MVP), as well as Rookie of the Year 2012, currently on the Boston Celtics. Despite his younger age, Kyrie stacks up quite well against Steph in accomplishments, except that Curry has two more MVPs and one more Championship. Kyrie's three point shooting is also not to be underestimated: in 2013 he was the three point shootout champion, and in fact his most iconic moment thus far is hitting a game winning stepback three to seal the 2015-2016 NBA Finals, and the comeback from 3-1 conducted by the Cavaliers, with the reigning two time MVP Curry defending him. Kyrie is most notable for going into stretches of play characterized by certain nicknames. The first is enthusiastically referred to as Uncle Drew by announcers (because of a viral ad campaign for Pepsi where Irving dressed up as an old man and showed out on street courts making common citizens look foolish with flashy moves) where he clowns defenders and finishes effortlessly with either hand and multiple fakes over world class competition. The second is named after one of his mentors, Kobe Bryant, when Kyrie performs incredible scoring plays in clutch time minutes to put his team ahead (like the three point shot in the 2016 NBA Finals) known as the Mamba Mentality. Like Curry, Kyrie also has underrated defense, leading his Celtics to one of the best defenses in the league right now, Kyrie even lead the league in steals for the first couple of weeks of the current season. A little known fact about Kyrie is his ability to use his speed and knowledge of finishing at the rim to block other players attempting layups.
In the end, Kyrie's sweet handle and ability to score clutch buckets and Curry's uniquely skillful ability to fill it up the whole game from three are impossibly different from each other and difficult to compare. However, that doesn't stop many fans trying. These two offensive juggernauts will give us a never ending argument and more than exhilarating matchup for the next couple of years, and possibly in this year's NBA Finals, as both are on number one teams in their consecutive conferences. But until then we can only theorize who will be better by the end of their careers, which I unrealistically hope will never come.