BLANEY WINS IN CRAZY FINISH AT CHARLOTTE ROVAL
Johnson gets eliminated, Larson transfers in crazy last lap events
Hang on for a minute...we're trying to find some more stories you might like.
Ryan Blaney took home his second career win in a very unlikely sequence of events in the final few corners that also had huge playoff implications. Jimmie Johnson, who was running 2nd and tracking 8 points above the cutoff, drove his car hard into the turn 16 chicane and spun out on the last lap. Trying to pass Martin Truex, Jr. Johnson's car spun around and into Truex, and it spun the #78 of Truex. Ryan Blaney, who was running third, snuck by all the chaos and took home the win. Johnson's move relegated him to an eighth-place finish, but the chaos wasn't over. Jeffery Earnhardt, who was running towards the back of the field, was spun out by Daniel Hemric in turn 16. Earnhardt's car stalled out, which allowed Kyle Larson, who had severe damage from an earlier crash and was running way behind the field, to get by and get the one extra point he needed to get in a tiebreaker on the cutoff with Johnson and Aric Almirola. From there, Larson and Almirola advanced because they each had a better finish in one of the three races in the round than Jimmie Johnson did. Therefore, Johnson was eliminated. "Took myself out of a shot at the championship and obviously affected their day [Truex], which I feel bad about," Johnson said. "I wish I wouldn't have been so focused on a race win and I could have transferred and kept my championship hopes alive, but we had such a good car and just one of those split-second decisions to race for the win instead of for the points and it bit me" (Courtesy of nascar.com). For Larson, circumstances worked out just right to allow him to advance. Many people view Larson as the championship favorite if he can make it to the championship round at Homestead, as he is very good at running a higher groove, which is what drivers prefer to run there. "I could still see [Earnhardt] was stalled, so I come off the wall and I go through some gears and the whole time I'm going, 'Just please don't go, please don't go, please don't move,' " Larson said on pit road. "Made it through there and it kind of looked like he was starting to get rolling and I hit the wall again because I had a blown right-front and I was just able to get in line. So, it was pretty stressful the last 30 seconds of that race" (Courtesy of nascar.com).
NASCAR announced huge rule changes for 2019 that will slow down the cars but is intended to provide more side-by-side racing in 17 of the 36 races next year. "It's really been over a two-year process, working with the race teams, the OEMs, specifically the engine builders and probably the most collaborative effort we've had across all the industry stakeholders, including the drivers, to get to this package," said Steve O'Donnell, NASCAR Executive Vice President and Chief Racing Development Officer. "For us, it's really a focus on getting back to a true focus on the drivers and what NASCAR is all about — close side-by-side racing and trying to deliver more of that" (Courtesy of nascar.com). The package will lower the horsepower in these 17 races from 750 to 550. There will also be aero-ducts in the front of the car for ten air to go through, which will create tighter racing. A smaller tapered spacer will also be featured in these 17 races, as well as five additional races, but those 5 races will be run without the aero ducts. There will also be an 8-inch by 61-inch spoiler to give additional downforce and an overhang on the splitter. There will also be a larger radiator pan.
NASCAR's silly season is starting to take shape, with the 78 team of Martin Truex Jr. shutting down, Daniel Hemric moving up to the Cup Series to replace Ryan Newman at RCR, and Newman replacing Trevor Bayne and Matt Kenseth, who shared a ride this year in the #6 car. Truex is still out on the market, as well as Kurt Busch and Daniel Suarez. Jamie McMurray has been offered to run the Daytona 500 in his #1 car in 2019 and then take on a leadership role at CGR, but no further word has been given. Many rumors have come out that Kurt Busch will drive the #1 car in 2019, but nothing has been officially announced. We'll have to see how everything shakes out as silly season progresses.
Sources:
Spencer, Reid. "Results of Charlotte NASCAR Race: Ryan Blaney Wins." Official Site Of NASCAR, NASCAR.com, 30 Sept. 2018, www.nascar.com/news-media/2018/09/30/ryan-blaney-emerges-for-win-in-first-bank-of-america-roval-400-at-charlotte/.
Report, Staff. "Jimmie Johnson Eliminated from Playoffs." Official Site Of NASCAR, NASCAR.com, 1 Oct. 2018, www.nascar.com/news-media/2018/09/30/spin-final-lap-costs-jimmie-johnson-chance-advance-playoffs/.
Ruffin, Jessica. "Kyle Larson Squeaks into Round of 12 after Wreck." Official Site Of NASCAR, NASCAR.com, 1 Oct. 2018, www.nascar.com/news-media/2018/09/30/kyle-larson-advances-playoffs-round-of-12-charlotte/.
Albert, Zack. "NASCAR Announces 2019 Baseline Rules Packages." Official Site Of NASCAR, NASCAR.com, 3 Oct. 2018, www.nascar.com/news-media/2018/10/02/2019-rules-packages-announced-monster-energy-series/.

About the Writer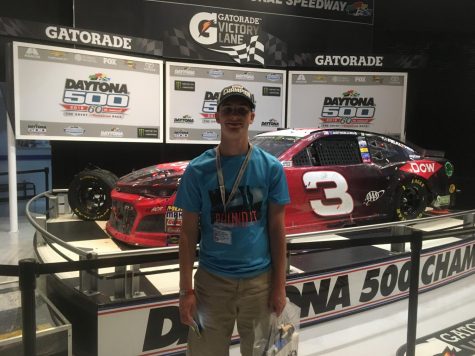 Austin Travis, Sports Section Editor
Hey guys! I am Austin Travis, I'm a Sophomore here at iUniversity Prep, and I am super excited for my fourth year on the iHoot staff. I will serve as...