THE MONSTER STORM
Hurricane Michael, which wreaked havoc across the Florida Gulf Coast, has been dubbed the "Monster Storm."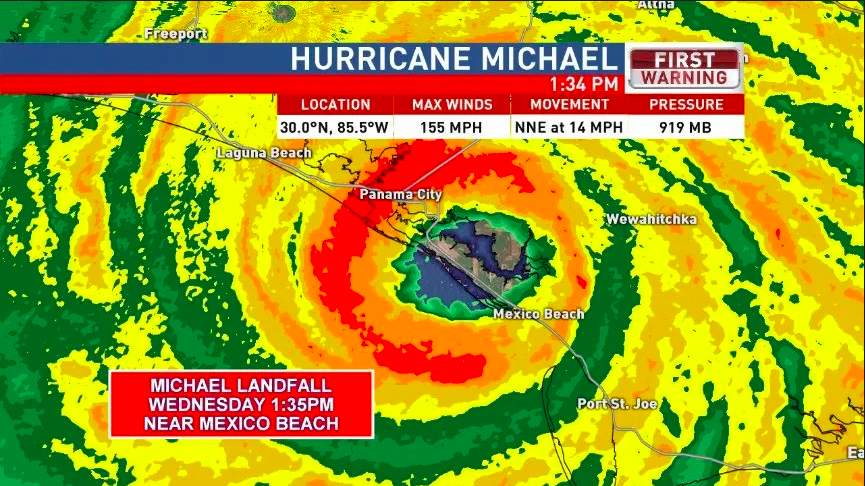 Abby Perry, Staff Writer
October 22, 2018
      My family has a home on the Florida Gulf Coast.  On Saturday, October 6th, we woke up there to the news that a tropical depression had formed in the Caribbean.  Within a couple of hours, The Weather Channel said it would become Tropical Storm Michael. By Saturday evening, it had strengthened and Michael was to become a hurricane.  It was supposed to make landfall on Wednesday as a category one hurricane. We woke Sunday morning to the report that Michael would strengthen to a possible category three.  By Monday morning, the weather announcement said, "Hurricane Michael will make landfall on Wednesday afternoon as a category four hurricane with sustained winds of 150 miles per hour."
       Hurricane Michael is known as the "Monster Hurricane".  Michael made landfall on Wednesday as a category four with sustained winds of 155 miles per hour. This hurricane was the third strongest hurricane in history. Hurricane Michael made landfall on the Florida panhandle.  Panama City Beach, Mexico Beach, Port St. Joe, and Apalachicola were hit the hardest in Florida. Tyndall Air Force Base didn't have one salvageable building. Hurricane Michael didn't stop there. It went on to wreak havoc in Georgia, the Carolinas, and Virginia. The areas that were hit the hardest have no electricity and it will take years to rebuild what was damaged or destroyed.  They are still searching for missing people. As of today, the death toll is 32, and 19 are from Florida. It is feared that there are still people buried under piles of concrete and rubble.
     Hurricane Michael was a devastating storm.  It has changed many people's lives forever. The recovery process will be long and hard.  But, there is a bright side: times like these tend to bring out the best in people. People all over the United States are coming together to lend a helping hand to those who are in need.